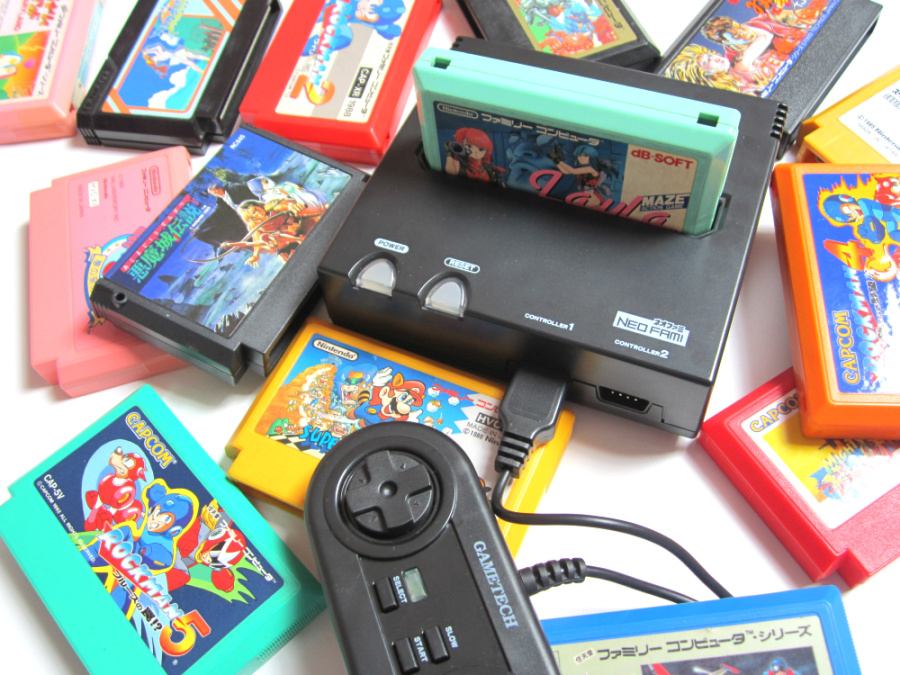 The concept of clone retro hardware isn't anything new — in fact, we've already covered the likes of the Retro Duo V2, RetroN 3 and SupaBoy here on Nintendo Life — but as time goes on these cheap and cheerful systems are becoming more and more desirable. Older machines are either failing as time goes on or are becoming more expensive to purchase on the second hand market, and when you consider the low cost of many clones, it's easy to see why such an active consumer base exists for this kind of thing. After all, nobody wants to give away their vast collection of treasured games just because the original console has given up the ghost.
The Japanese-made Gametech Neo Fami isn't a new entrant into the ever-growing family of clone consoles — in fact, it's a few years old now and we managed to pick one up fairly cheaply. In fact, compared to the second hand price of a AV Faimcom, the price was an absolute steal. Inside the box you get the console itself, two controllers (sadly you can't use your existing NES pads here), an AC adapter (you'll need some kind of adapter plug if you're in Europe) and an AV composite cable.
The system itself is surprisingly compact — smaller than the AV Famicom, in fact. Build quality is so-so; the unit is light and is fashioned from cheap-feeling plastic, and it lacks the visual appeal of the real deal. However, the main thing is how it handles games, and we found the Neo Fami to be pretty decent. It coped with all of the Famicom cartridges we threw at it, and although composite isn't the best video output method, it's acceptable enough. The pads were pretty good too, which just about makes up for the fact that you can't use your existing NES or Famicom controllers with the console.
Hyperkin's RetroN 5 is about to hit the market and could render all of these other clones redundant, but it won't have the same low price tag as the Neo Fami. If you can track down stock then it's well worth picking one up, especially if you're only concerned with playing Famicom cartridges — as we were.
Thanks to FunStock for supplying the unit used in this review.