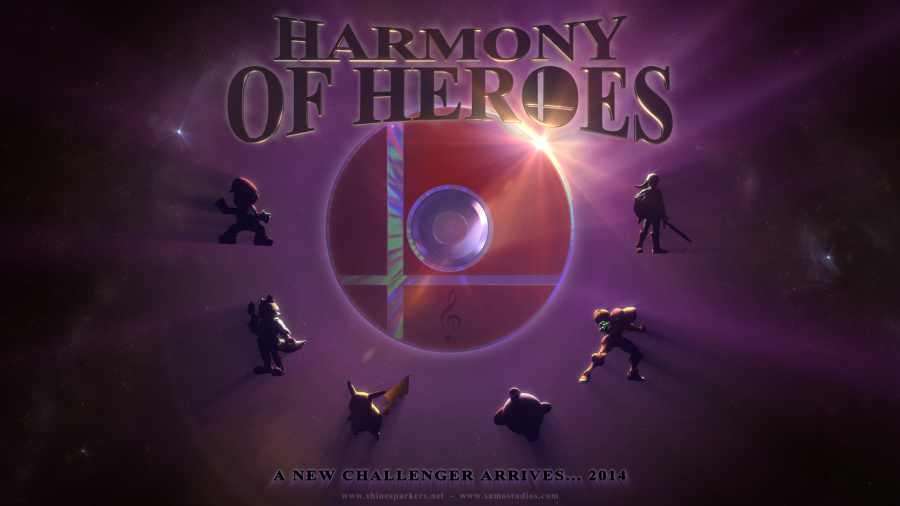 Shinesparkers is a Metroid fan-site and collective of music lovers that brought us some terrific — and free — Metroid music in the past couple of years. Harmony of a Hunter was followed by Harmony of a Hunter 101% Run, both of which we discussed with the team way back in April 2012. When you combine those albums there's a substantial range of lovingly crafted musical dedications and recreations for the Metroid series, and now the group has decided to move onto pastures new.
This time around it's working on Harmony of Heroes, which will be a download album dedicated to the Super Smash Bros. series; this is certainly topical, with anticipation building ahead of the latest title's expected appearance, in some from, at this year's E3. Like its Metroid predecessors this will be a free download from harmonyofahunter.net, and will arrive in 2014.
You can see details from the official announcement and the first trailer below; have you tried the Metroid albums so far — if not then you can download them here — and are you looking forward to this new project?
Our latest project builds on the success of our previous projects Harmony of a Hunter and Harmony of a Hunter: 101% Run, which were created in celebration and support of Metroid's twenty fifth anniversary. While we were proud of our achievements, we were overwhelmed by the love and support of our albums that we decided to consider another. After 101% Run released and seventy five tracks later, we were satisfied that we had effectively covered the vast majority of music from the Metroid franchise to a standard that many fans could appreciate. But we also knew that it would be difficult to fill a third album of music from the franchise.
It was important that our next album had a different focus, but still appealed to the dedicated and loyal fan base we had received. To ensure this was still achievable, we decided that Harmony of Heroes would also be highly diverse in terms of musical genre and feature musicians like our previous projects. We identified that a lot of Metroid fans were also fans of other Nintendo franchises and Super Smash Bros, so we felt it would be a desirable project. Super Smash Bros is a hot topic right now with fans eagerly anticipating the upcoming games on Nintendo Wii U and 3DS.

Harmony of Heroes will focus on music from all three Super Smash Bros games and feature some of the most cherished and loved franchises in Nintendo history, including Super Mario, The Legend of Zelda, Star Fox, Kirby and Pokemon. We also want to assure people that the Metroid franchise will be suitably represented in Harmony of Heroes. I can confirm that some musicians from our previous projects will be contributing music to this album, as well as brand new musicians hoping to make their debut for the first time. Harmony of Heroes will be assisted by Pyro Paper Planes and Buoy, two musicians from Harmony of a Hunter. Both of them have been a huge and essential support to the project so far, offering some great advice and suggestions to make this album something incredibly special. You will be hearing more from them during the development of this project. We are also thankful to Sam Dillard for creating and scoring our announcement trailer.