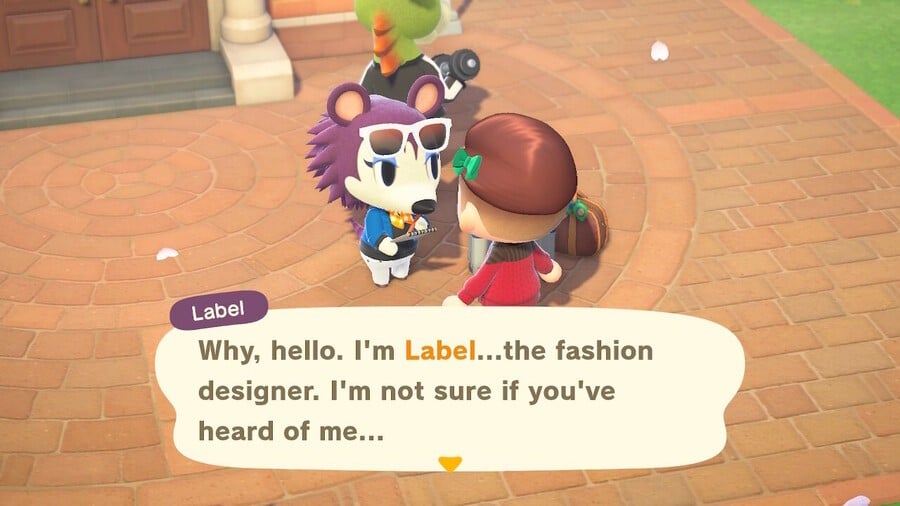 Label is the stylish middle child in the lovable Animal Crossing family of hedgehog tailors known as the Able Sisters. First introduced in City Folk at GracieGrace, she has since made appearances in New Leaf selling accessories at the shop, and now in Animal Crossing: New Horizons with some exciting new fashion challenges for players.
Feeling a bit stumped by Label's requests - or even a little lost on how to meet her in the first place? Read on and let the fashion education begin!
Guide to Label's Fashion Challenges
How do you unlock Label?
The process for unlocking Label and getting her to visit your island is quite simple - all you need to do is build the Able Sisters' shop in your town.
However, that's definitely easier said than done - check out our guide for more information on that process.
Once the clothing shop has opened in your town, Label will begin appearing in the plaza in front of Resident Services about once per week, just as her sister - Mabel - did before opening the shop.
How do you complete Label's fashion challenges?
Label's fashion challenges consist of requests for players to show her various styles of dress and outfit compilations. She'll generally start the challenge by providing the player with one item of clothing that fits the category - which we recommend including in the final ensemble - but it's up to you to pull other matching items from your own closet (clothing hoarders rejoice!).
Below are the categories and styles we've seen so far - but there may definitely be more, and we'll update accordingly as we find them:
Goth
Work
Vacation
Theatrical
Everyday
Comfy
Formal
Outdoorsy
Fairy Tale
Party
Sporty
In general, we've found the challenges to be fairly easy to complete, and most clothing items have fit the categories we assumed they fit - "fitness tanks" are "sporty", "business skirts" fit the "work" category, and so on. Oftentimes, you may be able to find items with the theme in the name, such as "Sporty Shades" (seen being worn by Audie, below).
Although you don't need to pull together every single possible item you can wear, we recommend at least finding a pair of shoes, as well as a shirt and some bottoms - or a full body outfit, like a dress. However, the more items you have to fit the category, the better!
Hot tip: If you're having trouble finding certain items (and can't wait for something to arrive from your catalog in the mail), have a friend help you out! Visit their island and snag something from them, invite them over to drop off some styles, or just ask them to mail you what you need! (We've noticed that mail from friends tends to arrive fairly quickly in the game).
What are the rewards for successfully completing Label's style requests?
With every fashion challenge - even those you fail - the player is always allowed to keep the item they were originally given for inspiration, so that's a win right there!
However, when the fashion challenge is won, you'll receive a tailor's ticket in the mail the next day, which can be exchanged at the Able Sisters' shop for any item worth 3,000 Bells or less.
In addition to this, Label will also provide the player with an item from her new fashion line, "Labelle" (we feel like we've heard that name before...). So far, here are the pieces we've received as prizes:
Labelle sneakers
Labelle coat
Labelle knit shirt
Labelle shorts
Labelle skirt
Labelle socks
In general, it appears that each player will receive pieces from the line that are matching in color - for example, all hot pink or orange. However, there are definitely variations to the items, and once they begin selling in the Able Sisters' shop after completing the challenges, you'll generally be able to find the items in a variety of colors.
How many of Label's fashion challenges have you completed? Which was your favorite? Let us know down below!
---
This article is part of our Animal Crossing: New Horizons walkthrough, which covers How To Fish with Complete Fish List and How To Catch Bugs with Complete Bug List. If you're looking for specific fish we can tell you how to catch the elusive Coelacanth, Mahi-Mahi, Giant Trevally, Stringfish and Golden Trout, along with a list of Fish And Bugs leaving at the end of June and the Best Custom Design Codes and Islands we've found so far. We can also help with How to Spot Redd's Fake Paintings and Statues, How To Make Bells Fast, How to Breed Flowers, How To Get More DIY Recipes, How to Upgrade Nook's Cranny, plus tips on using the Star Wand, Tool Ring, Rock Trick, Cutting Down And Moving Trees, and using amiibo on Harv's Island.
And finally Where To Buy Animal Crossing: New Horizons On Nintendo Switch if for some reason you haven't yet picked up the game.