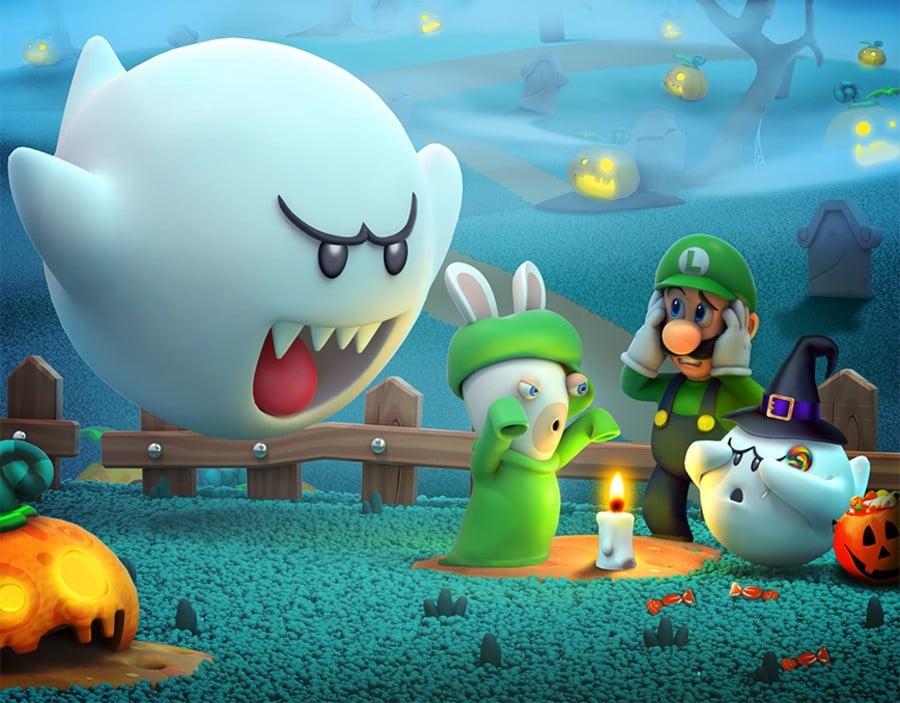 It is Halloween / All Hallows' Eve / mild vandalism night as we publish this, a rather fun occasion in which dressing up and eating an unhealthy amount of sweets / candy is not only allowed, it's practically mandatory. Of course, it's all about spooky experiences, or alternatively finding something suitably themed that won't necessarily scare you out of your wits. We all have our preferences.
In any case we recently shared a list of 3DS games that are perfect for Halloween, but now we move onto the Nintendo Switch. The system now has over 200 games available (yes, it really does!) and, actually, it wasn't that hard to find ten that are ideal for dark, spooky nights.
Check them out below.
Yeah, this one's in there because a lot of Switch owners will still be hunting Power Moons, and so it had to be mentioned. It's not completely without connections to the occasion, though. Mario can acquire a whole lot of outfits to wear, so that's one. On top of that Cappy and Mario go around possessing dozens of creatures and objects, which is quite creepy when you think about it.
This 'rhythm violence' game is a bit of a favourite in Nintendo Life Towers, even if the difficulty of later levels can cause impressive tantrums. Fantastic music and fast-paced gameplay drives an aesthetic that is undeniably monstrous at times, but can also be strangely attractive.
Oxenfree's uncommonly palpable eeriness is filtered through a story of possessed teens and glitches in time, loops in reality that see a group of high-schoolers try to survive a night stranded on an island that isn't quite as deserted as they believed. To dive into the particulars is to spoil a wealth of surprises, a raft of compelling beats that resonate with genre originality, that keep coming on a second playthrough – and even then, you might meet the credits with unanswered questions.
An experience designed to make you laugh rather than scare you witless, this revival of the golden era of LucasArts-style point-and-click gaming does have its eerie touches along with a humorous ghost in the form of a character's father. Perfect for a silly Halloween.
Possibly one of the oddest and creepiest video games of the year. Its unique art style drives a premise in which you fight a highly evolved poo - for example - and puzzle your way out of some truly ghastly scenarios. Smart and creative in its visual and storytelling approach, it's a downright weird experience that we certainly recommend.
A recent gem from WayForward that reminds us of the often-overlooked Aliens: Infestation on DS. A run and gun game in some respects, but also a Metroidvania that requires careful exploration and a cautious approach. Gorgeous visuals, cool music and a mechanic where death means hunting down your own zombie - yep, we think it suits the season well.
We suspect many reading this page own at least one copy of this game, with 'Treasure Trove' being the all-in version. It proved to be a popular early release on the Switch and is well worth consideration for anyone yet to jump in - there's a lot of fantastic action platforming on offer across multiple campaigns, and all of the strange foes, skeletons and themes will get you in the Halloween mood.
A critically acclaimed Metroidvania title, this has fantastic visual and audio design while blending old-school mechanics with innovative ideas. It puts glitches at the heart of its concept, adding a unique spin on proceedings that ensures it lingers in the memory once the credits have rolled.
A game controversial enough to be rejected by Nintendo in a previous form, it's now available on Switch in its latest iteration. You direct Isaac through multiple floors, fighting some horrific enemies with your own tears and more besides. Disturbing, creepy, difficult and downright addictive, this one has a legion of loyal fans for good reason.
A smart and interesting game from Drinkbox Studios, it's played with the Switch in portable mode in order to make use of its touchscreen. Combat is all about skilfully and strategically severing the limbs and body parts of assorted creepy foes, while also levelling up your abilities and exploring various rooms and areas. Also available on Wii U and 3DS, we're big fans of this one.
---
There you have it, ten highly rated Switch games that we think are well worth some playtime on the spookiest night of the year; also worth a mention are Perception, which looks like an interesting new arrival, and Mario + Rabbids Kingdom Battle's 'Spooky Trails' area (which inspired the lead image for the article).
Will you be playing any video games this All Hallows' Eve?