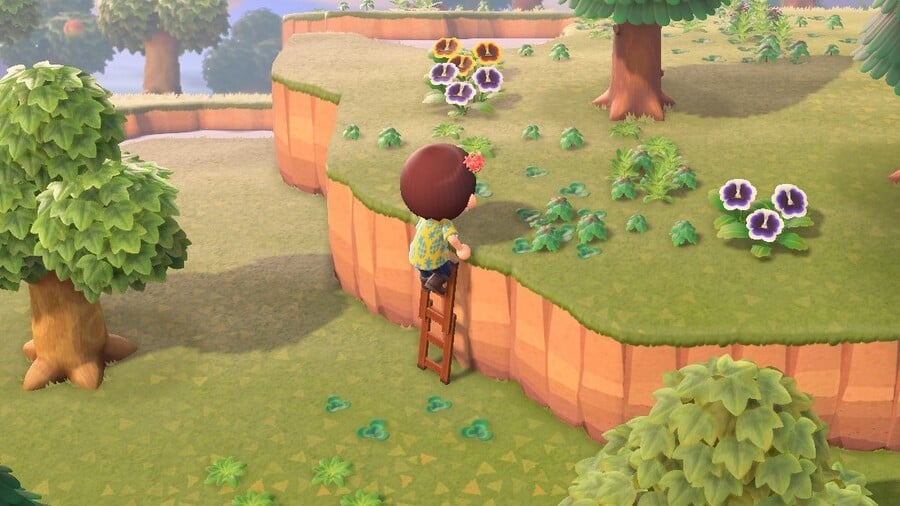 So, you've already crafted your axe, shovel and vaulting pole to get yourself over rivers and explore your love new island in Animal Crossing: New Horizons, yet there's still that raised bit at the back that remains inaccessible.
You'll need a ladder to climb up onto that higher ledge and get at the lovely flowers and cedars growing there, and you unlike some of the other tools, you'll have to do a little bit of work before you get your hands on the ladder. As with all the other tools, you'll first need to unlock the crafting recipe for the ladder before you can build it.
How to unlock the Ladder recipe in Animal Crossing: New Horizons
Animal Crossing Ladder Step 1 - Attract new residents
Firstly, you need to attract new residents to your village. There are a variety of ways to do this, including constructing a campsite, generally building up the facilities on your island, and visiting random islands using Nook Miles to recruit new residents. New animals will be wandering these islands for you to talk to and invite back to your paradise.
We only visited one single island using the ticket Tom Nook gave us, and only spoke to the animal there twice. It was all very cordial, but we didn't specifically invite her to our island.
Still, the next day--having expanded our home once beyond its initial state and competed the Museum--Tom Nook informed us that 3 new residents wanted to come to our island. Excellent!
There's more work to do before you get your hands on the ladder, though...
Animal Crossing Ladder Step 2 - Craft a bridge
Nook informs you that the island needs a bridge and gives you the Bridge construction kit recipe:
x4 log stakes
x4 clay
x4 stone
You'll already have the log stakes recipe from earlier in the game (each one requires collecting x3 Wood from trees using an axe, so 12 in total). Both Clay and Stone can be collected by hitting rocks with an axe or a shovel.
Once you have the necessary parts, craft the Bridge construction kit and find an appropriate spot to build it. Once selected it will be roped off until construction is complete the following day.
Animal Crossing Ladder Step 3 - Get housing kits from Tom Nook
Return to Tom Nook at Resident Services, talk to him and he'll give you three housing kits to place around the island which plot out space for your three new residents. You'll have to craft furniture for the lazy animals before they move in, too, but you'll find the ladder recipe in the list of items Nook sends to your phone.
After finding space for the second plot Nook will ring and remind you of the ladder recipe, so you can't miss it.
Animal Crossing Ladder Step 4 - Ladder recipe and crafting
To craft the ladder (finally!) you'll need different types of wood which can be harvested from trees:
x4 Wood
x4 Hardwood
x4 Softwood
With the ladder in your toolkit you're now free to enjoy a whole previously inaccessible part of your island. Jolly good show!
---
This article is part of our Animal Crossing: New Horizons walkthrough, which includes a Complete Fish List, Complete Bug List and Complete Sea Creatures List. If you're looking for specific fish or bug, we can tell you how to catch the elusive Coelacanth, Mahi-Mahi, Giant Trevally, Stringfish, Golden Trout and all the Sharks and Beetles, along with a full list of Critters leaving at the end of the month. We've also compiled a Complete Villager List and a Complete List of K.K. Slider Songs, as well as the Best Custom Design Codes and Islands we've found so far, and the best islands to visit using Dream Address Codes.
We can also help with How to Spot Redd's Fake Paintings and Statues, How to Make Bells Fast, How to Breed Flowers, How to Get more DIY Recipes, How to Upgrade Nook's Cranny, where and when to find special characters like Gulliver, Sable, Label, Wisp, Celeste, Pirate Gulliver and Jack, plus tips on using the Star Wand, Tool Ring, Rock Trick, Cutting Down and Moving Trees, using amiibo on Harv's Island, How to Back Up Your Island Data, How to Time Travel, How to Get a 5-Star Island Rating and a whole lot more.
And finally Where to Buy Animal Crossing: New Horizons on Nintendo Switch if for some reason you haven't yet picked up the game.