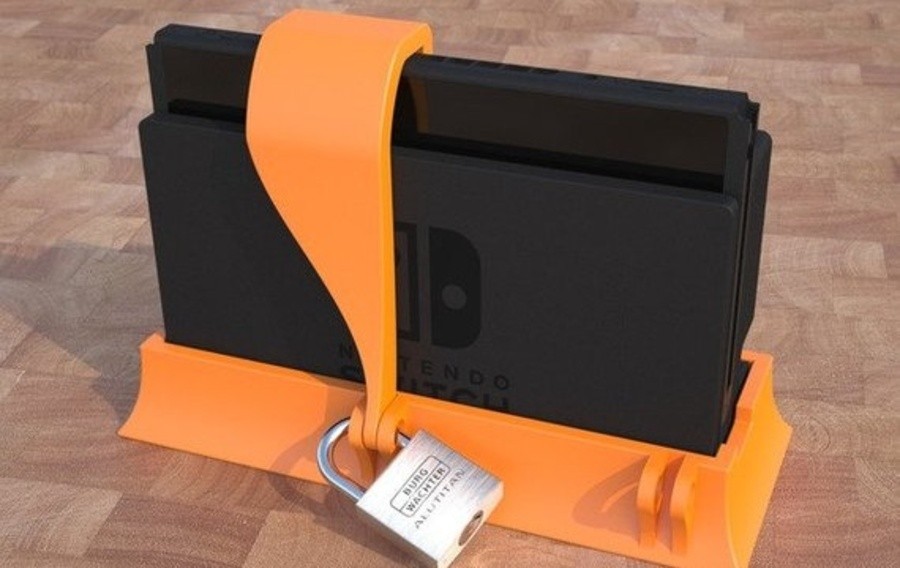 A Nintendo Switch 'Game Console Safe' has appeared on the market, giving customers the chance to rather literally lock their console to its dock for more security.
The item is currently being sold on Etsy from seller 3Dexpressions, with its product description highlighting just some of the situations in which it could be useful. One example suggests that it can prevent any children from taking the console out of the dock without permission; another considers the possibility of you running a tournament of some kind, with the safe acting as a way to keep your console safe from any thieves.
As you can see in the images below, the safe not only locks your console inside the dock, but can also be moved over to the right to completely cover the game card slot so that it cannot be accessed.
There are several issues that spring to mind upon first seeing the product, however; you can still turn the console on, so children will still be able to play in TV mode anyway, and the Joy-Con can still be removed meaning that thieves could still potentially run away with your expensive possessions. Still, if you are the tournament-attending type, we're sure this would still go some way to deter any troublemakers.
If you're interested, you can check out the product on its Etsy store page. It comes in a wide range of colours, is 3D-printed from "heavy duty ABS plastic", and can be bought either with or without a lock depending on your needs (ranging from approximately £15 - £20).
Would this be a useful accessory for you? Are you tempted to buy one? Let us know in the comments down below.
[via etsy.com, nintendosoup.com]