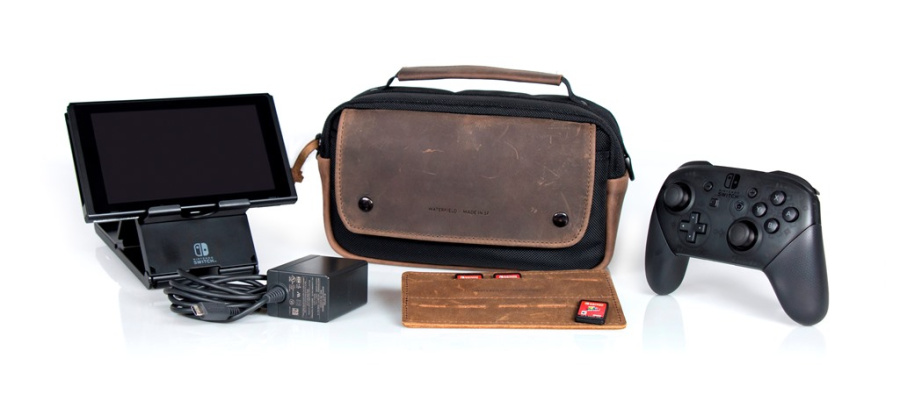 Gaming can be an expensive hobby, by the time you add extra controllers and actual games to accompany your console. With the Nintendo Switch you also need to consider a carry case to keep it safe on your travels, though most seem to have opted for the entirely competent official and HORI options that have been on the market since day one.
If you've got a bit of extra cash burning a hole in your pocket, though, San Francisco-based WaterField has been producing nice cases for a good while; since its range of 3DS cases we've been fans, albeit while acknowledging the premium pricing. With the Switch the company has had a few options already ranging from a modest $49USD right up to a multiplayer Pro Case for an eye-watering $149USD. Having taken on board fan feedback along the lines of "I want to carry loads of stuff in a small case", the company has now come up with the rather neat 'Arcade Gaming Case'.
The idea is simple - accommodate carrying around a decent amount of gear for on-the-go gaming within a relatively small package. Check it out below.
Available in rugged black ballistic nylon or tan waxed canvas, the WaterField Arcade Gaming Case sports full-grain leather details to make for a sophisticated Nintendo Switch carry. A soft, scratch-free front pocket to stow the Nintendo console secures shut with a premium leather flap using hidden magnets. The large main compartment closes with waterproof YKK zippers. Inside, two plush pockets hold the AC adapter and the JoyCon Grip. (By pushing the pockets back, users can instead carry the Pro Controller and/or a European-sized power adapter.) The Hori PlayStand, a flat game-card holder or individual games, ear buds and a USBC cord fit comfortably into the remaining space. A rivet-secured, nylon handle with a soft leather grip lets gamer easily grab and go, and an adjustable, removable shoulder strap attaches to two metal D-rings for another comfortable carry option. Without the strap, the case fits neatly into a day or overnight bag.
It seems like a nice option, sitting in the middle of the company's range at $109USD, which is nevertheless a hefty investment. It's available now - along with WaterField's whole range - on sfbags.com.
It's a lot of money to spend for carrying your Switch around, but let us know in the comments if you're tempted.
[via sfbags.com]