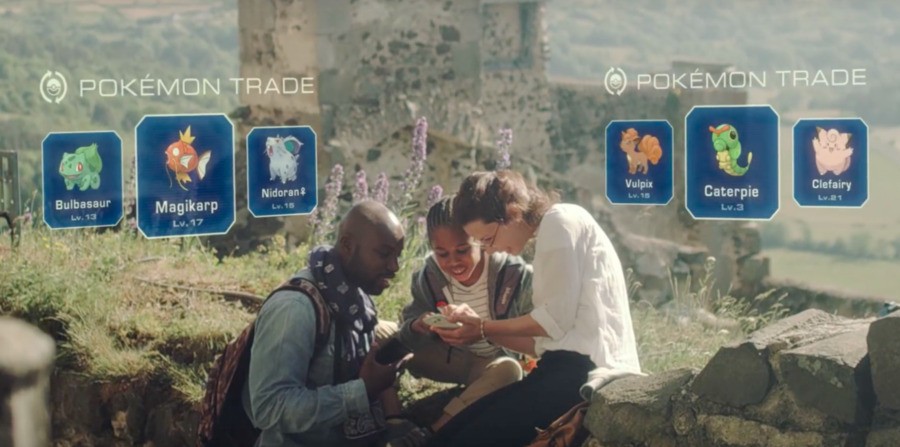 The Pokémon Company boss Tsunekazu Ishihara has reconfirmed that the ability to trade monsters with other players is still coming to Pokémon GO.
This might not seem like a big deal as this feature was clearly shown in the original promotional video released before the game was live, but in recent months Niantic has neglected to talk about it, choosing instead to roll out a series of legendary monsters and revised raid battles.
However, speaking to Bloomberg, Ishihara stated that this "fundamental" experience is still very much on the Pokémon GO roadmap:
We've only accomplished 10 per cent of what Pokémon and Niantic are trying to do. Going forward we will have to include fundamental Pokémon experiences such as Pokémon trading and peer-to-peer battles, and other possibilities.
Ishihara also noted issues regarding the deployment of Pokémon around the world, and "social problems" created by game when people mass together in a single location:
Depending on location, there are many Pokémon with different characteristics. So what do we do with those and the real world? One view is to have chilly Pokémon in a cold climate, but then that would also mean that people born on a tropical island won't be able to catch them. So we are always thinking of how to find the right balance between game design, how our Pokémon should exist, and how players feel about their collections. Right now, if you go to the coast you can catch water Pokémon. For example, if you have a setting for electric-type Pokémon (such as Pikachu) to appear at power plants, is that really a good idea for you to find one in such a location -- is it safe, and is it OK regionally? We see it as a very realistic problem. 

On the other hand, it has created a lot of social problems. When too many people gather, it causes mass confusion. Also this isn't limited to Pokémon Go, but the issue of staring at smartphones while walking is something we have to focus on and think about.
In other Pokémon GO news, four of the European events due to take place in August have now been rescheduled for October, while Safari Zone events will take place on September 16th at Unibail-Rodamco Shopping Centres located at CentrO in Oberhausen (Germany), Les Quatre Temps in Paris (France) and La Maquinista in Barcelona (Spain).
October 7th, 2017
Fisketorvet—Copenhagen, Denmark
Centrum Černý Most—Prague, The Czech Republic
October 14th, 2017
Mall of Scandinavia—Stockholm, Sweden
Stadshart Amstelveen—Amstelveen, The Netherlands
Ishihara also spoke about Pokémon on Switch, which you can read about here.
[source bloomberg.com]