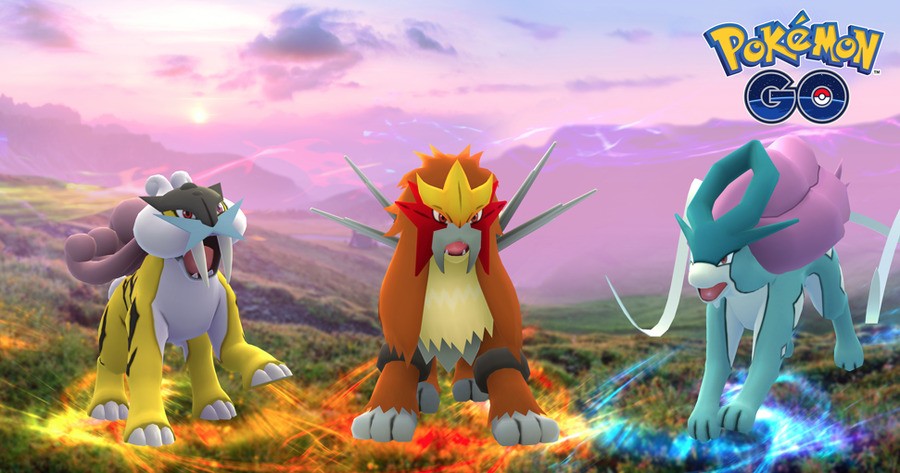 Niantic has announced that three new legendary Pokémon - Raikou, Entei And Suicune - are now live in Pokémon GO.
The three Johto-based beasts will appear in raid battles all over the world, offering players a chance to beat and catch them, depending on their region. But that's not all; Niantic has also confirmed that it will be rolling out a field test for EX Raid Battles in the near future.
Here's the PR:
Niantic, Inc. and The Pokémon Company International have revealed a trio of Legendary Pokémon originally from the Johto region—Raikou, Entei, and Suicune — will soon appear around the world in Pokémon GO. Trainers will be able to discover, battle, and have the chance to catch the three Legendary Pokémon in Raid Battles located at Gyms around the world. In addition to the arrival of Raikou, Entei, and Suicune in Pokémon GO, the newly revealed EX Raid Battle feature will begin a field-test program in select areas before becoming available to Trainers worldwide.
Raikou, Entei, and Suicune will be traveling across the world over the next several months, each spending up to a month in a region. From August 31 to September 30:

- Raikou, an Electric-type Legendary Pokémon, can be battled throughout the Americas.
- Entei, a Fire-type Legendary Pokémon, can be battled throughout Europe and Africa.
- Suicune, a Water-type Legendary Pokémon, can be battled throughout the Asia-Pacific region.

On September 30, all three Pokémon will move to a different location and be available for Trainers to battle with other Trainers until October 31. Finally, all three of these Legendary Pokémon will make their final stop in the last remaining location on October 31. Like the Legendary Pokémon Articuno, Moltres, Zapdos, and Lugia before them, Raikou, Entei, and Suicune will be available for a limited time.

In addition, the EX Raid Battle field-test will soon be available in select regions around the world in an effort to fine-tune the new system with Pokémon GO's dedicated community of global Trainers. Similar to existing Raid Battles, EX Raid Battles will periodically appear at Gyms around the world. Trainers who have successfully completed a Raid Battle at the Gym where the EX Raid Battle is taking place will be invited to battle a powerful Raid Boss. Beginning soon, Trainers in select areas will begin to receive an EX Raid Pass for an opportunity to experience the new feature and provide feedback.
Are you looking forward to catching these new legendaries? Have you had much luck with the existing ones? What do you make of the news that EX Raids are coming? As ever, we want to hear what you think, so post a comment below.