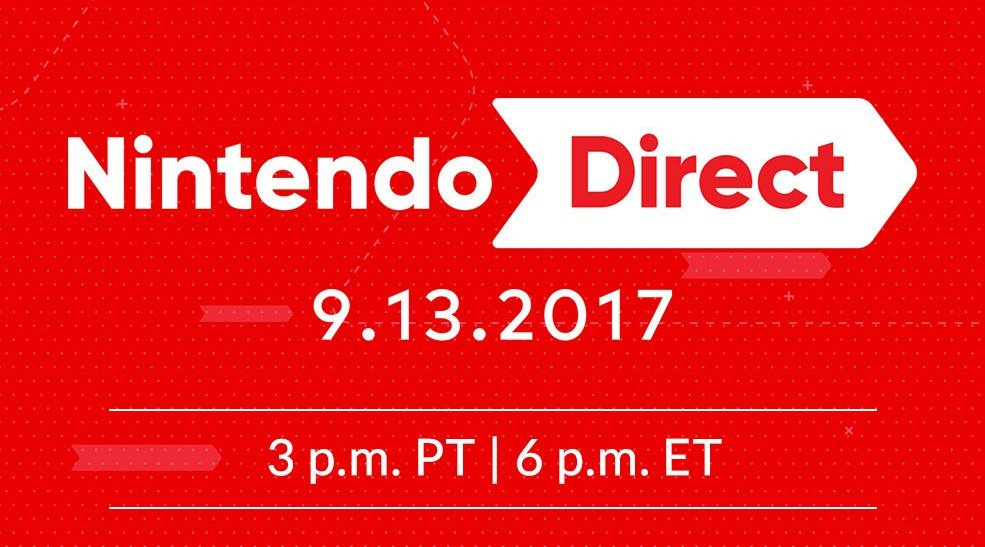 We're gearing up for what could be, potentially, the final or penultimate 'full' Nintendo Direct of 2017; we may see another focused on early 2018 releases in a month or two, or potentially just smaller game-specific broadcasts. Time will tell, but it's always a treat when a full-fat Direct comes along; clocking in at about 45 minutes, no less.
Nintendo has made clear that it'll be a Direct focused not just on the Switch but also the 3DS. With the recently launched New 2DS XL and Pokémon looming on the horizon, the company is keen to promote the veteran portable. That said, we'd expect Switch to have the lion's share of attention due to the range of content coming to the hardware, along with a certain Super Mario Odyssey.
---
When is the Nintendo Direct?
North America: 3pm PDT / 4pm MDT / 5pm CDT / 6pm EDT - UK/Ire: 11pm BST - Europe: 12am CEST / 1am EEST - Asia/Oceania: 7am JST / 6am AWST / 8am AEST
---
Perhaps unlike more recent broadcasts, this Direct (thanks to that extensive runtime) could dive off beyond games, too. Bundles, new Joy-Con and more are potentially on the agenda.
So, in order to get us nice and ready for today's festivities, below are some thoughts on what we could see in the Nintendo Direct.
Loads of Games, Some of them New
Nintendo's announcement tells us the focus is on Switch and 3DS games coming over 'the next few' months, but we've learnt from past experience that exceptions are made if there's an eagerness to showcase something a little further off. This can relate to both first- and third-party games, and it'll be interesting to see whether any more big-name titles get reveals, particularly for the latest hardware. Recently we've seen the Switch included in the likes of L.A. Noire, but the question is what multi-platform games can technically come to Switch, and which will actually happen. [This scribe would love to see a bunch of PlatinumGames ports]
Nevertheless, there'll be some new reveals, as there always are in 'mainline' extended Directs like these. We'd expect most new games to be on Switch, but the 3DS may have one or two games left in its locker, especially through localisation. On top of that there's the mysterious 3DS 'multiplayer action game' in the Kirby series that was announced during the last major Direct for a Holiday release. Surely it's time to see that?
So, we could see a mix of new games, maybe some exclusives (download-only as well) along with a surprise port or two. It's also a safe bet that major Fall / August and Holiday releases will get extended trailers and detailed segments. Nintendo's name-dropped Super Mario Odyssey already, and other candidates include Pokkén Tournament DX, Fire Emblem Warriors, Xenoblade Chronicles 2 and Pokémon Ultra Sun and Ultra Moon. All are on the way soon and due for the extended showcase treatment.
One thing we might not get is a Nindie sizzle reel, as both Nintendo of Europe and America did this recently for PAX West. Still, we can dream...
Separate Regional Broadcasts from Europe and North America
For a little while we stopped hosting European and North American broadcasts separately, as there was often little different between them; this trend initially emerged after the tragic passing of Satoru Iwata, as Nintendo found its feet once again with the broadcasts.
Now, however, we expect there'll be enough differences between them to justify hosting both with the full live blog / stream treatment here on the site. The runtimes may be similar and there'll likely be shared segments produced in Japan, but we suspect NoE and NoA will have their own teams on hosting duties. In North America that'll likely mean Reggie Fils-Aime, Bill Trinen and the Treehouse team, and in Europe Satoru Shibata is likely to be the main host.
When the dust settles it'll be interesting to see what differences emerge between regions.
Holiday Bundles and Hardware
It varies per year, but Nintendo typically produces at least a couple of new bundles and variations on hardware offerings for each Black Friday and Holiday shopping seasons; the timing of this Direct would certainly suit their reveals.
On the 3DS front there are multiple possibilities, of course. Coming up is the Metroid: Samus Returns New Nintendo 3DS XL, but the big N also has the New 2DS XL to promote along with the 'original' 2DS. Any bundle tie-ins would surely be linked to Pokémon Ultra Sun and Ultra Moon, whether in terms of special colours or designs or alternatively existing editions with the game pre-installed. North America also lacks the Orange + White New 2DS XL available in PAL territories, but whether NoA would concede it should be available is anyone's guess.
As for the Nintendo Switch, due to its positive early start Nintendo has shown an eagerness to back bundles, notably with the Splatoon 2 option in the summer; Japan also had the tasty Monster Hunter XX model. When it comes to high profile games that would suit the bundle treatment Super Mario Odyssey is the obvious contender. Beyond that, it'll be fascinating to see if any new Joy-Con designs are available, not just in terms of colour but also functionality. It's a modular setup, after all, and we'd love a left Joy-Con with a proper D-Pad. Maybe it's too early for that, especially as Nintendo has a hard enough time manufacturing sufficient stock of the core model, but we shall see.
Nintendo Switch Online + Virtual Console
We're getting more into the 'probably not' territory now, as Nintendo has tended to focus more heavily on games than services in recent broadcasts. Updates on the Nintendo Online Service (such as its re-jig, delay to 2018 and pricing earlier in the year) now often emerge through press releases and social media. In a sense it makes sense - if a Nintendo Direct draws a large excited audience, the hype is kept highest with games, bundles and the like.
Still, the Nintendo Switch Online service has had relatively little update in recent times. The actual app for voice chat has had an update, however, so the timing could point to fresh details. As it stands the full paid service is due in '2018', which is a pretty broad window; it'll also have the members' bonus of the 'Classic Game Collection', in which you can build up a range of retro games with 'added online play'.
It's still slightly fuzzy, then, and it's still unclear how that Classic Game Collection affects - or doesn't - a prospective Virtual Console. The VC is likely on the minds of a particular demographic of Switch owners, and an update / reveal on it would certainly bring some buzz. Rumours have pointed to GameCube in the past, but Nintendo could do something entirely different to surprise us, as is its style. After three generations (Wii / 3DS / Wii U) of the Virtual Console, it could benefit from a refresh. We're not sure the SNES Mini is relevant in timing around this, by the way; people said the same when the NES Mini was out, and we saw how much VC goodness was revealed for Switch when that was off the store shelves...
Perhaps all of this will need to wait for shorter dedicated Direct later in the year - we'll find out soon. [Update: we should probably mention Achievements for the Switch, too, as they may be in the works]
Apps
Yeah, it's worth mentioning this again. We didn't hear anything about the likes of Netflix, Amazon Prime, YouTube etc during E3, as Nintendo made it all about games. That's fair enough, perhaps, and likewise with the recent Nindies Showcase, which wasn't the time or place.
If there has been any progress with these partners in bringing their services to Switch, now would be a decent time to give an update, especially as extra - albeit secondary - selling points ahead of the vital sales season. Though for some the system doesn't need to be a streaming device, for others it'd undoubtedly be a very welcome addition. At the moment waiting for Nintendo and the likes of Netflix to step up with this is like watching a kettle and waiting for it to boil, but we could be surprised.
Beyond that, we'll revisit our previous hopes - from our recent six month Switch Report - on areas like better data management, more optional HOME Themes and so on. Considering all that Nintendo has on its plate right now maybe patience is the keyword on features like that.
And while we're on apps, will the next mobile release be showcased? Animal Crossing is supposedly on the way, The Legend of Zelda was rumoured earlier in the year; yet little has been seen recently. Nintendo may opt to get into its upcoming mobile releases separately in smaller reveals through trailers and social media, but on the flipside highlighting them to an enthusiastic Direct audience could also be a smart move.
amiibo
Because there's pretty much always amiibo!
---
Those are some of our thoughts on what we could see in today's Nintendo Direct. Let us know what you think and what you hope to see in the comments; we hope to see you later too, as we'll have live blogs and the streams from both Nintendo of America and Europe.