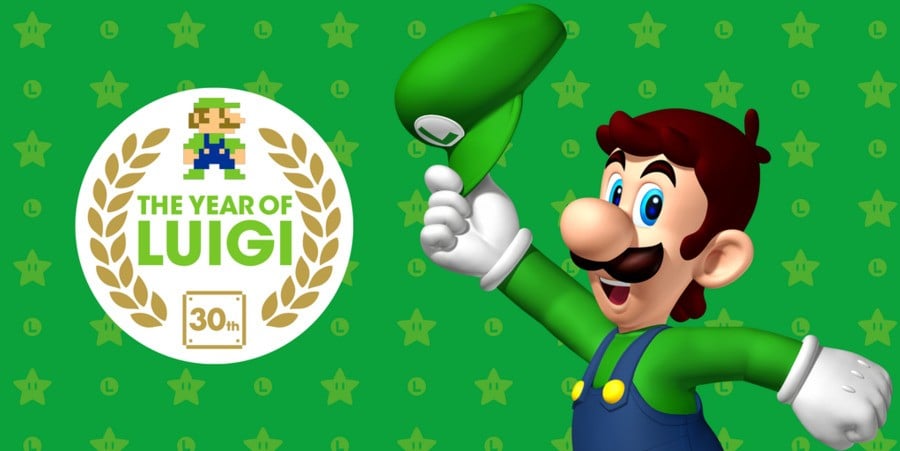 It's had a good run, but the Year of Luigi ends today, 18th March. It's been a year of highs and flutter jump-enabled slightly better highs, with green taking over the Nintendo universe and the unappreciated Bro getting the recognition he deserves. Cruel meme generators may accuse Luigi of overseeing a bad year for Nintendo as a business, but we say it's the opposite — he led the rescue mission, ensuring damage control and smiling gaming faces with his humorous terror, clumsy mannerisms and awesome platforming athleticism. He bailed Mario out in this Year of Luigi, and we'd better not forget it.
Yet it's now coming to an end, so we thought we'd look back and pick out some of Luigi's shining moments over the past year.
Games
There was no better way to begin the Year of Luigi than with the long-awaited sequel to the GameCube launch title. After years of waiting the Green One finally returned to his starring role; we declared it was "nothing less than an absolute triumph for Nintendo" in awarding it 9/10 in our review. Lovely visuals, charming gameplay and the man himself made it one of the best 3DS games of 2013.
Originally a DLC expansion for New Super Mario Bros. U, this took the template of the Wii U launch title and shook it up with shorter, more challenging levels. With Nabbit included as an indestructible character — aside from falling down pits — and Luigi showing off an impressive flutter jump, this was a fun lesson in athleticism from the other brother; we were fans in our review.
Considering it had a relatively quiet launch, AlphaDream's lengthy RPG has pleasingly performed rather well in stores. Quite right too, as in our view it's fantastic, with humorous writing, innovative pixel-based 3D visuals and an excess of charm. Luigi was truly the star in this game, with the alternate dream world focused on him and most of the plot's focus revolving around his propensity for sleep. Bowser, Mario, Peach et al were also as charming as ever, but Luigi took the lead.
So Luigi's not just an athletic platformer, but has been hard at work earning his doctorate. Tired of seeing Mario showing off his fancy MD certificate, Luigi knuckled down, hit the books and became a doctor himself at the end of 2013. He took Mario's ideas for medicinal treatment and took them in bold new directions with new modes. Take that, Mario — we gave this a recommendation in our review.
Stealing Mario's Thunder
Luigi starred in the fantastic Wii U platformer in three ways. For one he was our go-to character, with a higher jump and an invaluable flutter that not only looked awesome, but gave valuable air-time in trickier levels. Second, there were plenty of Luigi sprites hidden throughout the game — these were simply a fun touch, as some blocks or triggers would make an 8-bit Luigi pixel briefly visible. Finally, there was Luigi Bros., a new version of the NES arcade port of Mario Bros. with a pleasing green palette swap. Mario's name was on the cover, but Luigi got plenty of attention in what was arguably 2013's finest game.
Luigi Everywhere!
Nintendo did a great deal to spread awareness of Luigi throughout the year. On top of the four main 'Luigi' games and his prominence in Super Mario 3D World, the green mascot was the subject of some big-scale marketing and terrific giveaways. Below are some of the highlights.
Mario & Luigi 3DS XL and Luigi Special Edition 3DS XL
Nintendo continues its run of producing more 3DS variation than we can shake a stick at, particularly in Japan. The West didn't entirely miss out on the festivities, however, with the Nintendo UK store offering the previously Japan-only Luigi 3DS XL (pictured above) in its territory. Nintendo of America joined in with a silver Mario & Luigi: Dream Team system bundle as well as a blue Luigi's Mansion: Dark Moon offering — the latter didn't have a special hardware design, however. There may be a few portables out in the wild permanently celebrating the Green One.
Year of Luigi Given a Home on Miiverse
With Miiverse now available on Wii U, 3DS and web browsers, it's only natural that it's used to promote Nintendo's games and promotions. There was a Year of Luigi community — sadly to be closed — which provided gamers an ideal place to chat about their hero, post illustrations and celebrate the success of the underdog.
Club Nintendo Gets in on the Act
Club Nintendo did its bit to promote Luigi in multiple regions, all tempting promotions to separate us from our Stars and Coins. On the latter theme there was a rather fancy commemorative coin with an accompanying pouch — not legal tender, unfortunately. There's also been a lovely Luigi's Mansion diorama, which is pricey but is no doubt looking rad on a number of shelves right at this moment.
The Chicago L Train Became the Luigi Train
Nintendo of America took the chance, while promoting New Super Luigi U, to rename the usefully called L Train in Chicago. An entire train was decked out in green internally and externally, and the mascot himself — or someone over-heating in a costume of the man himself — went for a ride and mingled with weary commuters. Some Luigi sunshine for those that took the L that day.
Making the Headlines
An Awesome 'Leaked' Luigi 2DS was Fan-Made
The launch of the 2DS in October 2013 certainly raised eyebrows, but for hardware collectors it simply broadened their horizons. There were "leaked" images of a Luigi-themed 2DS, though we cautiously slapped a "Rumour" tag on it, and it turned out to be the impressive work of well-known hardware modder Matthew Wiggins, who created the system for himself and shared with friends — one of whom then sparked the rumours. The fact it looked brilliant just makes us sad it's not available in stores.
Luigi Actor Danny Wells Passed Away, Aged 72
In sad news for those that followed The Super Mario Bros. Super Show, Luigi actor Danny Wells — real name Jack Westelman — passed away. He enjoyed a hugely varied career in film, television and voice acting, but in the eyes of some Nintendo fans will forever be Luigi.
Features Produced Just for Luigi
We make no secret of the fact that some of the Nintendo Life team believe Luigi to be the true Nintendo hero. Over the year we produced some features to celebrate his rise to prominence, a selection of which are below for you to peruse once again.
Also, we were quite chuffed with our April Fools — New Luigi Code to Provide a Fresh Take on Virtual Console Classics
Random Awesomeness
We're saving this section for just one fantastic moment. In a skit released after a 'Luigi Direct', Satoru Iwata and Shigeru Miyamoto play around with a Poltergust from Luigi's Mansion: Dark Moon. Not many companies would have its President and development figurehead in such a video, but that typifies why we love Nintendo.
---
Well done Luigi, you did well. Share your favourite memories of his year below, while we can't help but wonder what the next will bring.