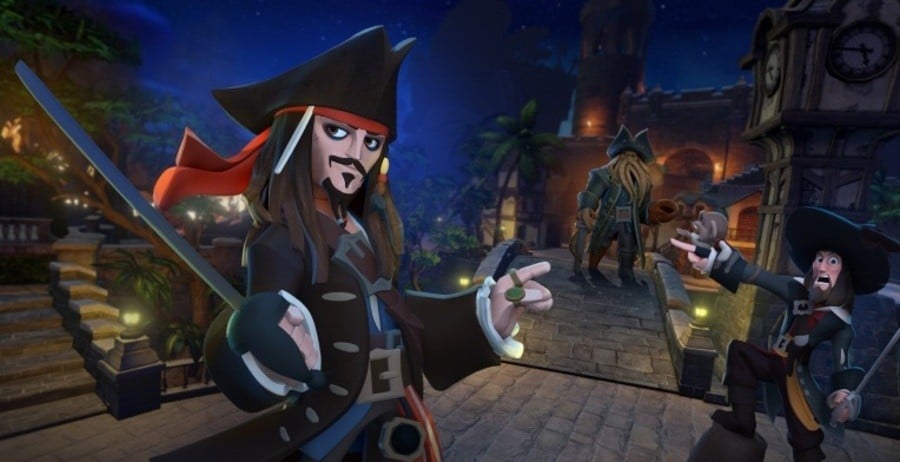 We can imagine a tired old Executive at Activision in late 2011, working through yet more paperwork and then coming across sales figures for the experimental Skylanders: Spyro's Adventure, a game where the publisher was boldly asking parents and enthusiasts to buy the game and a load of toys. Their eyes would have widened, colour returned to their cheeks, before they ran around the office screaming "Wahoo" over and over again.
That's the feeling they want at Disney, to recreate a perfect storm where NFC-style figurines are as vital as the actual game to those doing the buying. Of course, Disney Infinity isn't launching in the Holidays, but it's been confirmed that it'll arrive in June in North America, with a specific date of 28th June given for the UK.
Meanwhile, pricing has emerged for the U.S. and UK markets that suggest Disney is targeting similarly juicy prices as those claimed by Activision. The starter pack will be $75 in the U.S. on Wii U, while UK prices are set to be £64.99 for the Wii U version and £54.99 for Wii and 3DS equivalents. This starter pack content is fairly predictable, with themes matching much of what was seen in the launch trailer: it includes the game, the Infinity Base, three Infinity figures (Mr. Incredible, Jack Sparrow and Sulley), three Infinity Play Sets (Monsters University, Pirates of the Caribbean and The Incredibles) and an Infinity Power Disc (which acts as a buff for characters).
Details of extras have emerged for the U.S., meanwhile, which is where the serious money is made: figurines will sell for $29.99 in packs of three or individually for $12.99. Don't expect to buy them all, as with 20 accompanying the game at launch it'd cost around $175.93 to complete the collection with 17 extras, assuming the three starter pack figures are included in the overall total. There'll also be packs of Power Discs, basically those buffs/power-ups that we mentioned, that will retail for $4.99 each.
The most expensive extras, and those with the most question marks right now, are Play Set Packs that will cost $34.99. We expect these to be areas of the game world (like those included with the Starter Pack) that therefore include various challenges and puzzles, so they're the equivalent of extra in-game level DLC. It's not clear whether that cost includes one or more of these Play Sets, or if any appropriately themed figurines are included. If a toy or multiple sets are included they could be decent value, whereas if these are just individual Play Sets it could be pricey, even by the standards of this kind of game. We'll keep an eye out for updates.
There's a lot of content to look forward to if you have the excitement and the funds to join in. To the parents out there, our sympathies.
[source eurogamer.net]