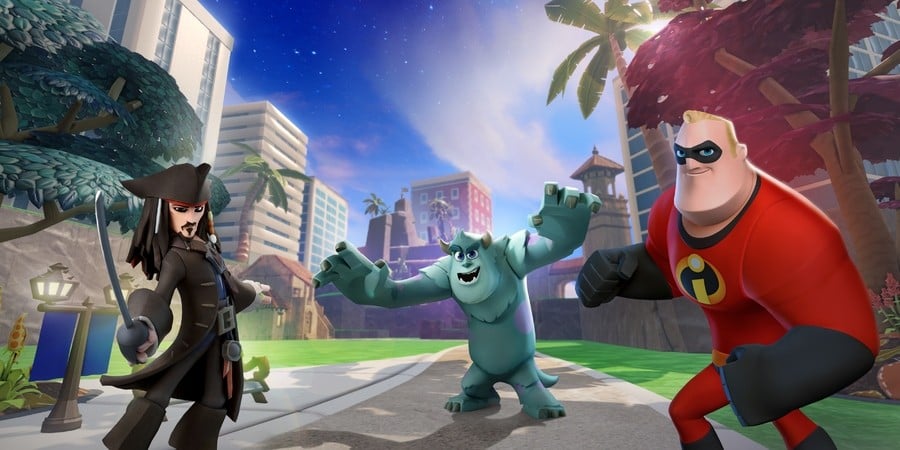 Late last year details emerged of Disney Infinity, a title that incorporates real-life figurines and a portal concept made popular by the Skylanders series, while adding a great deal of customisation and a sandbox environment to encourage freedom and experimentation. Disney Interactive has now unveiled a host of new details, along with a flashy trailer that reveals the concept and some in-game footage.
As revealed previously, two distinct areas will be available, the "Play Set" areas will have specific challenges and puzzles to conquer that will also unlock characters, vehicles and gadgets that can then be used in the "Toy Box". The Toy Box is very much your own play area, where you create your own environments and generally be as wacky as possible, with the option to share these areas with friends online or, apparently, even when offline.
While the idea of putting a toy on a portal is nothing new, Disney has revealed that the options will be broader — and the strain on wallets undoubtedly higher — with additional items and power ups that all use the portal. Disney is billing Disney Infinity as a "platform" that will expand for years to come (DLC ahoy) which is coming to every major platform — including Wii U, Wii and 3DS — as well as mobile devices later in the year. Below is an excerpt from a fact sheet with some details on the extensive range of collectible items that'll be available to buy for use with the portal, in this case called the "Infinity Base":
Disney Infinity will initially introduce a line of 40 collectible interactive figures - characters, "Play Set" pieces and power discs - that allow players to expand and customize their play experiences. Over time, Disney Infinity will release additional characters and "Play Sets" and this platform will constantly evolve.

17 interactive character figures allow players to experience a variety of their favourite characters in each "Play Set" and in "Toy Box" play
3 "Play Set" pieces that add new Disney and Disney•Pixar "Play Set" locations
20 power discs enhance environments, add gadgets and more
It's undoubtedly a concept full of promise that is currently promising a summer release, and below you can check out the trailer and some screenshots. Let us know what you make of it, and whether you think it can rival Activision's hugely successful Skylanders series.