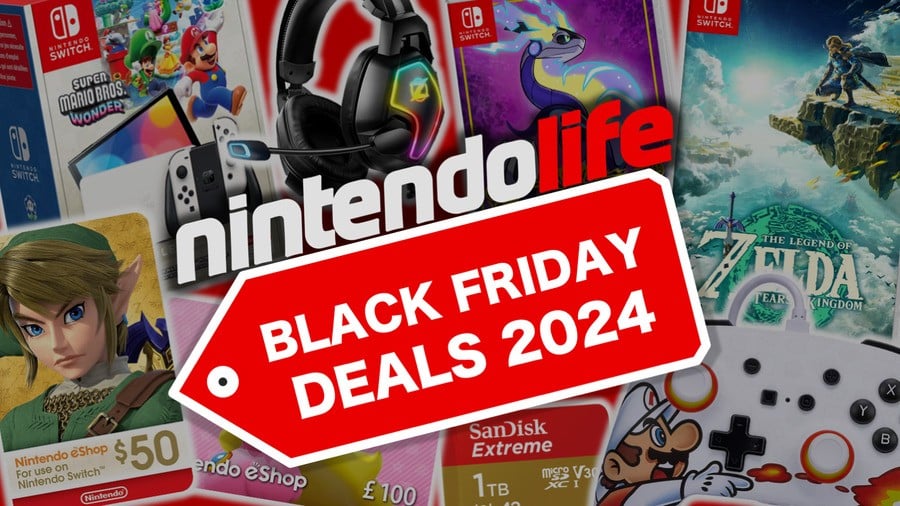 Black Friday 2021 is now upon us, and if you're anything like us you're keeping an eye out for Nintendo Switch best deals. Jostling in crowded stores isn't something we'd recommend, but there's no reason to miss out on a Black Friday 2021 bargain when you can get the best deals brought to your doorstep.
For gamers, Black Friday (and the upcoming 'Cyber Monday') is the perfect time to stock up on goodies ahead of the festive season. This you're likely to find some excellent deals on Nintendo Switch and Nintendo Switch Lite console bundles — mainly because the top-tier Switch OLED is now available which means Nintendo and retailers will be looking to shift inventory of the older (but still excellent) Switch models. You might be lucky and find some modest Switch OLED bundle offers, too.
Of course, with nearly five year's worth of games for Switch now available, there's no shortage of great software, either. There will be plenty of deals on accessories and those lovely micro SD cards to boost your Switch storage. Whether you're looking to catch up with something that passed you by, or find a stocking filler at the best possible pre-Christmas price, something below will surely fit the bill.
In this guide we've compiled the best Nintendo deals and most useful links for Black Friday 2021. We'll continue to update this guide as discounts drop, dry up, and drop again.
Note: Nintendo of America has revealed its Cyber Deals Switch eShop sale (similar to the EU Switch eShop Cyber Deals sale) featuring hundreds of games discounted for a limited time. My Nintendo Store UK also has its Switch hardware bundle and game deals live — check them out below.
Best Nintendo Black Friday Deals (US)
Here are the best US Nintendo Switch bundles, Switch games and Switch accessories we've found — all the best Black Friday bargains, including some TVs. We'll update this list with more deals as they arrive.
Notable discounts below include 33% off various first-party download codes at Amazon, with Target and Walmart chopping $20 off a load of big-name Switch games which brings them down to $39.99 in most cases.
Here are some quick links to US retailers with the best Nintendo Switch deals:
Best Nintendo Black Friday Deals (UK)
And here we've listed the best UK Nintendo Switch deals and associated tech bargains we've found, plus those quick links to UK retailer websites. We'll update this list with more deals as they drop.
Here are some quick links to UK retailers with the best Nintendo Switch deals:
Are the Nintendo Switch Black Friday hardware bundles good value?
If you've yet to buy a Switch and you're interested in the bundled games, the Switch hardware bundles available offer decent value, yes. Even after five years, Switch is still a very hot product, so you're very unlikely to find deep discounts when the console is still very much in demand. You're unlikely to find discounted Switch or Switch Lite hardware alone, with retailers instead concentrating on bundling in extra games and accessories at a modest discount to sweeten the deal.
Nintendo of America has its own Nintendo Switch bundle for Black Friday 2021, which includes a standard Switch console, a digital copy of Mario Kart 8 Deluxe and a 3-month Nintendo Switch Online Subscription for $299.99 — this bundle can be found at various outlets above.
The platform holder also has $20 discounts on various of its top games, including The Legend of Zelda: Breath of the Wild, Splatoon 2, Super Mario Maker 2 and many more (also available from several retailers above), plus $25 discounts on Ring Fit Adventure and Mario Kart Live: Home Circuit. All of these offers started on November 21st.
Nintendo reduced the price of the base Switch model to £259/€269 in Europe back in September, so you're looking at that sort of money, plus extra for a bundle — My Nintendo Store UK's Switch bundle deal being just one example. For that reason, it's unlikely that the solo system will go on sale for a cheaper price — demand is still extremely high.
It's the same story for Nintendo Switch OLED — the console just launched so we don't expect to see any discounts on it this Black Friday, although there are a handful of modest bundle deals above.
So if you're looking for a bargain bundle, keep 'em peeled this Black Friday, and into Cyber Monday.
---
As always, point us to any great deals that are missing, and we'll update this guide as discounts and deals go live.