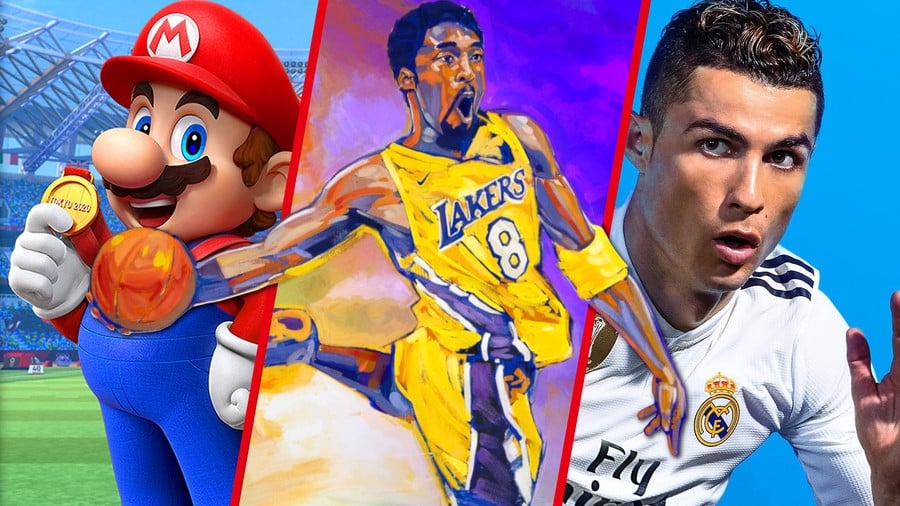 Since the dawn of humankind we homo sapiens have sought to prove ourselves with competitive feats of skill, dexterity or sheer strength. This has taken many forms, but usually involves performing some task in the quickest time, besting your opponent(s) in a physical bout, or scoring the most goals or points or something, usually with a ball of some description.
In these enlightened digital times, it's possible for almost anybody to get off the spectator's bench and start participating in their favourite sport via the wonder of video games, and Nintendo Switch has a host of sports games enabling you to play from the comfort of your couch, regardless of your ability or skill. Yes, you too can be a tennis champ, a pro baller or a wind..., err, jammer.
Below we've picked out - in no particular order - the best sports games on Switch. We've eliminated autosport racers from the lineup here, so if you prefer sports with two or more wheels, best head over to our list of the best racing games on Switch. If you're down with ball games, though, or fancy yourself as an Olympian, you've come to the right place.
So, let's head to the first tee, get on our marks and kick off the best sports games on Switch...
---
Fancy yourself as a Federer? Reckon you're a Ronaldo? Let us know below what you're favourite sports games on Switch are and maybe we'll add them to the roster before the end of the next transfer window.
This article is one of our Switch Essentials guides which cover a wide variety of genres, including the Best Switch FPS Games, the Best Switch RPGs, the Best Switch Games For Kids, the Best Switch Couch Co-Op Games and the Best Switch Fitness and Exercise Games. We can also help out hunting down the Best Switch Horror Games, the Best Switch Racing Games, the Best Switch Action-RPGs, the Best Nintendo Switch Roguelikes, Roguelites and Run-Based Games , the Best Free Switch Games, and even Games to Play After You've Finished Zelda: Breath of the Wild.
Whatever your favourite genre, we've got you covered: Strategy Games, Metroidvanias, Puzzle Games, Party Games, Online Multiplayer Games, Shmups, Fighting Games, Hidden Gems, 2D Platformers, 3D Platformers, Sports Games, Beat 'Em Ups, Chill Games, Family Games, Retro-Inspired Games, Short Games, and the Best Switch Exclusives, as well as Every Arcade Archives Game, Every ACA Neo Geo Game and Every SEGA AGES Game On Switch.
If you're looking for the best Switch games regardless of genre, our reader-voted selection of the Best Nintendo Switch Games should help you out, and you can also find the Best Nintendo Switch Games of 2017, 2018, and 2019. And finally, if you're interested in other Nintendo consoles and retro games, check out the Best Game Boy Games, Best Nintendo DS Games, Best Nintendo 3DS Games, and the Best GameCube Games, as well as Every Nintendo Switch Online NES Game and Every Nintendo Switch Online SNES Game.