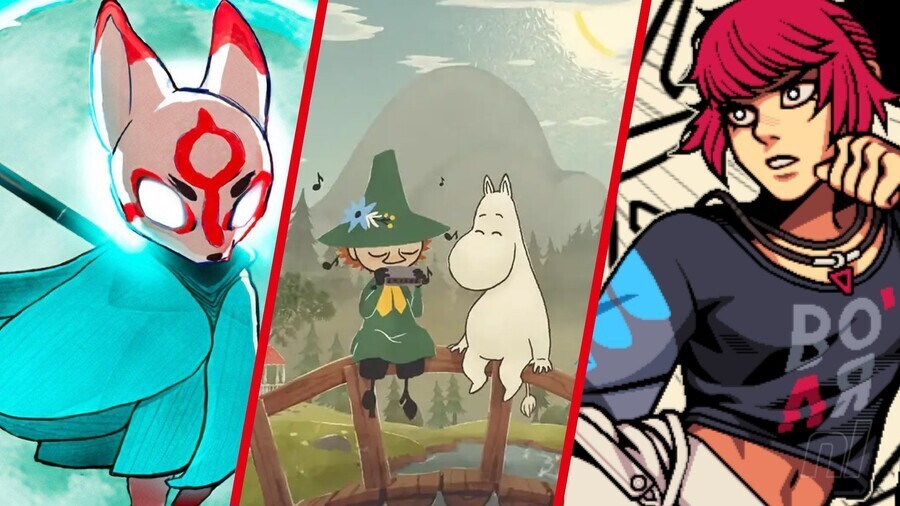 It's a new year — one with loads of 2s in it, whatever that means — and that means getting ready for a whole lot of things to look forward to. We've already covered 30 games that we're excited for in 2022, but there are so many more than fly under the radar: Indie games! So, why not shine our spotlight on some of the smaller-but-brilliant games coming to the Nintendo Switch this year?
Of course, we won't be repeating any of the games that made it to our big 30 — that means that you won't find Windjammers 2, OlliOlli World, Card Shark, Outer Wilds, Sports Story, Oxenfree II, TMNT: Shredder's Revenge, Metal Slug Tactics, River City Girls 2, or Hollow Knight: Silksong here. Instead, we hope you'll find some games you didn't even know about before — we certainly did!

Astroneer - January 13th 2022
"On this adventure, players can work together to build custom bases above or below ground, create vehicles to explore a vast solar system, and use terrain to create anything they can imagine. A player's creativity and ingenuity are the key to seeking out and thriving while on exciting planetary adventures!"
"An action-adventure game set in the human mind. Nightmares are spreading chaos and enemies have overrun once-peaceful lands. Join Dusty, the Mind's courage, as you make your way through puzzles, musical boss fights and unique environments. Face your fears head-on."
"It's the 1920s and the world's foremost detective is about to embark on his most challenging case yet. Thankfully, in this world that's not quite like our own, there's nobody better to crack the case than the great detective and gentleman giraffe, Lord Winklebottom."
"A mystery adventure game that will take you across Singapore and the world in hot pursuit of criminals, witnesses and clues. Do real-world research and investigation to solve puzzles and uncover leads, and manage your time and money to solve cases from clients both well-intentioned and nefarious. Along the way, untangle a web of conspiracies and plots that threaten to push the Lion City over the edge."
"Experience what life would be like in a world ravaged by mankind through the eyes of the last fox on Earth in this eco-conscious adventure. Discover the destructive force of the human race, as it, day after day, corrupts, pollutes, and exploits the most precious and valuable resources of the natural environment."
OMORI - Spring 2022
"Explore a strange world full of colorful friends and foes. Navigate through the vibrant and the mundane in order to uncover a forgotten past. When the time comes, the path you've chosen will determine your fate... and perhaps the fate of others as well."
"A relaxing, eloquent experience that can be played at any pace. Become immersed in a panoramic world filled with resplendent colors, beautiful hand-animated visuals, and a smooth, easy-listening soundtrack. As a passionate artist, seek the missing colors that will bring your paintings to life - all while remembering to take the occasional coffee and breakfast breaks that keep you going. There is more than what meets the eye, for every painting has a story to tell."
"A unique mix of dating sim, rhythm game and narrative adventure, where players will inhabit Rama, a young musician whose girlfriend Cinta has recently passed away."
"On the eve of a landmark speech by the wealthy heiress Lady Unterwald, a straight-laced lawyer, a crime novelist-turned rookie detective, and an undercover spy find themselves embroiled in a murder, a mystery, and worst of all… an adventure! Now stuck onboard a luxurious steam train, within stabbing distance of a cold-blooded killer, the race is on to prove their innocence once and for all!"
"Embark on a journey of peril and wonder as a Solstice Warrior in this turn-based RPG inspired by the classics. Sea of Stars tells the story of two Children of the Solstice who combine the powers of the sun and moon to perform Eclipse Magic, the only force capable of fighting off the monstrous creations of an evil alchemist known as The Fleshmancer."
"A non-linear platformer based on Winsor McCay's groundbreaking 1905 comic strip, Little Nemo in Slumberland, which follows the adventures of a 7-year-old boy in the world of his dreams. Players control Nemo and his 3 friends: each character has their own unique powers for exploring the many surreal environments as they confront Fiends threatening to destroy Nemo's happy dreams forever!"
Keep going to page two for even more 2022 Switch games...