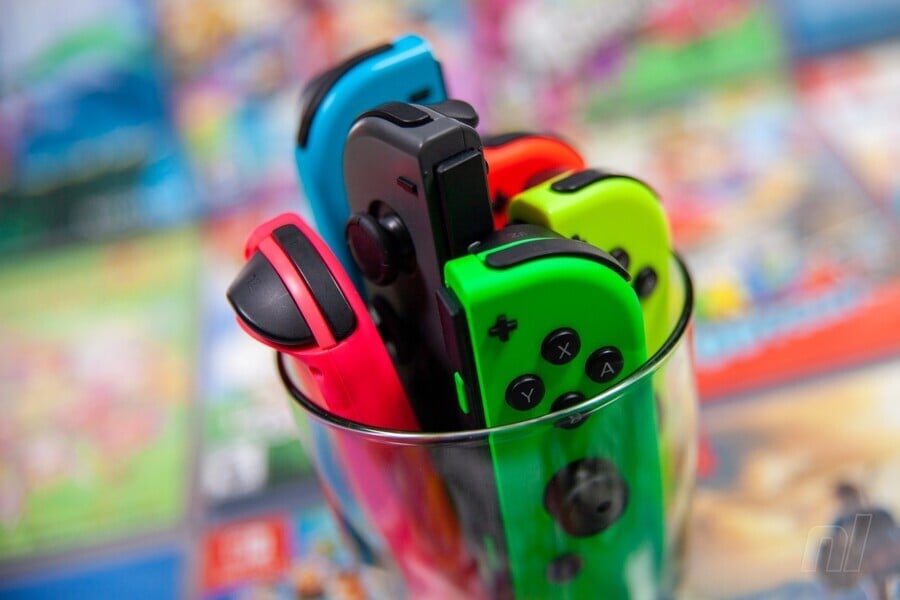 One of the most wonderful things about the Nintendo Switch is the modular design, which allows you to remove your old boring Joy-Con controllers and slide in some new colourful ones to show the world how individual you are.
There's quite a variety of different colours of Joy-Con available now (there are now over 250 possible Joy-Con colour combinations), so we've rounded them all up for you in this handy guide. If you're suffering from the infamous 'Joy-Con drift', Nintendo is reportedly repairing them no-questions-asked in some territories, so you can buy these sets with some confidence. If you'd rather not wait, though, check out our guide on how to fix a drifting Joy-Con analogue stick.
Zelda: Skyward Sword HD Nintendo Switch Joy-Con
This pair of Zelda-themed Joy-Con released alongside The Legend of Zelda: Skyward Sword HD and very nice they are, too. Featuring straps which reference Master Sword spirit Fi's legwear, the only thing that puts us off these lovely controllers is the different shade of blue each one sports. A quick glance and you might think they're the same... but they're not!
Fortnite Edition Nintendo Switch Joy-Con
This standalone set of Fortnite-inspired Switch controllers sport a lovely rich blue hue on the left (with a Fortnight 'F' stamped on the rear) and a fetching banana-yellow on the right (with the Home button acting as one of Fortnite-Banana-Dude's eyes). Fan of the game or not, that's a joyous pair of Joy-Con right there...
Animal Crossing Limited Edition Nintendo Switch Joy-Con
These Animal Crossing: New Horizons Joy-Cons are only available (in the West) as part of the Animal Crossing Switch bundles listed below. My word, they do look lovely, though...
Flashy Neon Green Nintendo Switch Joy-Con
This fetching set of Neon Green Joy-Con could work well for the gunge enthusiast, eco-warrior or gamma radiation fan alike. This matching pair originally launched just a few days before Luigi's Mansion 3 on Halloween making them ideal if you plan to team-up with Gooigi for some trick-or-treating any time of the year.
Unfortunately, it seems these were a Best Buy exclusive set, so you might have trouble tracking down a dual pack.
Purple / Orange Joy-Con
Did someone say custom Wario and Waluigi Joy-Con? We doubt this was Nintendo's intention, but fans of the Super Mario dastardly villains have been quick to point out that this lovely pair of controllers do look as if they could have been based on the pesky baddies we all know and love. Also, a purple Joy-Con? Yes please!
Blue / Neon Yellow Joy-Con
This contrasting set of blue and neon yellow controllers came alongside the purple/orange set. The neon yellow Joy-Con are usually found as a same-colour set, so having one thrown in with a non-neon Joy-Con makes this option one of the more standout combinations. Have at it.
Flashy Neon Yellow Nintendo Switch Joy-Con
These eye-catching neon yellow Joy-Con were released to coincide with the launch of ARMS. Much like the Switch brawler with its eye-dazzling roster of colourful brawlers, these eye-catching Joy-Con do stand out from the crowd. If you are in the market for a pair of Joy-Con which match, then these could be the one for you. Neon Yellow is a bold choice and you always wanted to be bolder, didn't you?
Splatastic Neon Pink & Green Nintendo Switch Joy-Con
If Neon Yellow wasn't bright enough for you, then allow us to present you with the Neon Pink & Green Joy-Con. Released to coincide with Splatoon 2, these motion controlled beauties scream out "I bloody love Splatoon" and if that registers with the grandma sitting next to you on the bus, then this is no bad thing. Why not alternate right-sided pink Joy-Con and left-sided green Joy-Con though Nintendo? You monsters!
Super Mario Red Nintendo Switch Joy-Con
Released to coincide with the launch of the wonderful Super Mario Odyssey, these red Joy-Con are a great choice for those who wish neon colours were left in the '90s along with dungarees and bum-bags. These red Joy-Con are stylish and yet understated, a perfect choice for someone who wants to express themselves without drawing too much unwanted attention from paparazzi.
While these Joy-Con can be picked up with the Super Mario Odyssey Switch bundle, they can also be picked up separately in North America. In Europe you are bang out of luck, however, so we've kindly dropped in a link for Play-Asia for Euro readers. Nintendo can't stop us from importing these lovely region-free Joy-Con from Hong Kong. We know, because we've done it! Bwahahaha!
Pikachu & Eevee Edition Nintendo Switch Joy-Con
These Pokémon: Let's Go, Pikachu! and Let's Go, Eevee! themed Joy-Con can only be obtained when you buy the Pikachu & Eevee Switch console bundle. Obtaining these could get expensive, although they were available separately in Japan. Unfortunately, you'll have to travel to the My Nintendo Store or Pokemon Center Online in Japan to get them. Mail order options would be nice!
What can we say about these Joy-Con? Well, they remind us of mustard. There, we said it.
Super Smash Boring Grey Nintendo Switch Joy-Con
For a game as vibrant and colourful as Super Smash Bros. Ultimate we have no idea why these Joy-Con are so boring to look at. Would it be churlish of us to assume that Nintendo overestimated how many people would want the standard grey Joy-Con and produced way too many of them? Yes, it looks like those lines were added at a later date to cash in on Smash – we're on to you, Nintendo!
You can't buy these Joy-Con separately, so you'll have to pick up a super smashing Switch bundle to obtain these rare Joy-Con.
Classic Neon Red & Blue Nintendo Switch Joy-Con
Like hot and cold taps, these Joy-Con are colour coded to suit your mood. The neon colour brings to mind happy days in the '90s watching The Fresh Prince of Bel-Air before this humble scribe was sentenced to writing guides about Joy-Con colours.
Pro-tip: you can buy the alternative left/right combo to match the ones which came with your Switch so you can have matching sets of left and right Neon Red and Neon Blue. The perfect solution for anyone who has a mild touch of OCD.
Classic Grey Nintendo Switch Joy-Con
If you have grey Joy-Con it's likely that you got these bundled with your Switch at launch because the Neon options were all sold out. If you purposely chose grey Joy-Con then we will not judge you; this is the "don't look at me" choice, you are probably too busy enjoying yourself to wish to attract attention with your choice of controller colour.
Then, of course, there are other options...
Hori D-Pad Joy-Con
If you love playing retro games on your Switch, then it's definitely worth picking up an officially licensed Hori left hand Joy-Con which sports a rather lovely d-pad rather than the regular face buttons found on a normal Joy-Con. You can only use these when docked on the Switch, they are not wireless. Also they lack the HD rumble feature found on regular joy-con, but if you want the accuracy of a d-pad for playing games such as Street Fighter 30th Anniversary Collection then these are made for you.
In the West you can get these in Mario, Zelda and Pikachu themes. The Japanese option which you can get from Play-Asia is a rather fetching dark blue colour.
Custom Joy-Colours
While the official selection of colours available from Nintendo is slightly limited at present, it was only a matter of time until the modding community came up with their own solutions. There's even a transparent option along with a case replacement, which looks great!
These can be purchased quite cheaply from places such as Etsy, however, you'll have to take out the innards of your Joy-Con to place in this new housing, so it's not for the faint of heart. Alternatively, if you're willing to pay a premium, you can order pre-modded sets from companies like Colorware.
Nintendo Switch Online - Nintendo Entertainment System / Super NES Controllers
While these official NES style controllers aren't strictly Joy-Con, they do dock on the side of your Switch for charging. You can even play games with them while docked, but your mileage doing this may vary.
These can only be ordered from Nintendo directly, as can their SNES counterparts (although they don't dock on the side of the console) and you'll need to have an active Nintendo Switch Online subscription to order them, too.
Nyko Dualies
Last but not least is a third party Joy-Con style offering from Nyko. Lovingly named "Dualies" these Joy-Con wannabees offer an alternative to the official Joy-Con. They don't dock on to the Switch, so you can only use them wirelessly. Also, they do not have an NFC reader, but they do feature rumble. You'll charge them via a USB-C cable.
Nyko says that the larger, more rounded edges of the Dualies allow for an improved grip, especially while playing sideways, giving more comfort and improved ergonomics. We're yet to be convinced that these are really necessary when official Joy-Con don't cost that much more.
---
So that's all of the Joy-Con available for Switch right now. Which is your favourite?