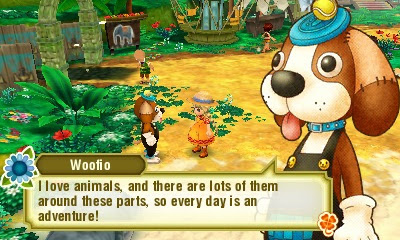 Story of Seasons: Trio of Towns is a relatively recent arrival in PAL territories, but has been keeping 3DS players busy in North America since the Spring. Now XSEED games has outlined details on the first paid DLC to come to the title in the North American region, along with a free update and 3DS theme.
Due on 9th November at a price of $7.99USD, the 'New Neighbors Pack' will include new outfits and story content along with two additional romance candidates; the official blurb is below.
In addition to new friendship events, winter outfits, NPC dialogue, and story content, the upcoming STORY OF SEASONS: Trio of Towns "New Neighbors Pack" DLC introduces two new romance candidates: Stephanie the contest MC, and Woofio the contest judge in the dog suit. This includes new friendship and romance events for these characters.
There will be a free update with a few goodies, too, including "various gameplay improvements as well as four new outfits, which include Lest and Frey's attire from Rune Factory 4". A 3DS HOME Theme will also go on sale for $1.99USD.
We'll likely have to wait a little while to see these extras in Europe, but if you're in North America and have the game let us know if you'll be tempted to pick up the New Neighbors Pack.