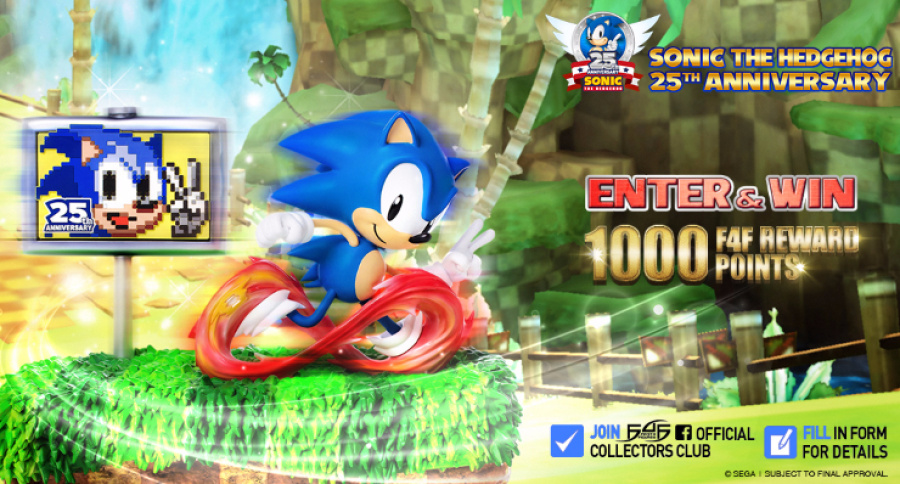 Maker of high-end collectibles First 4 Figures has again gone above and beyond creating its latest piece to celebrate Sonic the Hedgehog's 25th Anniversary. Partnering with Sega to celebrate the occasion, the figure returns to Sonic's original outing on the Genesis. Sprinting across Green Hill Zone and passing the goal plate (which even spins!) to complete the level, Sonic celebrates in style holding up his trademark pose. 
As always there will a regular version and exclusive version with the latter's speed 'blur' lighting up along with the goal plates spinning in the identical direction to replicate Sonic dashing past. The exclusive will also come with 4 interchangeable face plates - 2 each of Sonic and Dr. Robotink.
The dimensions for the diorama come in at 33cm high x 40cm wide x 22cm depth and weighs 4.7 kg.  Both the regular and exclusive are priced as $384.99 (£298.56 approx) with pre-orders going live on 6th June. 
You can watch the making of video with First 4 Figures owner Alex Davis below: 
Live stream start: 
6th June - 7:00am (California), 10:00am (New York),
6th June - 3:00pm (London), 4:00pm (Germany), 10:00pm (Hong Kong)

The pre-order launch will then begin 1 hour later. 
This is not the first statue in the Sonic series to come from First 4 Figures with Modern Sonic, Classic Sonic, Shadow, Tails, Knuckles and more all getting the same treatment, with Silver the Hedgehog announced for later this year. 
Would you be interested in purchasing this figure?
[via youtube.com]