A little over a week ago we reported on an interesting Toki Tori 2 Miiverse drawing contest that was launched by Two Tribes, aiming to encourage the talented artists in the game's community to share even more creations. The prize is a grand one, with winning drawings set to appear as cave drawings in the game.
The contest is being split up into four weekly themes, and the first week winner has now been chosen — it's Fredrik.W, who won with his imaginary friend entry of Toki Torro, below.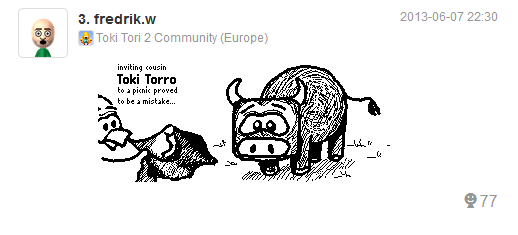 With round one closed it's now time for the second go-around, with the theme now being to draw Toki Tori's Ancestors. The basic tweaked rules to enter this round are below.
Draw Toki Tori's ancestors
Post it on the Toki Tori 2 community on Miiverse
Reply to your own drawing with the text: #contest
Collect a LOT of Yeah's for your drawing to get into the Top 25

We will announce the winner of the second round on June 19th, so be sure to post your drawing before that.
With the winner being picked from the top 25 collectors of 'Yeahs', it's time to get drawing if you want to be in this round. A piece of artistic immortality potentially awaits, so let us know if you'll be heading over to the Toki Tori 2 community to enter this wee's contest. You can see the latest top entries below, too.
[via twotribes.com]