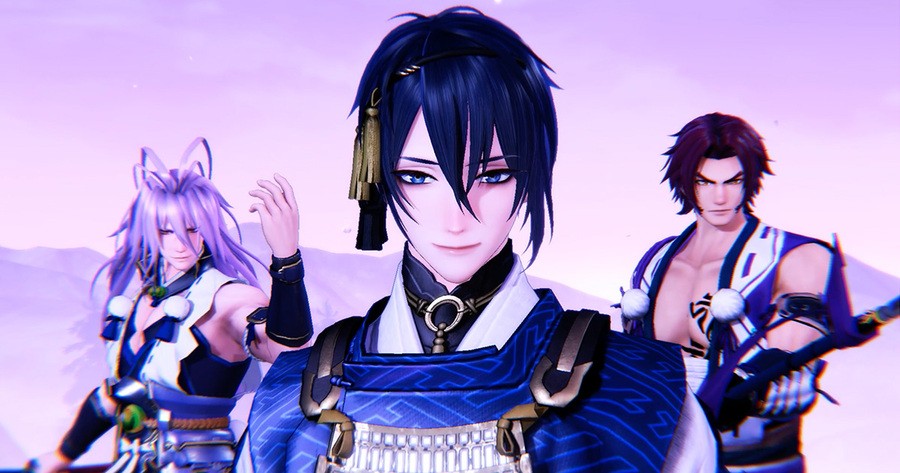 The latest Nintendo Download update for Europe has arrived, and it's bringing new games galore to the eShop in your region.
This week, we're a day later than usual — some pesky gremlins must have gotten into Nintendo of Europe's system, as the update didn't drop until earlier this morning (Really, it was Ascension Day in many parts of Europe, so many places were closed for the day. Thank you PALGamer for bringing it to our attention!). Still, that doesn't change the releases we're bringing you, so hopefully next week we'll be back to normal.
As always, be sure to drop a vote in our poll and comment down below with your potential picks for the week. Enjoy!

Switch Retail eShop - New Releases
Arcade Spirits: The New Challengers (PQube, 27th May, £16.99 / €17.99) - "More Than Just a Retro Romance - Balance social life with the intensity of running an esports team in a retrofuturistic world where arcades dominate the gaming scene. After the success of the award-winning visual novel Arcade Spirits, Fiction Factory Games are back with a ground-breaking standalone sequel. Customizable Characters - Design your own character and rival using a massively expanded character creator. Choose your pronouns, shape your personality, feelings, and preferences, then see them reflected in the story. Alter your character and change your pronouns after every chapter to see what reflects you best!
Kao the Kangaroo (Tate Multimedia, 27th May, £24.99 / €29.99) - Kao the Kangaroo is a beautiful 3D platformer jam-packed with fun, exploration, adventure, and mystery! Join Kao, the feisty furball, as he embarks on an unforgettable quest to uncover the secrets surrounding the disappearance of his father. He'll traverse rich environments, filled with hazards, puzzles, and foes. Each turn uncovers another clue as well as revealing a secret world bubbling under the surface.
MY LITTLE PONY: A Maretime Bay Adventure (Outright Games, 27th May, £34.99 / €39.99) - Bring magic back to Equestria and play with the new generation of MY LITTLE PONY characters, in an adventure full of fun, fashion and good friends! Earth Pony Sunny wants to make the world a better place by hosting Maretime Bay Day, a forgotten celebration of friendship and magic. But some pony is out to spoil the celebration - and they're stealing cakes, letting bunnies loose, and even spoiling Pipp's paintings! Only you can help Sunny throw the most magical celebration Equestria has ever seen. Use your magic to put on fashion shows, find the cutest animals, fly with the Pegasi and more.
Switch eShop - New Releases
- Mischief Dungeon Life - 異世界転生した俺のイタズラダンジョンライフ (CyberStep, 26th May, £14.29 / €15.9) - "Mischief Dungeon Life" is an isekai fantasy novel game in which Renji is reborn in another world as a demon. He encounters various heroines while playing a big role in the fates of both the Demon Clan and the Human Tribe. This bishojo game released in 2020 from the brand "Calcite" has been remade for the "CS Novel Club" platform so that it can be enjoyed by people of various ages around the world.
Amazing Superhero Squad (Sometimes You, 25th May, £6.29 / €6.99) - Do you think it is easy to solve all the problems of a cursed city and not go insane? Lead a team of superheroes, save Storborg City from looming disasters and beat your dishonorable rivals. Keep your corporation running and don't let the main stats reach zero. Solve city's and your employees' problems. Exciting story – unmask conspiracies within your corporation and edge out your rivals. Build a dream squad – combine heroes with different stats for best efficiency and please, don't get them all killed!
Arcade Archives FLIPULL (HAMSTER, 26th May, £6.29 / €6.99) - "FLIPULL" is a puzzle game released by TAITO in 1989. Match up blocks with the same pattern within the time limit to eliminate them! Bring the number of blocks on each stage below the clear condition limit to proceed to the next stage. The "Arcade Archives" series has faithfully reproduced many classic Arcade masterpieces.
Balloon Flight (RedDeerGames, 27th May, £1.77 / €1.99) - Enjoy the view Get ready for incredible landscapes and unique settings. Take your time to soak in the incredible view. Soar through the sky, by controlling your glider. Increase or decrease the altitude and make sharp turns to avoid dangerous traps. Your trusted balloon-gun is the only ally you can count on. Every second counts! Do your best to glide through the rings and increase your time limit. Every flying island has one although sometimes getting to it can be a bit tricky. Getting those precious seconds requires your full focus. Unlock new balloons Increase your score and unlock new balloon skins. Most of them come with a certain milestone, but some will require... extra effort.
Beatus Creation Solitaire (Beatus Creation, 26th May, £17.99 / €19.99) - Play with VTuber super crew "Beatus Creation" in the classic card game "Spider Solitaire"! Unlock new themes, illustrations, and stamps designed based on each member of Beatus Creation using the coins you earn each time you clear a stage. Use the stickers to decorate your sticker book and create your very own album!
BIOMOTOR UNITRON (SNK, 25th May, £7.19 / €7.99) - A sci-fi fantasy RPG on an epic scale! Defeat mighty enemies with the strongest humanoid battle robot, Unitron! Players take on the role of Unitron pilots as they explore the world! Explore dungeons that change their appearance every time you enter them and acquire various materials! A Unitron's shape changes according to the pilot's level! And new weapons can be developed by synthesizing materials and parts! Go out and create your own Unitron! Battle it out in the arena, the hall of fame of Unitron Masters where the strongest enemies gather! Win the glorious title of "Master of Masters" with the strongest Unitron!
Blow & Fly (eastasiasoft, 25th May, £3.59 / €3.99) - Take the role of a blowfish and explore physics-based puzzles that require you to move and aim in tandem. Your owner's naughty son destroyed your aquarium, and now you're desperately in need of water! Use what little liquid is left on the floor to move around and retreat to a toilet bowl which might save your life or flush you down into far more challenging realms, escaping which will require all of your agility and creativity!
Coloring Pixels: Collection 1 (ToastieLabs, 26th May, £6.59 / €7.3) - The objective is quite simple: each level contains numerous uncoloured pixels and it is your job to colour them in. Each pixel is numbered; this number corresponds with a colour in your palette. Select a colour from the palette and paint each of its corresponding pixels. Correctly colour all pixels in a level to finish it! Coloring Pixels is a great way to wind down, you can just sit back and relax. With 180 levels, you can have hours of fun. This collection contains 8 themed books.
Farm Tycoon (SONKA, 27th May, £15.29 / €17.99) - From seeds to vegetables and processed products. There are animals, meat processing plants, farming machines, workers with different skill sets, warehouses with cooling, anti-pesticides, and many more. A lot of different strategies can be successfully executed to make the farm profitable. You can surely make a jack-of-all-trades farm to min-max the systems, but perhaps just a fully sustainable and independent apple juice company can drive the prices up and be more profitable? Maybe using only eco-friendly energy sources will pay off in the long run, especially with the government grant? Or you just *love* beef steaks and want to make the best quality filet mignon in the world? Any farm-related business idea seems possible in Farm Tycoon!
Freezer Pops (eastasiasoft, 27th May, £7.19 / €7.99) - After Brazilian game developer Alexandre loses his university scholarship and his roommate decides to travel the world, he's faced with an unexpected challenge: paying the rent for his apartment all by himself. Desperate for a quick solution, he picks up on a tip that selling gourmet freezer pops at the beach nearby could rake in the extra funds he needs. Freezer Pops is a bara visual novel where you take the role of Alexandre as he tries to take control of his career and love life. Visit locals throughout the neighborhood and the beach, meet romanceable guys, and get ready as the competition heats up against an old lady who runs a freezer pops family empire! Make decisions and dialogue choices to affect how the story develops and which of the guys helps Alexandre solve his troubles!
Jade Order (Tortuga Xel, 27th May, £5.7 / €6.59) - Return from exile and restore the power balance of a secluded land. Play as an ancient warrior that has been tasked to light the sealed beacons of its millenary Order. Avoid the impending doom and complete 50 different puzzles as you aid the Jade Goddess to cleanse the land from the cursed flames of the plague. Learn and cast 4 different blessings, powerful lightning-based skills granted by the Sacred Spark of the Goddess, each with a specific use to overcome different types of hurdles and defeat the forces of the Ashen Plague. Each puzzle will pose extra challenges. Use strategy and intuition to complete them at your own pace. The cry for help has been heard. Do you have what it takes to bring peace to the land while traversing the old ruins of the forgotten Jade Order?
Mechanic Battle (MobilWay, 25th May, £7.19 / €7.99) - Let the race for the title of the best car mechanic begin! Pick up your tools and work your magic in order to bring old, rusty wrecks back to their former glory. Hours of blood, sweat, customising, and repairs will allow you to create the ultimate beast of a vehicle, capable of facing the rest of the best in a series of gruelling races!
Ogre: Console Edition (Auroch Digital, 24th May, £18.99 / €21.09) - Ogre is a turn-based strategy game of mechanised warfare, requiring tactical decision-making and strategic thinking. It's the official video game adaptation of the legendary tabletop wargame from Steve Jackson Games, developed by the award-winning Auroch Digital. In the warfare of the near future, one type of unit inspires such fear that even allies keep a safe distance: the Ogre. These AI-powered tanks are so powerful they're the equivalent of a battalion of tanks and infantry. Hovercraft, tanks, marines, infantry, and the monstrous Ogres all take part in an endless world war. As a player, you take command and vie for supremacy on the irradiated battlefields of the future.
Pixel Game Maker Series KINGDOM FIGHTER (Gotcha Gotcha Games, 26th May, £11.49 / €12.79) - Pixel Game Maker Series KINGDOM FIGHTER is a fighting game. The game features 8 unique characters with different abilities, allowing players to enjoy the game in a variety of styles. Each character has a variety of special moves and super special moves that can be easily unleashed with the touch of a button! Characters can move horizontally as well as vertically, so you can defeat your opponents while dodging their attacks! Hidden characters and costumes are added as you progress through the game, so be sure to uncover them all! In addition to the one-player story mode, the game also supports split-play, allowing two players to play against each other! The "Pixel Game Maker Series" is a series of games created using the action game creation software "Pixel Game Maker MV" that can be enjoyed on the Nintendo Switch™.
PRIDE DANCE Out & Proud (IV Productions, 26th May, £11.69 / €12.99) - Pride Dance Out & Proud is a celebration of Pride events around the world and all things LGBTQ+. Dance your way through the streets of the most iconic cities around the globe! Move your body in Dance Mode or get ready to change the world in Rhythm Mode. With "Dance Duels'' you can even make hateful bosses bite the dust and turn them into fabulous allies with Prideality! You will be leading Parades in important cities all around the world, capturing the exuberance, colour, and inclusive nature of all Pride Parades. All three game modes can be played individually or locally with friends, as well as three difficulty levels (Virgin, Vicious, Queen). You will find unique events and characters that reflect every city of the parade. Be loud, be proud, and spread the message of love!
Sakura Succubus 5 (Gamuzumi, 26th May, £7.99 / €7.99) - Hiroki is now prepared to settle down and enjoy a quiet life. Fate, however, has other plans, after Hifumi becomes embroiled with Princess Stephania Sofia Maria Isabella: a noblewoman who hails from the small European country, Astoria. Stephania asks Hifumi to stay with her in Astoria, so she might teach her about karuta, and share with her stories about Japan. In Astoria, Hiroki meets and befriends both Princess Stephania and her dutiful maid, Elizabeth. As the days pass, both the princess and her maid begin to show an interest in Hiroki. Could Elizabeth be more than she's letting on — and what, exactly, is she scheming?
Senren * Banka (NekoNyan, 27th May, £24.29 / €26.99) - Deep in the mountains lies Hoori, a small village so remote that no trains stop there. Due to its isolation, it has resisted the spread of civilization. However, its rustic charm and hot springs have transformed it into a famous tourist destination. One of the village's biggest draws is the divine blade Murasamemaru, stuck in a stone from which no one has been able to pull it out of. . . until our protagonist Arichi Masaomi manages to break it in half. Before he can even come to grips with what just happened, he's forced to make amends for what he's done. How, you might ask? By marrying the village's shrine maiden, of course! He's already in way over his head, but this is just the start of his mysterious and unfathomable new life in this village. Masaomi then goes on to meet his new fiancée, discovers an enigmatic and strange girl that only he can touch and begins to learn about the curse afflicting the village of Hoori.
Super Toy Cars Offroad (Eclipse Games, 27th May, £14.39 / €15.99) - Find your own way in this fast-paced arcade racing game where you control miniature offroad cars that speed through amazing tracks populated with supersized everyday objects. Drive your offroad vehicle where no other toy has gone before! Leave your own trail through burning beach sands among suncream and sandcastles, or step in virgin snow among huge snowboards and ski goggles, or through any of the impressively detailed 15 tracks available in the game. In Super Toy Cars Offroad you can choose between 20 very different vehicles, ranging from ATV, buggies, cars, and big trucks. Picking a fast vehicle is important but a tough one too! Competition ain't gonna be soft on you and size matters, so choose wisely and crush your opponents under your wheel or leave them behind eating the dust! In no other game will you revive better that feeling of playing with your toy cars when you were a kid during your holidays or a short trip to the playground.
Toonkars Racer (Weakfish Studio, 28th May, £1.49 / €1.69) - Toonkars Racer is Cute and Toon Racing Game, You Can Race These Sweet Toon Cars With Low Poly Designed Graphics! Race in 4 Uniquely Designed Levels, Your Vehicle Can Drift, Keep Control! Can You Win the Race on Desert, Snow, and Volcano Themed Maps? You Can Modify Your Vehicle As You Want, Wheels, Colors, Model, and Many More Parts! Cars are Fully Customizable! A Comfortable Racing Experience Against Bots!
Touken Ranbu Warriors (KOEI TECMO EUROPE, 24th May, £49.99 / €59.99) - Touken Ranbu Warriors features characters from Touken Ranbu -online-, where famous swords take the form of warriors named Touken Danshi (swordsmen), and the elite fighters are sworn to protect history. In Touken Ranbu Warriors, members of Touken Danshi have been drifting through time without their master – the Saniwa – to lead them, when they are suddenly attacked by the fearsome History Retrograde Army (HRA). After the initial conflict, the Touken Danshi are approached by the Government of the Time and sent on a mission into the war-torn Sengoku Era where the revision of Japanese history is already underway. Can the Touken Danshi heroes restore order while restoring the original timeline? - Read our Touken Ranbu Warriors review
Twin Blades of the Three Kingdoms (26th May, £11.99 / €13.99) - Welcome to Twin Blades of the Three Kingdoms, a retro-style RPG based on the Romance of the Three Kingdoms. Guided by a legendary sword, watch as the story of our hero Xu Shu unfolds from the "Yellow Turban Rebellion" through to the "Battle of the Red Cliffs". Watch this exciting story unfold through the exploits and encounters of these heroes. Command your troops via a retro-style menu system. An array of characteristic generals bring their skills to the table to add spice to each battle. Grow your entourage as the story progresses and form your own unique party to best compliment your individual playing style. From the smallest skirmishes to the largest boss battles, let the meticulously arranged retro-tunes of BUNBUN guide you through this journey!
Video World (Things For Humans, 26th May, £2.99 / €3.29) - Sing and complete rhythmic challenges while you decorate a video store for Halloween and make friends with a magical pumpkin!
Switch eShop - Demos
DLC / Add-On Content
Nintendo Switch
So that's your lot for this week's Nintendo Download. Go on, be a sport and drop a vote in the poll above, and comment below with your hot picks!