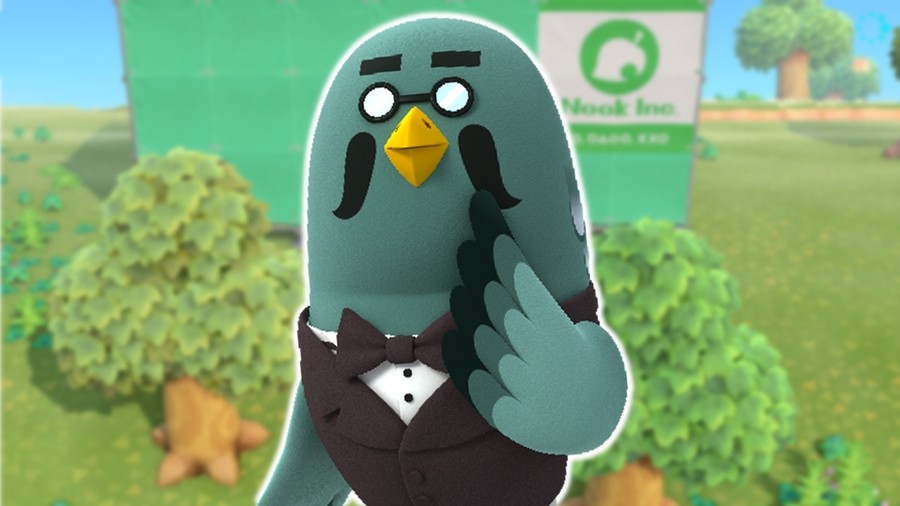 After a long, tiring old year, Animal Crossing: New Horizons needs a shot. No, not the shot in the arm currently being rolled out across the planet with varying degrees of alacrity — we're talking about a caffeine shot from the series' purveyor of finest roasted bean juice, Brewster.
The damn fine coffee of everyone's favourite barista is perhaps the most obvious, most 'significant' element from previous games that fans are desperate see return. After 365 days of updates both big and small, we honestly thought that everything would be in the game by now, but the game's enormous success seems to have caught Nintendo off guard and there's indications that the company may be looking to keep the ball rolling with further updates and refinements to returning annual events (Bunny Day, for example, already has new items this year) and potentially adding more facilities and mechanics to the game throughout its second year.
We looked at things we'd like to see in an update way back near launch, and we brainstormed some more in-depth features we wouldn't mind seeing added in May, too. A full year since launch, some requested additions have indeed arrived — Crazy Redd bought his wares to your deserted islands in April, for example, and extra Custom Design shots are now available in the first anniversary update — although others that are still AWOL.
So, put a brew on and let's take a look at the things we're most anxious to see coming over the horizon as the game settles into its second year on Switch. There's a poll at the bottom, so let us know what you'd like to see...
Brewster's Roost
One of the most-requested elements still missing from New Horizons, the ability to roll up to The Roost and grab a cup of Joe from Brewster has been sorely missed by the AC faithful. Perhaps we just need the willing ear of a barkeep to pour our lockdown woes into, or maybe we just want to relax to some relaxing 'coos' while we slurp our Arabica from the Colombian foothills.
Either way, we desperately hope Nintendo has a pigeon up its sleeve for update 2.0. We'd happily deliver coffee around the island given the chance — and some appropriate rewards, of course.
Resetti, Gracie, Dr. Shrunk, Wendell and Other Special Characters
The list of special characters who haven't shown up on our deserted islands yet is long. Mr Resetti is lingering, sure (as a Nook Inc. Rescue Service employee, no less), but has anyone actually seen him in non-statue form?
Wendell the wandering Walrus is one of our favourites, but we'd be delighted to catch fashionista Gracie in our plaza; likewise, insurance salesman Lyle, Katrina the Fortune Teller or psychiatrist/stand-up comedian Dr. Shrunk. After the past year, we could all do with a laugh, if not some time on his couch, no?
Gyroids
The NL team is split on whether Gyroids are delightfully oddball little collectibles or unnerving, dead-eyed figures we're happy to see the back of. Still, a while ago we asked Nintendo Life readers if they would like to see Gyroids return, and the answer was a resounding yes!
So yes! Why not? Let's fill our islands with more crap fabulous items!
Tortimer's Island and More Multiplayer Activities
Improvements to the online component of the game — specifically concerning the hoops you must jump through to leave your island and the excruciatingly time-intensive process of having more than one person visit your island — is perhaps asking a bit much. Nintendo has made it clear that a swift and smooth online experience is low down the list of priorities; what is there may be clunky compared to other online experiences, but it just about functions. Good enough is good enough, it seems. It's not like clunky online functionality has done much to hurt sales.
In the absence of a more thorough online overhaul, we'd love to see Tortimer return, though — potentially in his role of Animal Crossing: New Leaf island tour leader, which could introduce a host of mini-games, multiplayer-focused or otherwise into New Horizons. The May Day maze event featuring the return of Rover was one of our favourite events so far (although you lot preferred Halloween and Toy Day), so any expansion on that theme would be very welcome.
Batch Crafting

Fish bait. That's it really, we just want to craft fish bait quicker! When we're trying to hunt down the Golden Trout or the Stringfish, crafting fish bait in batches rather than getting an RSI from hammering the 'A' button would be a lifesaver. Or a handsaver, at least.
The ability to craft in batches. That's it, Nintendo. Come on, throw us a bone here! Even multiples of ten would save our precious digits from a horrible battering. You want us to keep buying gaming stuff in our dotage, right? We gamers have to take care of ourselves, and you're not helping.
More Critters to Catch
Having spent an entire year catching fish bugs and, eventually, sea creatures, many players will now have completed their Critterpedia and caught absolutely every critter in the game. For many, hunting down everything signals an end — of sorts — to the game, so adding a new batch of insect or marine life might be a way to draw players back in.
Of course, you don't want to overwhelm newbies. If we were put in charge of expanding the catchable critters in an update, we'd probably have a special NPC come along once you'd 100%-ed your Critterpedia to deliver news of new animals to catch. Maybe a new type of tree or flower would attract new insects to your island. Perhaps a special sonar device helps identify previously 'hidden' fish. Or how about receiving a golden ticket to a new tropical island filled with its own bespoke wildlife ready for cataloguing? How about some birdwatching?
We're not sold on the idea of different sized critters, nor would we want Animal Crossing to turn into Pokémon (we don't really want male and female fish to catch, or Shiny versions of standard critters — can you imagine?!), but we'd love a reason to crack out the bug net and fishing rod again.
The ability to change the Resident Representative
It might have taken a while, but Nintendo did eventually update the game to make it possible to transfer your island to a new Switch using the special Island Transfer Tool. You can also move individual players to other islands if they're not the island representative, but at present it's still not possible to switch an island's Resident Rep.
Why might you want to do this? Well, say you bought New Horizons for one of your kids and made them the 'main' player. Fast forward a month and they lost interest — it turns out that you or someone else plays the game way more these days. Unfortunately, island 'progress' (the ability to build new structures, pay off the mortgage, etc) is tied to the Resident Representative, so you're forced to play as them if you want to get things done.
For some people this addition wouldn't make much difference — for others, it would be transformative.
Old Nintendo Consoles, or an Arcade!
Okay, hear us out on this one. Everyone wants the NES games from the original Animal Crossing back — but anyone paying for a Nintendo Switch Online subscription already has access to them, right? So why not combine the two in a way that makes sense for Nintendo in 2021 — if you buy the NES and SNES from Nook's shop and fire them up at home you'll get a special Animal Crossing 'wrapper' in which to play the NSO NES/SNES games already available. Easy!
If Nintendo wanted to go to town and install an arcade building on our islands, we'd be all for that, too. But seeing as we can already buy the regular Switch, the Animal Crossing-branded Switch and now Switch Lites (exclusive to NSO subscribers, no less) in-game, why not the NES, SNES and any other retro consoles that might pop up as part of Nintendo Switch Online in the future? They'd look great in our house with all the Mario 25th anniversary items.
Are you still playing Animal Crossing on Switch? Would any of the above additions bring you back into the fold? One-off, non-annual events, perhaps? What would keep New Horizons fresh for you as the game enters its second year on the cusp of Update 2.0? Let us know with a comment below.
---
Further reading: