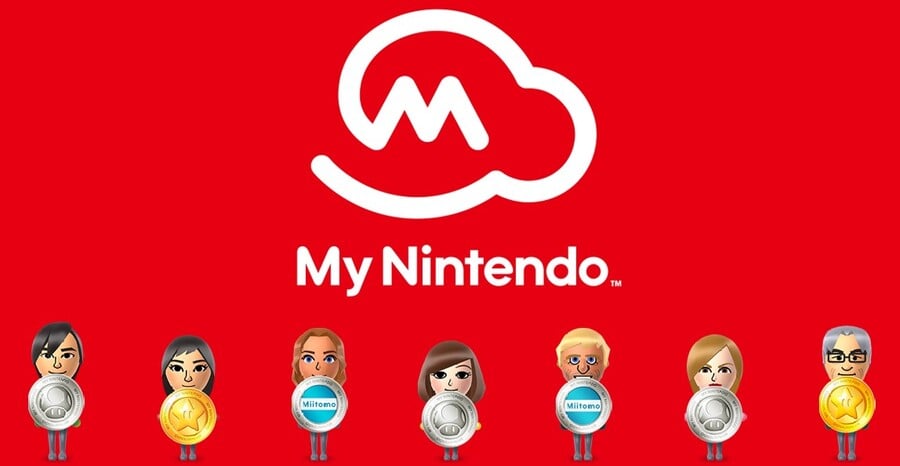 Soapbox features enable our individual writers to voice their own opinions on hot topics, opinions that may not necessarily be the voice of the site. In today's article, editor Dom looks into the option to spend virtual gold coins on the eShop and how this addition to the My Nintendo program only goes to show how meagre it is - and how great things once were...
---
Once upon a time, Nintendo used to use one of those cutesy reward schemes that was as weird as it was inclusive. Club Nintendo was its name, and it was a setup mostly tied to physical purchases - with points earned through picking up a new system or retail game - but at least there were tangible, attainable rewards at the end of that Rainbow Road. It wasn't perfect, but these little gifts meant something (especially during the darker days of Wii U where Nintendo was forcibly pushed into the background while Sony and Microsoft tried to outshout one another with specs and exclusives).
Sure, I didn't need to save for months on end to be able to afford some hanafuda cards, but they were the kind of item I couldn't get anywhere else at the time, so it felt worth the effort. And I really did love all the bits of tat that came through the post (some it's still in my office to this day, being the Nintendo fanboy that I've always known myself to be).
In the Nintendo-themed world of today, the systems in place to reward and thank loyal customers such as myself are very, very different. Club Nintendo's successor - My Nintendo - is two years into its tenure as of 2018 and shows no signs of improving. If anything it's getting worse, and it's an aspect of Nintendo's infrastructure that's actively working against the shift the firm is making towards a digital-focused future.
When it launched in 2016, My Nintendo was self-hailed as a new evolution to suit a new and ever-changing age. Gone was the opportunity to spend your hard-earned gold points on The Legend Of Zelda: Majora's Mask 3D Messenger Bag or a set of Nintendogs Greetings Cards. In its place was, well, not very much. Now you earn coupons for paltry discounts or themes for your smartphone. It was dull, dire and the antithesis of Club Nintendo's oddball approach to rewards.
With platinum coins far easier to earn through Nintendo's mobile offerings - such as Animal Crossing: Pocket Camp and Super Mario Run - the new system felt more at home on your smartphone, but it's never seeded properly on consoles. So Nintendo is trying something a little more practical. Enter the recent news that these coins can now be used to purchase additional games on the eShops. Huzzah! A step forwards. A practical use for coins that rewards consistent purchases, right? Err, not quite. 
Look, I get that most reward schemes are weighted towards serious investment in exchange for a discount or reward, but Nintendo's new offering is anything but rewarding, mainly due to how convoluted and messy it is to use and make the most of. And this is coming from someone who resides in the UK and has long had to live with the terrible points scheme GAME (the UK's leading video game retailer) has been using for years.
The point of this new update is to enable Nintendo fans to accrue a stockpile of gold coins, then cash them in towards a 'free' game or as a discount of sorts. The current program states you'll earn 5 percent in coins from every purchase you make from the eShop and 1 percent from physical purchases. So for a start, that puts the boot to retail consumers who want to own a game in physical form, and are willing to pay over the odds for a cart, and still receive a lower percentage of coins.
However, this is part of a shift towards digital, so as annoying as that is, the favouring of digital over physical is a sacrifice that's hardly shocking in 2018. But what is startling is just how long it takes for you to earn any sort of discount worth using. Even at 5 percent, you'd have to spend thousands of pounds, dollars or euros to afford a full-price game. So you'd have to bank a lot of these and build them up over the long-term, right? Sorry, that's not possible. Coins only last for one year before expiring. So you'd have to invest in an unholy amount of digital titles within a 12-month period to make the discount even worth consideration. Oh, and it only applies to select titles, so not everything will earn you coins. In short, it's a hot mess.
And I'm not the only one that's cottoned on to how unfair and imbalanced the new system is. From other media outlets to the dark depths of social media, the feeling towards this update isn't looking great. Considering the eShop has yet to receive any sort of tangible update since its launch last March, and that we'll have to wait until September at the earliest for the proper deployment of the Nintendo Switch Online infrastructure, it's clear the Big N has a lot to learn when it comes to embracing that aforementioned digital future.
https://twitter.com/Tomleecee/status/970987041608622081
https://twitter.com/xyz_mink/status/971070214329815040
As we've mentioned, we know a 1 percent / 5 percent rewards scheme is neither new nor exploitative in the grand scheme of things - we've all experienced the bite of points cards that rarely accrue anything worth using - but if Nintendo wants this system to be embraced then it needs to remove the restrictive conditions that are holding it back - and it wouldn't hurt to bump those percentages up a touch for good measure.
---
So that's Dom's take on the My Nintendo program. We know our article earlier today on My Nintendo saw some choice words directed at Nintendo, so let us know down below how you'd prefer the system to work. A proper overhaul or some slight tweaks here and there?