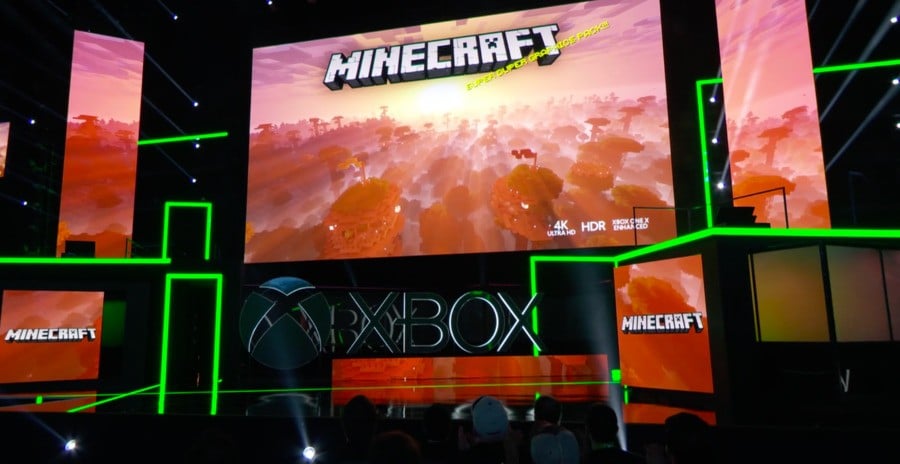 Microsoft has announced that it intends to unify all versions of Minecraft under its "Better Together" update, and that the Nintendo Switch will be one of the first platforms to benefit.
Due for release in August, the update will unite the game across (nearly) every platform, thanks to the Bedrock Engine, which currently powers all mobile, Windows 10, Amazon Fire and VR versions of the game. 
The idea is that it won't matter which version you're playing - the core game will be exactly the same across all platforms, so DLC and updates will be shared and players will be able to interact and create worlds together, irrespective of which machine they own.
Once the update lands, Nintendo Switch and Xbox One owners will be able to link with (nearly) every other version of the game. You'll get access to Realms - Minecraft's multiplayer mode - as well as the freshly-launched Community Marketplace. Existing worlds and DLC will work fine, and the update also brings with it support for infinite worlds.
Not all consoles will get the Better Together update right away. The PS4 version will have to wait a little longer, while the Java version will be officially renamed Minecraft: Java Edition. It doesn't look like the Wii U version of Minecraft will be updated, with Destructoid reporting that a Microsoft representative has stated that legacy systems - which also includes the PS3 and Xbox 360 - won't receive the Better Together update.
Here's what marketing lead Emily Orrson had to say:
Beginning with Xbox One and Nintendo Switch, we'll be expanding that code base so that... the vast majority of our community is united. We're partnered very closely with Apple, Google, PlayStation, Nintendo, Amazon, our VR partners -- a lot of that, it just is a lot to make sure we're always working in everyone's store and everything else. Right now we are doing our best to get everybody connected, but it is work to work through all of the scenarios we encounter.
So, Minecraft on Switch is going to get even better - and before the PlayStation 4 version, too. What do you make of this news?
[source engadget.com]