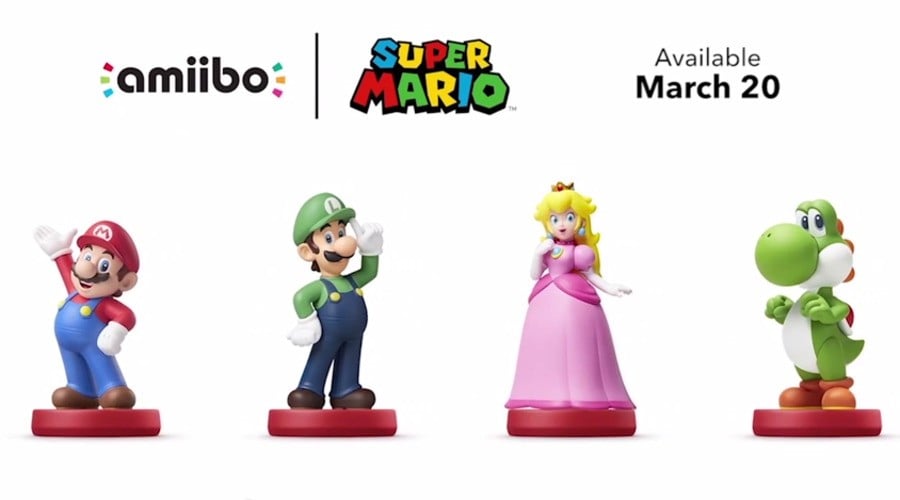 With all their current momentum, amiibo figurines were bound to make an appearance during the latest Nintendo Direct - and so they did.
The first inclusion of amiibo figures in the Direct was the announcement of Wave 3 figures of the Super Smash Bros. series becoming available in February, which we're all already aware of. However, we then learned information about the next wave in this range. Wave 4 will contain Robin, Lucina, Pac-Man, Wario, Ness, and Charizard - all being available in from April 24th.
If that didn't tickle your taste buds enough, then maybe the next piece of news that the Direct revealed will. A whole new range of amiibo figures will become available on 20th March - the Super Mario amiibo series (of course) - alongside the release of Mario Party 10. This new lineup of figures includes Mario, Luigi, Peach, Yoshi, Bowser, and Toad. These figures will unlock a new mode when playing Mario Party 10 - amiibo Party. Check out our article on that topic for more details.
It's worth noting that although Donkey Kong, Rosalina, and Wario have not received amiibo figures from the Super Mario series, their Super Smash Bros. amiibo will work within the game - the same being said for Mario, Luigi, Peach, Yoshi, and Bowser (great for those concerned with the current Super Smash Bros. amiibo series' versatility). This is also the case vice-versa, meaning amiibo from the Super Mario series can be used when playing Super Smash Bros. for Wii U and Nintendo 3DS. However, data from amiibo within the Super Smash Bros. range must be erased before using the figures with Mario Party 10, and this applies both ways; this is due to each toy only supporting one set of read-write data.
Logically, Captain Toad: Treasure Tracker will be another game to receive amiibo functionality, with the new Toad amiibo activating a sort of hide-and-seek game where the player must find 'Pixel Toad' in each level. An update to the game will become available for download on 20th March to activate this feature - the same date as the release of Mario Party 10 and the new Super Mario amiibo series.
Finally, the aforementioned amiibo support for Super Smash Bros. for Nintendo 3DS will be arriving in a February update, making that the first 3DS game in the West to support the toys, while upcoming release Ace Combat Assault Horizon Legacy + will also use some figures. The New Nintendo 3DS has an NFC scanner built into the touch screen, while an accessory for older models will come later in the year.
With Nintendo's latest step in the world of amiibo, it's clear that more and more franchise ranges will become available; it wouldn't be a surprise if a Zelda or Pokemon amiibo series is released later this year. Are you excited by this for collection purposes, or find it annoying that you may have to purchase certain amiibo for certain functionality? Let us know.