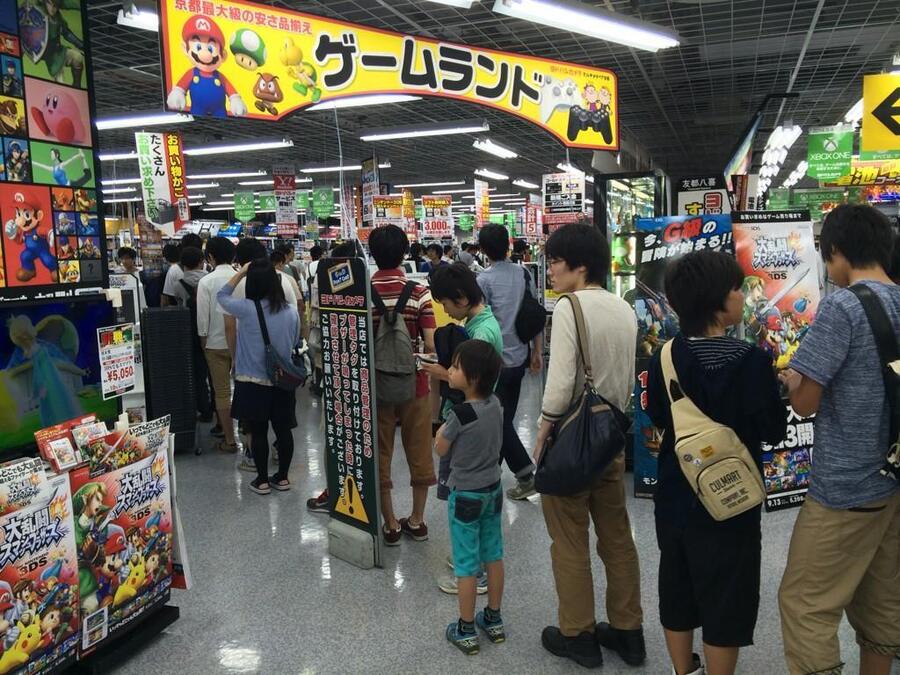 Famitsu has just revealed sales data for the Japanese games market in 2014 which illustrates the astounding populairty of the 3DS in that particular region.
Nintendo's handheld sold 3,153,045 units during last year, twice the amount that the second-placed system -- the PS Vita -- could manage. Even when its sales were combined with those of the Vita TV platform, Sony's handheld sold 1,147,936 units, putting it way behind the 3DS range of systems.
Japan's love affair with portable consoles continues, as domestic platforms struggled to match the performance of the 3DS and Vita. Sony's PS4 was the king of the home console hill with 925,570 units sold, with the Wii U managing 604,856 systems. The ageing PS3 shifted 450,034 consoles, while the Xbox One could only muster 45,958 units.
The Wii U's growth appears to have slowed when compared to this time last year, when it sold over 100,000 in the week prior to Christmas. Contrast that to the same week in 2014, and sales have dropped to 48,927 units.
In fact, total value of the Japanese games market as a whole dropped in 2014 to 368.55bn Yen, down from 2013's figure of 408.97bn Yen. Hardware fell 8.5 percent to 142.15bn Yen and software slumped by 10.7 per cent to 226.4bn Yen.
In terms of software, the 3DS had a bumper year, with Yokai Watch 2 proving to be the country's most popular title. It shifted 3,050,178 units during 2014, and the release of another version of the game just before Christmas -- Yokai Watch 2: Shinuchi -- earned an additional 2,007,327 sales and No.1 in the end of year charts, with 265,226 copies retailed in the week before Christmas.
Aside from these versions of Level 5's title, only three other games managed to sell over a million units in Japan during 2014, and amazingly they were all on 3DS: Pokémon Omega Ruby & Alpha Sapphire (2,464,850), Monster Hunter 4 Ultimate (2,381,177) and Super Smash Bros. for Nintendo 3DS (2,066,022). The first Yokai Watch title almost managed to sell a million, ending 2014 with 994,346 sales under its belt.
Meanwhile, on the Wii U, Mario Kart 8 shifted 842,053 copies and Super Smash Bros. for Wii U 478,366 -- the only two Wii U titles present in the top 10 for the year, which was totally and utterly dominated by Nintendo releases -- there wasn't a single non-Nintendo game in the top 10.
Here are the total figures for the year:
Hardware
1. Nintendo 3DS (including 3DS, 3DS LL, New 3DS, New 3DS LL) – 3,153,045
2. PS Vita (including Vita TV) – 1,147,936
3. PS4 – 925,570
4. Wii U – 604,856
5. PS3 – 450,034
6. Xbox One – 45,958
Software
1. Yokai Watch 2: Ganso/Honke (Level 5) 3DS – 3,050,178
2. Pocket Monster Omega Ruby / Alpha Sapphire (Pokemon Company) 3DS – 2,464,850
3. Monster Hunter 4 Ultimate (Capcom) 3DS 2,381,177
4. Super Smash Bros (Nintendo) 3DS – 2,066,022
5. Yokai Watch 2: Shinuchi (Level 5) 3DS – 2,007,327
6. Yokai Watch (Level 5) 3DS – 994,346
7. Mario Kart 8 (Nintendo) Wii U Nintendo – 842,053
8. Dragon Quest Monsters 2: Iru to Ruka no Fushigi na Fushigi na Kagi (Square Enix) 3DS – 748,139
9. Kirby: Triple Deluxe (Nintendo) 3DS – 687,957
10. Super Smash Bros (Nintendo) Wii U – 478,366