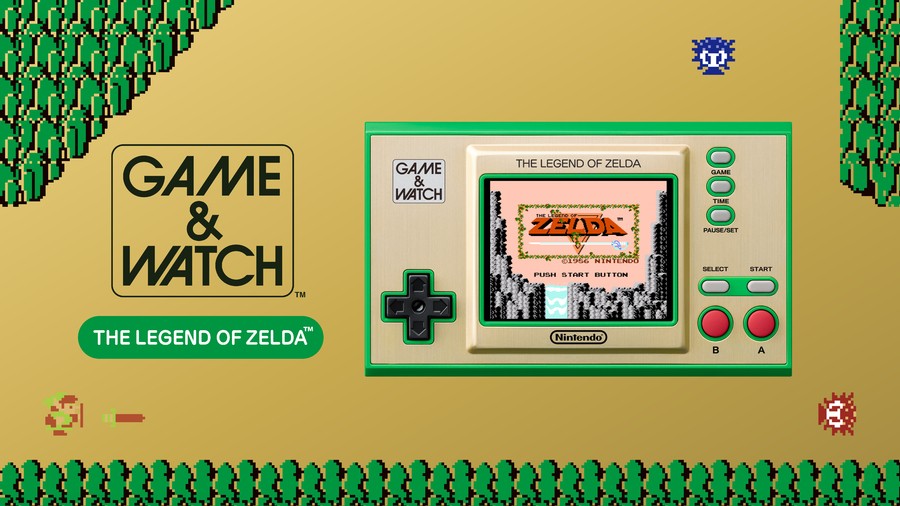 Update: 17th June - Amazon UK pre-order page is now live.
Update: 16th June - My Nintendo Store UK pre-order page is now live.
---
Revealed as part of Nintendo's E3 2021 Direct presentation, the Game & Watch: The Legend of Zelda handheld is a cute little device that let's you play three classic Zelda games on a retro-styled Game & Watch system similar to the Super Mario Bros. version which launched last year.
Launching on 12th November as a tribute to the action-adventure series' 35th anniversary, the full games included on this gorgeous little device are:
Both the English and Japanese versions of these classics are playable, and the Game & Watch title Vermin is also included, now with Link in the starring role. The handheld also features a Zelda-themed alarm clock function with various Easter Eggs to discover.
This nostalgic novelty system is certain to see like hot cakes, so you should bookmark this page and check back regularly if you like the look of it.
Pre-Order Game & Watch The Legend of Zelda In The UK
Just the official Nintendo option in the UK at the time of writing. We'll update with more as we find them.
Pre-Order Game & Watch The Legend of Zelda In The US
Stock is likely to come and go with this one, so if your preferred retailer is currently sold out, keep an eye out for restocks:
Will you be grabbing this along with your Master Sword and revisiting this trio of classics? Let us know below.