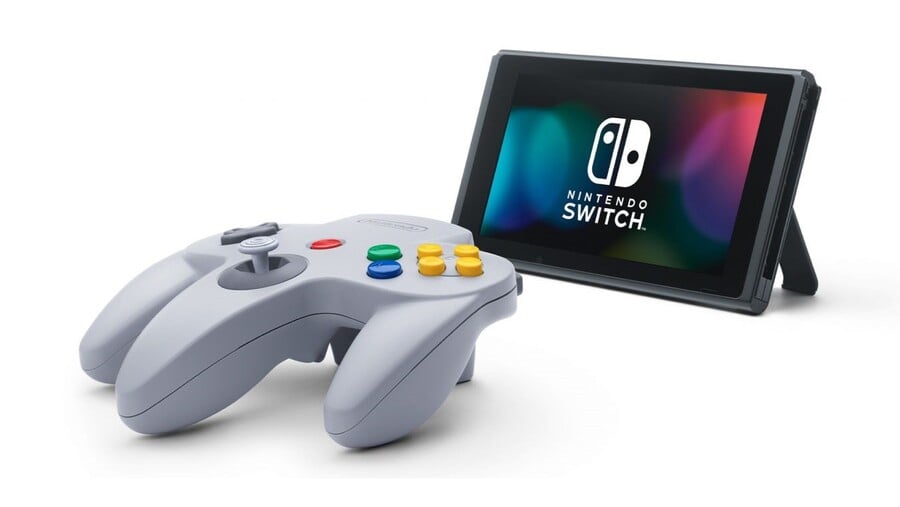 With Nintendo 64 games dropping on Switch for Nintendo Switch Online subscribers on 25th October, you'll probably be wanting to play them with the controller they were originally designed for. Fortunately, Nintendo has also brought us wireless Nintendo 64 controllers are available to purchase by anybody signed up to Nintendo's online service.
These new Nintendo 64 pads are of the same lineage as the NES and SNES controllers that released alongside the service, and although the three-pronged N64 pad divides opinion, it's rather fun to get our hands on them.
Below we've answered a few questions regarding the new pad, it features, how much they cost and where you can get hold of them.
When can I get these Nintendo 64 pads, and how much do they cost?
The new N64 controller is now up for order on Nintendo of America's website. The corresponding pages on the Nintendo UK website can also be helpful.
Each pad costs £39.99 (delivery is free over £20 in the UK), and $49.99 in the US. Being Switch Online exclusives, the official Nintendo site in your region is the only place to buy them new.
Both sites also mention that purchases are limited to four per Nintendo Account holder.
Are these Nintendo 64 controllers identical to the originals?
The NSO N64 pads retain the size, shape and feel of the originals but add the convenience of wireless connectivity, so you're not tethered to the console and forced to sit 3 feet from your 65-inch 4K telly.
The Nintendo 64 pads are charged via USB A-C cable. It also features in-built rumble without the need for a Rumble Pak. Here's some exciting blurb from Nintendo itself:
Form Factor – Play enhanced Nintendo 64™ games the way they're meant to be played— using a full-size Nintendo 64 style controller!
Rumble Functionality – Rumble support in compatible games, such as Star Fox™ 64 – no Rumble Pak™ required!
Rechargeable Battery – Use the included USB A-C cable to charge the controller
This new version also includes a tiny 'ZR' button on the top (with the 'Z' button underneath presumable acting as 'ZL' on this pad) which further extend their usefulness for Switch games outside the Nintendo 64 library offerings. The new pad also has Home and screenshot Capture buttons on the top.
Do I need a Nintendo Switch Online subscription in order to buy the Nintendo 64 controller?
Unfortunately, yes. The NES controllers, which came in a pack of two, were (and still are, in fact) available to purchase exclusively for Nintendo Account holders with a Nintendo Switch Online subscription and it was the same deal with the SNES versions and with these, too.
That'll need to be a proper subscription, too — you can't get them if you're enrolled on the free trial version. It does appear, however, that you don't need to subscribe to the higher Expansion Pass tier of Nintendo Switch Online in order to purchase the N64 pad.
Do I need a Nintendo 64 controller to play N64 games with Nintendo Switch Online?
No! It's important to note that these pads are in no way required to enjoy your Nintendo 64 - Nintendo Switch Online games (breathe!) on your Switch — your Joy-Con or Pro Controller will function perfectly well for playing classics like Super Mario 64, Banjo-Kazooie, and F-Zero X. These are optional extras that simply offer a more 'authentic' feel for enthusiasts and nostalgia addicts. They do feel particularly lovely in the hands, though.
However, remember that you will need to have paid for the subscription to the NSO Expansion Pass to access those N64 games.
Can I play non-N64 games on Switch using the Nintendo Switch Online N64 controller?
You certainly can, although the different buttons might cause compatibility issues. Here are the details direct from the horse's (Nintendo's) mouth:
This Nintendo 64 controller can also be used as a Nintendo Switch Pro Controller for software titles other than Nintendo 64 games, but some software titles may not be compatible due to the Nintendo 64 controller's different button layout.
---
We'll be updating this article with more information as it surfaces. Got any questions about the wireless Nintendo 64 controllers for Switch? Share them below and we'll do our best to answer them!
Further reading: