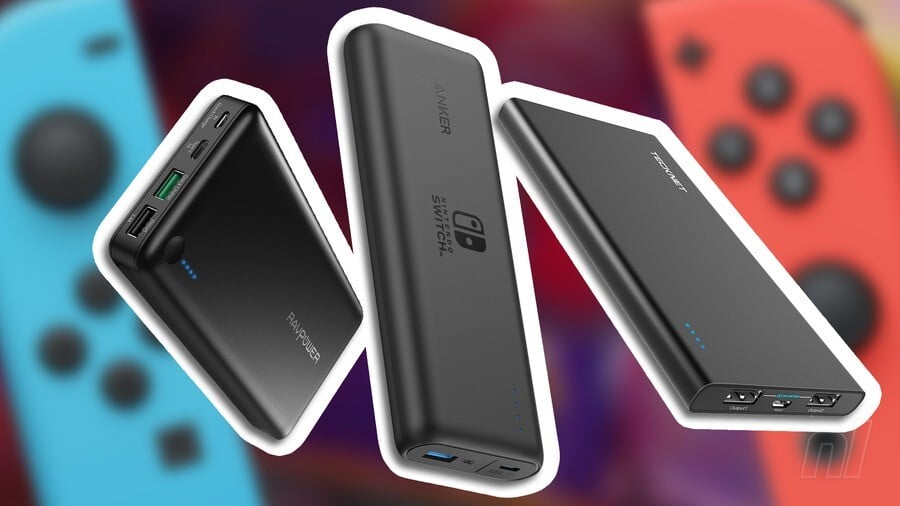 What's the best portable charger on Nintendo Switch? That's a question we all need an answer for when you realise how quickly an undocked Switch runs out of juice.
Realistically, you're looking at around three hours of play for an intensive 3D game like The Legend of Zelda: Breath of the Wild, and at best double that for a 2D game. There is a solution for that though, and that's by grabbing a Power Bank for your Nintendo Switch.
The problem though is that these chargers come at a wide variety of prices and capacities, and those unfamiliar with the ins and outs won't really know where to begin when choosing one.
That's where we come in. We've scoured the internet for prices and specifications, and tested a bunch of them to bring you this list. We'll include options to suit every budget and needs for both the US and UK.
Switch Portable Charger - What Capacity Should I Get?
That depends on what your expectations are. The standard Switch has a 4,310mAh battery, so if at the very least you want a full charge out of a portable charger, you're going to have to look for one with a capacity around that.
However, you can't just get a power bank with exactly the same capacity and ride off into the sunset. Portable chargers typically operate at around 65% capacity, so really you're going to need to get one at around the 7,000mAh capacity to guarantee a full charge from zero to hero.
For longer trips though, you might want more than just a single charge and that's fair enough. Fortunately for you, power banks can go as high as 50,000mAh, which is quite frankly ridiculous.
It's also worth bearing in mind that the bigger the capacity, the bigger the portable charger. As a simple reference point, single charge power banks will likely be about the same size as a credit card, double or triple that about a six-inch phone, and the ridiculous 50,000mAh options will be about the size of a big paperback novel.
Switch Portable Charger - Do The Ports Matter?
Again, that's a matter of preference. The Switch charges over USB-C but your power bank doesn't necessarily need to have one. You'd need a USB-A to USB-C cable, but it will work an absolute treat.
The important thing to bear in mind is that, on average, your Switch will charge slower using anything other than a USB-C. This likely won't be an issue if you only plan on charging the Switch while it isn't in use, but if you want to keep your battery topped up while playing, you'll want a USB-C option. That way it will charge as fast as you're using it, keeping your Switch at 100%.
Finally, you should also consider whether you want to charge other devices alongside your Switch. Power banks range from a variety of different options, so make sure to look into it to find the best for you.
Switch Portable Charger - How Much Should I Pay?
First of all, figure out what you want from a power bank and then look for the cheapest option available to you. We're basically going to get into that below.
As you can expect, portable chargers become more expensive the higher the capacity, so that's the place to start. How many times do you need to charge your Switch on the go? Answer that question and you're good to go.
Switch Portable Charger - How Important Is Power Delivery?
Power Delivery isn't a complete necessity for every Switch owner, but it will make a huge difference for some. Put simply, Power Delivery allows you to charge your Switch as fast as if it was docked. This means that your Switch will remain at 100% for as long as you have power in the portable charger, or it will charge the Switch while you play if you're short on juice.
The downside of Power Delivery is that it can only be used over USB-C to USB-C, and Power Banks with a USB-C port typically cost considerably more than the others. If you regularly take super long journeys or regularly forget to charge your Switch while out and about, you'll get plenty of benefit from this. Others might be happier with the cheaper USB-A options.
Best Switch Portable Chargers - Officially Licensed Options
Want a charger that was built from the ground up with the Nintendo Switch in mind? These are the options for you.
Anker PowerCore 13,400 Nintendo Switch Edition
This is the budget-conscious officially licensed option. The Anker PowerCore 13,400 will charge your Switch just under two times, providing up to 10 hours of extra playtime. It'll charge the Switch in around three hours.
Anker PowerCore 20,100 Nintendo Switch Edition
For those that want a little extra juice, the Anker PowerCore 20,100 is the option for you. It will charge the Switch two and a half times before running out, providing a whopping 15 hours of extra play time. It charges the Switch in just three and a half hours.
Best Switch Portable Chargers - Low Capacity Budget Options
On a tight budget? Don't need more than a single charge? These are the options for you.
Anker PowerCore 10,000
The Anker PowerCore II is a solid option for those on a budget, providing an entire charge and a bit for your Nintendo Switch. It's super small as well – basically the size of a credit card – and charges pretty quickly too.
Xiaomi Power Bank 10,000
The Xiaomi Power Bank is another great option that's both slimmer and longer than the Anker PowerCore (unless you go for the slim option with that one!). The big plus here is that it works across both micro USB and USB-C.
Poweradd Pilot 2GS 10,000
This is the cheapest option on the list, and one that includes two USB ports and a micro USB. It's got a fast charging option for your Switch and phones and a lower output perfect for charging devices like a smart watch.
Best Switch Portable Chargers - Medium Capacity All-Purpose Options
Want a few extra charges out of your power bank? Fancy charging a few devices at the same time? Go for these affordable options.
Anker PowerCore 20,100
The Anker PowerCore 20,100 is an excellent option for those that want to charge your Switch multiple times from a single power bank, or charge multiple devices at once. It's got two fast-charging USB-A ports and charges pretty quickly over micro USB. It's pretty heavy though.
AUKEY Power Bank 20,000
The Aukey Power Bank provides a similar option to the Anker PowerCore but with a blockier style, and there's even a light for when you're caught in the dark. Pretty neat.
RAVPower 22,000
This is the most expensive option at this tier, but one that includes three USB ports and a slightly higher capacity. It's quite weighty though, so bear that in mind.
Best Switch Portable Chargers - Price Is No Limit Options
Price is no limit? Want ridiculous capacities and loads of ports? Go crazy with these options.
MAXOAK 50,000
The MAXOAK is an absolutely insane option that features a 50,000mAh capacity, offering a whopping seven potential full charges for your Nintendo Switch. Not only that, but you can charge six devices at once while using it. This is perfect for a week away camping.
RAVPower Universal Power Bank
This is the best option for those who have money to spare and want a portable charger that provides multiple options. You can charge over USB-A, USB-C, and even directly via AC. That's three very different devices, feasibly, and the 20,100mAh capacity is nothing to smirk at.
Anker PowerCore 26,800
This is the savvy choice for those that have a sizeable budget, offering almost three full charges of your Switch while travelling. It has three USB ports so you can charge a couple of other devices at the same time, and allows you to charge it twice as fast thanks to two micro USB charging ports. Despite the massive size, this allows you to charge the thing in just six and a half hours.
Best Switch Portable Chargers - Gimme That Power Delivery Options
Below, we've included a selection of portable chargers that have Power Delivery, for those that want to juice up their Switch much faster than the others.
Aukey USB-C Power Bank
This Aukey Power Delivery option is solid. You get a capacity of 26,500mAh (30,000 in the US!), which is massive, along with two USB-A ports and a micro USB. Of course, there's also a USB-C port for charging over Power Delivery.
Anker PowerCore Speed
The Anker option has a smaller capacity of 20,100mAh, but it comes with its own charger that's capable of powering up the power bank in a tiny four hours. That could be a game changer for the forgetful amongst you.
RAVPower Power Bank PD
The RAVPower is basically a like-for-like with the Aukey, with 26,800mAh capacity, the same ports, and Power Delivery. The big feature of this one though is that it's scratch resistant, and even comes with a travel bag for those that like to keep their devices clean.
Best Switch Portable Chargers - The "I Only Want The BEST" Option
Not interested in settling for anything less than the very best? Get this one.
Anker PowerCore+ 26,800
This is the Anker PowerCore 26,800 but with a USB-C two way charging port that lets you charge both the Switch and the power bank itself over USB-C. The big feature here is that the PowerCore+ is capable of charging the Switch as fast as when its docked, so you can happily play with it and charge it to full battery at exactly the same time.
---
No matter which charger you opt for, you're going to increase the playing power of your Switch considerably. We've included a range to suit all budgets and necessities, so now it's on you to choose the right one for you. You'll never moan about a long journey again.