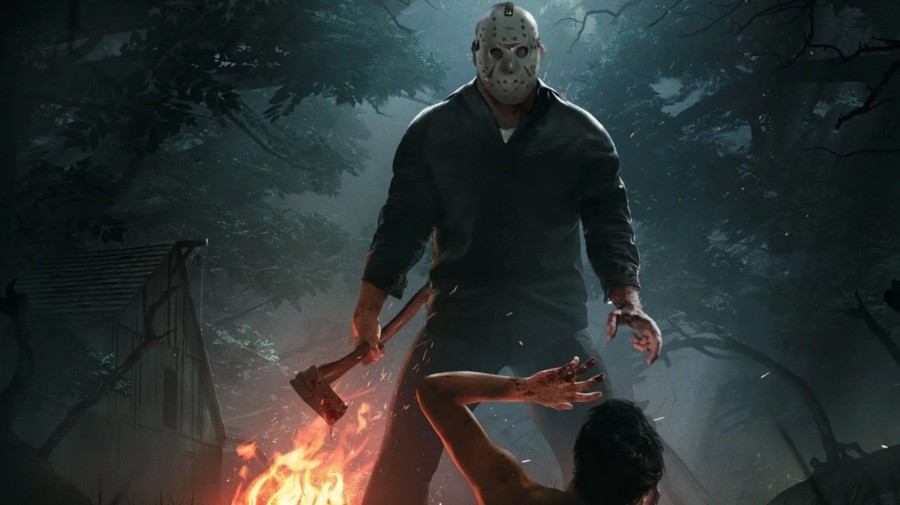 Third-person survival horror Friday the 13th: The Game Ultimate Slasher Edition is eyeing up a release on Switch this summer and a physical edition has now been revealed which is packed with lots of juicy contents.
Originally planned to launch in spring, the game has now been pushed back for a 13th August release (which sadly isn't a Friday). The news of the physical edition may well be enough to soften the blow of that delay, though, especially considering it features all of the following:
Friday the 13th: The Game Ultimate Slasher Edition for the Nintendo Switch includes:

- All DLC and Retail Exclusive Content* – In addition to all previously released DLC – including 10 single player challenges, new maps, characters, counselor outfits, Jason skins, additional kills for Jason and the complete Virtual Cabin experience – the physical edition also offers exclusive Bloody Jason Skins and clothing packs.
- Eight-Person Multiplayer and Single Player Modes – On maps spanning multiple iconic locations from the movie franchise, players will match up online as either Jason Voorhees or a Camp Counselor trying to survive the night. Players seeking lower pressure slasher fun can take the fight offline in matches with AI bots.
- Killer Variety – Players can don the mask of their favorite incarnations of Jason Voorhees as depicted in films two through nine. Each Jason is hand-crafted with specific strengths, weaknesses, and exclusive brutal kills. The retail edition offers even more brutal execution options, with the Pick Axe, Pig Splitter and Machete Kill Packs.
- Character Customization – As players level up, they will unlock new playable Counselor and Jason models that can be purchased with Customization Points (CPs). CPs also unlock new kills for Jason, game-changing perks that help Camp Counselors survive the night, emotes for self-expression, and various regalia appropriate for a funeral … or seven. The retail edition includes the Spring Break '84 Clothing and Halloween Costume Packs for players to try on before the murder party.
- Franchise Authenticity – The game draws expertise from horror icons including Sean S. Cunningham (director/creator of Friday the 13th), Tom Savini (FX legend and effects director of Friday the 13th), composer Harry Manfredini (various compositions from the franchise) and Kane Hodder (Jason Voorhees actor; Part 7, 8 and 9).
Pre-orders have now gone live for the release at North American retailers - you can get your own right now from GameStop and Amazon for $39.99. Other retailers such as Best Buy and Target will also be getting in on the action soon.
Described as a love letter to the original movie franchise, the game pits eight players against each other, either as one of seven teen counsellors, or as the iconic Jason Voorhees. Jason is simply aiming to hunt and kill his prey, while the counsellors must search for tools to survive, escape or even try to take him down first.
Are you a Friday the 13th fan? Thinking of getting the game? Let us know in the usual place.