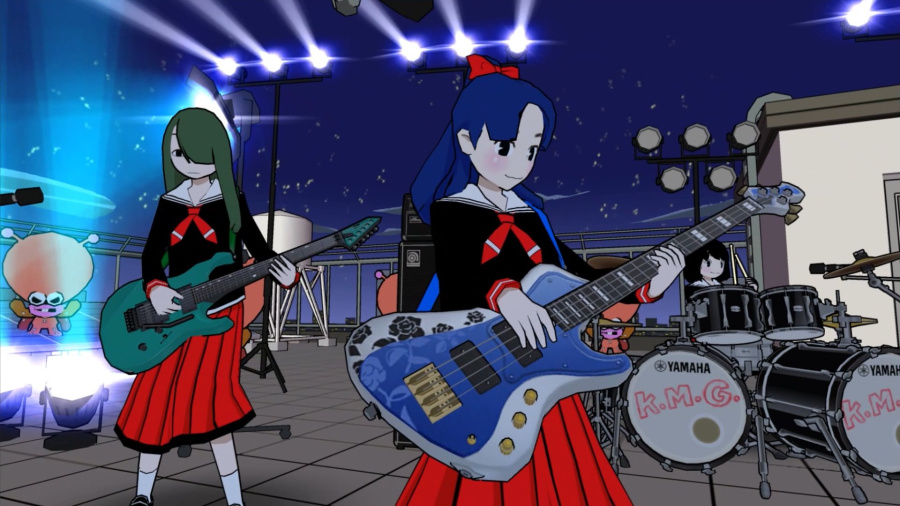 Long-time fans of the site will know that we've carried a torch for Gal Metal for some time now; we've covered the Japanese release of the game, spoken to the man behind it and kept out fingers crossed that it would hit a wider audience at some point soon.
That time has come as XSEED and Marvelous Europe have confirmed that they are bringing Tak Fujii's game to North America and Europe respectively this Fall.
We reviewed the Japanese version back in February, and said:
If you can embrace the vivid and wacky art style of the comic panel segments and strive for percussive nirvana, there is a refreshing, deceptively deep and gratifying experience here. What stops it from being truly great are the minor inconsistencies of the motion controls, the completely bonkers alien invasion plot and the slow, text-heavy teen melodrama stories. Even so, the game mostly succeeds by subverting many stale genre tropes. It will take time to master your set list and the absence of more contemporary music is initially jarring, but this is a title that is rewarding as well as just really fun. For those who are about to rock, we salute you.
If you're still interested - and you should be - here's some PR from XSEED, which is handling North American distribution of the game:
Planet Earth is on the brink of invasion after humanity ruined the peace and quiet of the universe with the broadcast of metal music on the Voyager probe's Golden Record. Aliens picked up the signal and couldn't stop headbanging, and now they're dying off because of it, so they want revenge! A few rogue extraterrestrials make their way to the source of the music and abduct two high school students from the Tokyo suburb of Kichijoji: an unnamed boy, and a drummer named Rinko from an outrageous girls-only metal club. The aliens needed an emissary with whom to discuss the terms of their revenge, and felt either of these two would serve nicely; however, being unable to choose between them, the aliens simply decided to merge their souls into a single being! Now, working together, the all-in-one pair must team up with the other members of K.M.G. (the Kichijoji Metal Girls) and rid the planet of these eight-tentacled extraterrestrials using the power of metal. It's time to rock these music-hating creeps all the way back to whatever planet they came from!
Gal Metal is a rhythm game designed for Nintendo Switch™ that turns each Joy-Con™ into a drum stick. Players will take hold of the Joy-Cons to rock along with the music as they create their own complex performances and rack up millions of points using personal free-form drum lines based on over a dozen different beats. With Nintendo Switch™ Pro Controller support on offer as well, players will be able to choose how they want to jam and earn metal power to use against the alien invaders in this uniquely adlib-friendly rhythm experience.
Will you be picking this up, or have you already invested in the Japanese verison? Drum a few notes in the comments section to tell us.