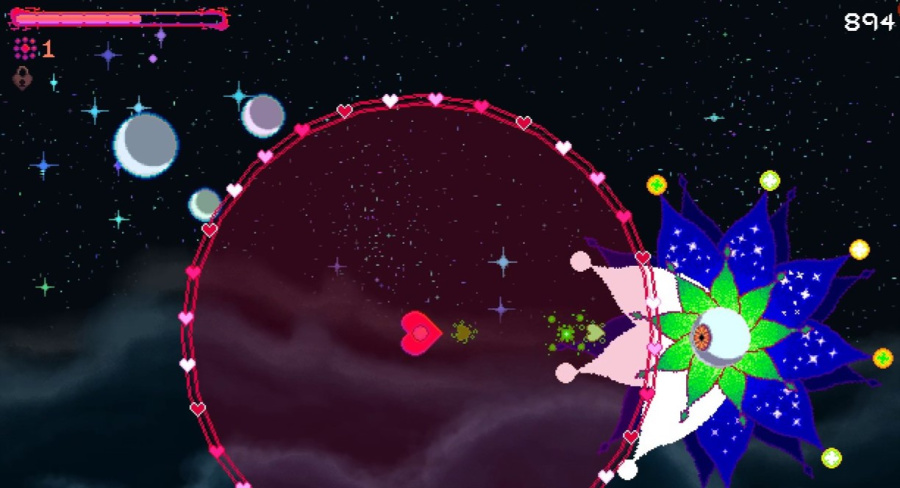 Indies are finding a new and welcoming home on Nintendo Switch, and there's another exciting and unusual game planning on to join that throng in the form of The Void Rains Upon Her Heart. It's a side-scrolling shmup, with the twist being you play an actual heart that will attempt to teach monsters to love again by shooting them to death with smaller love hearts. Think bullet-hell meets Love Actually. Or not. Okay, just go with it...
The game is the first title to be published by The Hidden Levels, a media outlet making its first foray into video game publishing. It's focusing on giving small indie titles that otherwise might have struggled to get exposure, and TVRUHH is the first game in that small scale crusade. The plan is to have the game launch on Steam Early Access on 14th February (Valentine's Day, naturally) then bring the game to consoles (including Switch) once it exits the PC-based program.
There's no word on when this will be, but once it does the benefit is the game would have already gone through a rigorous amount of changes following hands-on feedback from users. And with two different characters to play, 14 monsters to slay/love and 42 gifts to collect there's going to be plenty of ways to spread your affection.
Let us know what you make of this odd little indie and whether you'll show it some love when it eventually shoots onto the Nintendo Switch eShop.