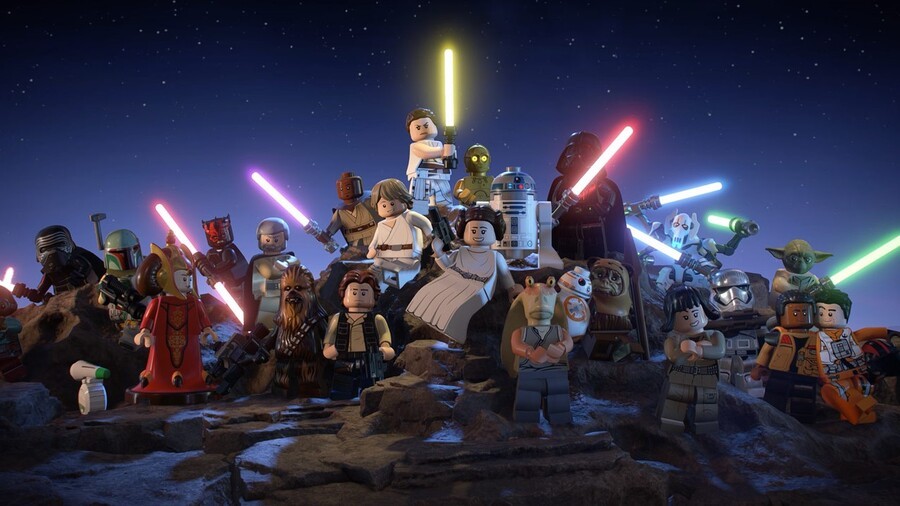 The upcoming LEGO Star Wars: The Skywalker Saga game has just received its release date of April 5th, delighting fans that have been waiting for news for a while now. After all, the game — which includes playable levels and scenarios from all nine films in the mainline Star Wars saga — has been delayed three times in total.
However, according to a report from Polygon, it's not a time to celebrate for the people who worked on the game, who have been reportedly suffering under the effects of crunch at developer TT Games the last five years on this project — and others since the company's founding in 2005.
Former and current employees, speaking anonymously to Polygon's Jack Yarwood, detail a toxic work culture at TT Games, the use of "soft-spoken blackmail", and in particular, the managing style of Jon Burton, co-founder and creative director at the UK-based studio until his departure when Warner Bros purchased the company in 2007.
As for the crunch culture itself — specifically around the latest Skywalker Saga project — it reportedly arose from multiple sources: Employees not being properly compensated for overtime, bosses pushing for extra features as part of their "Strive for 85" mantra (in reference to Metacritic's averaged scores), being pressured into working additional hours by vague threats of "consequences", and bullying being "commonplace".
"The director would request new mechanics on a whim, then ask that they be changed, whilst never actually fixing anything that really mattered. Read every review of a Lego game. They always say the same [things]: 'Platforming is pants, the camera is terrible, no online co-op.' So let's add a God of War-style combat tree! 5-year-olds will love it."
-- A former employee of TT Games, speaking to Polygon
The Skywalker Saga was also developed on a new engine called NTT, supposedly favoured by management as its use would avoid paying Epic licensing costs for Unreal Engine, which was overwhelmingly the preferred choice among employees. As with learning any new (and unfinished, unreliable) software, there were multiple issues and struggles on top of having to make the game itself.
Polygon's report mentions specifically that women in TT Games were also subject to bullying, harassment, an insidious pay gap, and lack of female leadership. Several high-profile hires at the studio — including former Sony Worldwide Studios VP Michael Denny as vice president and studio head, and then his former Sony co-workers Eric Matthews and Mark Green, as director of game development and head of game respectively — did little to ameliorate this.
These reported conditions apparently didn't begin with this project, but have been an issue for employees since the beginning. Company founder Burton would allegedly "yell at staff to return to their desks if they tried to leave work on time". According to a former employee, even in the early days of the studio, crunch was "premeditated [...] because of the type of games we made: movie tie-ins, and kids' stocking fillers. They all had deadlines dictated by a holiday event or the release of some film".
Quality Assurance, in particular, are reported to have been treated poorly — an unfortunately common occurrence in game studios where QA is often seen as a "lesser" role — and refused access to large parts of the building without supervision, which meant that they were unable to visit HR without accompaniment. (This action was apparently taken after a Wii U GamePad-related leak that came from TT's QA department in 2012).
"People were worn out, worked down, mentally and physically ill because of the pressure. TT always said, 'We're going to change,' but we all knew it was never gonna happen. It was always a case of, Just one more game and then we do it differently."
-- A former employee of TT Games, speaking to Polygon
The current state of things with The Skywalker Saga just three months from release (barring another delay) is that at least 40 employees have left TT Games since the start of 2021. Many of these employees have since joined Jon Burton's new studio, 10:10 Games; others have gone to work at other studios in the UK.
Polygon's report suggests that things may be changing at the studio. For instance, "multiple sources close to the company say TT will no longer be using NTT on future projects," choosing to work with the Unreal Engine as many called for in the first place — vindication for those people, but also a sign that the project needn't have been as difficult as reported. "Current employees also say that in the last few months, the company has started paying closer attention to, and limiting, the amount of overtime that staff can work."
Unfortunately, that doesn't change how The Skywalker Saga was reportedly built: on the personal and mental sacrifices of the development team during management-mandated and long-term crunch.
[source polygon.com]