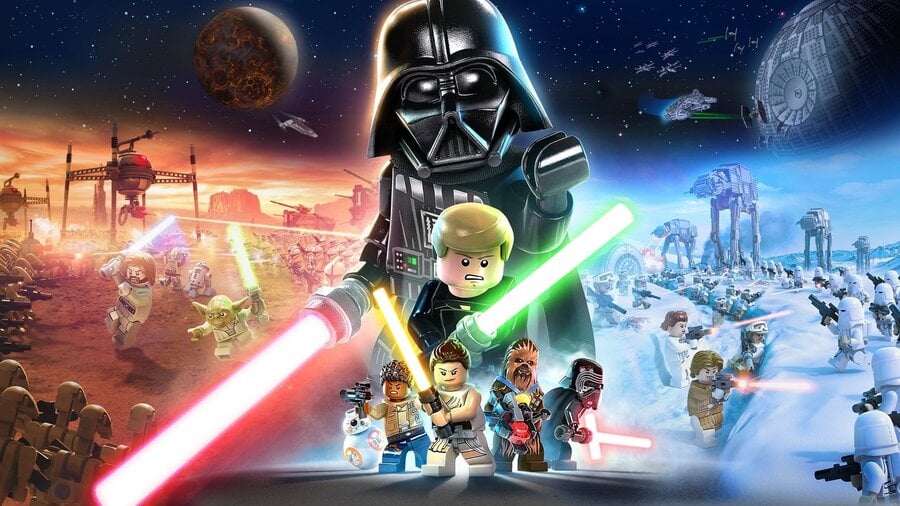 TT Games' highly anticipated Lego Star Wars: The Skywalker Saga has arrived on multiple platforms, including Nintendo Switch. We absolutely loved the game and were very impressed with the performance of its Switch port, calling it "a great big celebration of everything Star Wars that's made the jump to Nintendo's console in surprisingly fine form" in our review.
There are somewhere in the region of 380 LEGO character models and a whole bunch of ships to get your hands on as you play through the three movie trilogies included in the base game, but that's not all! Warner Bros and TT Games have also provided a selection of unlock codes that you can enter in-game to gain access to yet more characters and a couple more ships to add to your collection.
We've got a full list of available unlock codes for you below, as well as a quick guide to inputting them.
LEGO Star Wars: The Skywalker Saga Character Codes - Full List Of Unlock Codes
LEGO Star Wars: The Skywalker Saga Full Code List
Below you'll find the full list of currently available character and ship unlock codes. Enjoy, and may the Force be...eh...we can never remember the end of that line.
Unlock (Character / Vehicle)
Cheat Code
Type
C-3PO (Holiday Special)
C3PHOHO
Code-Exclusive Character
Chewbacca (Holiday Special)
WOOKIEE
Code-Exclusive Character
Darth Vader (Holiday Special)
WROSHYR

Code-Exclusive Character

D-O (Holiday Special)

TIPYIPS

Code-Exclusive Character

Gonk Droid (Holiday Special)

LIFEDAY

Code-Exclusive Character

Poe Dameron (Holiday Special)

KORDOKU

Code-Exclusive Character


Snap Wexley

SKYSAGA

Code-Exclusive Character

The Razor Crest

ARVALA7

Code-Exclusive Vehicle

Resistance Intersystem Transport Ship

SHUTTLE

Code-Exclusive Vehicle

Aayla Secura

KH7P320

Optional Unlocks

Admiral Holdo

XV4WND9

Optional Unlocks

The Emperor

SIDIOUS

Optional Unlocks

Dengar

OKV7TLR

Optional Unlocks

Nute Gunray

WBFE4GO

Optional Unlocks

Poggle the Lesser

Z55T8CQ

Optional Unlocks

Ratts Tyerell

GR2VBXF

Optional Unlocks

Tarkin

3FCPPVX

Optional Unlocks
Shmi
T9LM1QF
Optional Unlocks
Shaak Ti
VT1LFNH
Optional Unlocks
Mister Bones
BAC1CKP
Optional Unlocks


How To Input Unlock Codes In LEGO Star Wars: The Skywalker Saga
In order to enter any of the codes in the list above, all you need to do is pause the game and hop across to the right in the main menu to reach the "Enter Code" section.
Jump in here and you can get to work nabbing even more of your Star Wars favourites, including the very grandest of the Grand Moffs, Tarkin, holiday versions of Chewbacca and Poe Dameron (he's soooo dreamy!) and those ships, which include The Mandalorian's Razor Crest. Sweet.
---
We'll keep this list updated with new codes as and when they appear — let us know below if you spot any more to add to the ones above.