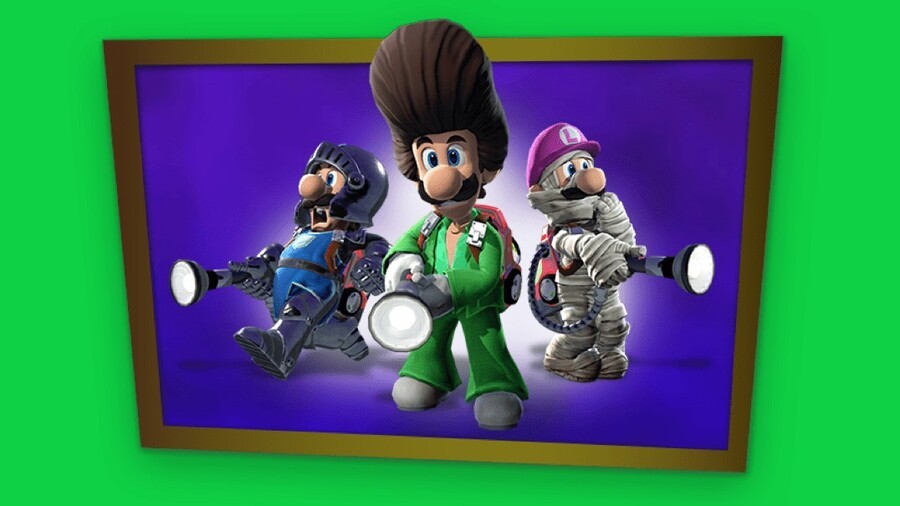 The latest Nintendo Download update for North America has arrived, and it's bringing new games galore to the eShop in your region. As always, be sure to drop a vote in our poll and comment down below with your potential picks for the week. Enjoy!
Switch eShop

60 Parsecs! (Robot Gentleman, Fri 20th December, $9.99) Your space station is about to explode and you only have 60 seconds before things get messy. What (or who) will you grab before you make a mad dash for the emergency shuttle and begin your journey into THE GREAT UNKNOWN? This is 60 Parsecs! , a dark comedy sci-fi adventure set in the Atomic Space Age - complete with all the Cold War paranoia, chrome-plated wall accents and cockroaches with space helmets.
8-Ball Pocket (SuperPowerUpGames, Wed 25th December, $5.99) 8-Ball Pocket brings you eight-ball pool, also known as American billiards. You can compete with up to 4 friends or against the AI in Versus mode, or challenge the best in the world in Arcade mode, where you can make combo shots and rack up points to become Number 1 in the online ranking. All of this comes in a setting with great graphics and Jazz music.
Barbarous: Tavern of Emyr (QubicGames, Wed 25th December, $7.99) In this game, you will be tasked with preparing various treats and delivering them to the customers. Grab items and combine ingredients in compounds. But be warned. Customers have limited patience, and they won't wait forever for you to respond. Manage your time well, or you'll lose clients.
bayala - the game (EuroVideo Medien GmbH, Today, $39.99) A spellbinding elfin adventure: Accompany Surah on the magical journey across bayala. The game to the movie! When the dragons disappear, the power of magic might vanish, too. Together with Surah, you set off on an adventure-packed journey through forests, into caves and across bayala's Dragon Mountains. Face off against the evil Shadow Queen Ophira, save bayala from certain doom, and bring back the magic!
Clumsy Rush (Undefined, Mon 23rd December, $4.99) Clumsy Rush is a fun-filled game that will have you and your friends laughing for hours. Move like a duck around, bump each other, steal the crown and have tons of fun together. Because time spent with friends is priceless. Just tap out a beat and move your feet! Left foot, right foot, left foot, right foot - find your rhythm. See that shiny yellow thing that looks like a crown? That's what you're after! Grab it and run to the finish line. You can't be King of the Racing without a crown!
Crazy Zen Mini Golf (Onteca, Mon 23rd December, $4.99) Crazy Zen Mini Golf Marvellous Mystical Mini-Golf Madness! Experience the most mesmerising Mini-Golf game in the world! Explore the magical mini-golf madness as you adventure through our zany zen garden. Channel your inner zen in serene scenes and putt to perfection to complete all the holes in as few strokes as possible! Whether you're playing individually or competing against friends, there's endless fun to be had battling to beat the top score!
Demon's Tilt (FLARB, Mon 23rd December, $19.99) Turbo-Charged Pinball is back! Updated with bigger sprites, more baddies, more secrets and of course MORE BULLETS! Demon's Tilt pushes the limits of the Video Pinball genre with SHMUP & Hack N' Slash elements.
Down to Hell (Ultimate Games, Mon 23rd December, $9.99) The player takes on the role of a knight filled with hatred and struggle. During the game the protagonist will have to fight with various demons in order to save the mysterious girl that previously saved him. During the gameplay the player using both weapons and magic will have to fight various terrifying demons. Moreover, in each chapter, there will be at least 3 bosses, where each of them will be a particularly demanding opponent.
Drawngeon: Dungeons of Ink and Paper (Drageus Games, Tue 24th December, $4.99) Life went on as usual in the Inkland… until the Tower fell straight from the sky! Many heroes tried to solve its mystery, but none of them succeeded. It's your turn to prove your worth. Choose your class - warrior, magician or rogue - each with their own strength and abilities. Loot and buy items, fight with various weapons, create and cast powerful spells. All the ingredients of a good role-playing game are there, but with a unique real-time combat based on grid movement – like on a piece of paper!
DreamBall (JanduSoft, Mon 23rd December, $4.99) Welcome to DreamBall, the first sports video game with ragdoll physics, set in dreams with which you will enjoy of the craziest matches ever. Play up in the space, under de sea, in a pirate island… Let your imagination fly or let be carried by ours. Ready to dream? Immerse yourself in this world of dreams.
Dual Brain Vol.1: Calculation (D-O, Today, $14.99) ■ Rules are simple. Solve the problem within the time limit and aim for a high score. The high score in the game is registered in the online ranking. Compete for scores with players around the world. ■This time calculation. There are many calculation games in this game. Anyone can play happily, even those who are not good at calculations and those who are good at calculation.
Farabel (Fri 20th December, $9.99) Your hero is strong, victorious and lived happily ever after. The End… b…but wait…the game just started! In this turn-based strategy game, you begin at the end of the story and have to go back in time to prevent war. And obviously, the whole gaming experience is turned upside down! After each victory comes a jump into the past, when you were not that strong. Think carefully to choose the right points to weaken and still survive.
Funny Bunny Adventures (Drageus Games, Tue 24th December, $4.99) Jump around, plant carrots, and be on time for harvest, while traveling in vibrant and colorful worlds. Various characters will be there to either help or interfere with your quest. In Funny Bunny Adventures, players will need to think quickly and logically to solve puzzles. With two different difficulty modes - including Easy, for even the youngest of players - it's always fun and never frustrating. The game offers a rising challenge and a great variety of levels, upgrades, characters, effects and bonuses.
JDM Racing (Nikita Alexeevich, Today, $4.99) Drive legendary Japanese cars on various tracks. Beat records, take part in different racing events, rise from Beginner to Pro League driver. Collect, win, tune up, and upgrade your dream cars.
KUUKIYOMI: Consider It! (G-mode, Today, $4.99) See how considerate you can be, without worrying about what others think. The smash-hit game "Consider It" is coming to Nintendo Switch with some new problems to consider and a two-player mode. Take it with you wherever you go. So what is "Consider It"? Simply move the red object on the screen to play each problem. Most of the time you will be controlling yourself, but sometimes you might control other things too. Play through 100 problems, and get evaluated on how "considerate" you are. Share a JoyCon with a friend and you can play the "Consider It Together" mode.
Melbits World (Plug In Digital, Today, $9.99) The cooperative puzzle-platformer game that will equally charm and challenge your friends and family. Communication and coordination are the key to success in the Melbits™ mission! Discover these collectable digital creatures and guide them through fiendish levels full of traps. Dodge evil viruses, gather seeds and spread the good vibes across the Internet.
Mirror (SakuraGame, Today, $9.99) This is a game that combines match-3, GALGAME elements and beauties. If you want to learn more about those beauties, you need to best them first. How the story goes is choice-based so your choices will ultimately decide their fate.
Oniken: Unstoppable Edition & Odallus: The Dark Call Bundle (Wed 25th December, $19.99) This bundle contains two 8-bit inspired action games from developer JoyMasher – Odallus: The Dark Call and Oniken: Unstoppable Edition. Odallus: The Dark Call Odallus is an exploration/action game that casts players in the role of Haggis – a battle-weary warrior who must wield his sword once more to rescue his son from Darkness.
Princess Maker -Faery Tales Come True- (CFK, Mon 23rd December, $29.99) A lovable and sensible simulation game to raise a girl who has visited you to make her dreams come true. ◆An upgraded version of the classic simulation game has come back on the Nintendo Switch with many updates! "PRINCESS MAKER -FAERY TALES COME TRUE-" has come back with newly revamped HD graphics, a new interface, new music tracks, and much more. ◆The Faery's Dream is to Become a Princess The tiny faery's dream is to become a princess. It will be a difficult path to achieve this dream as no one has ever done it before. The Faery Queen turned the faery into a human girl so that she may fulfill her wishes. ◆8 Years With the Girl The Faery Queen has provided a time limit of 8 years to be with the girl. How will you raise this girl into a grown woman? ◆The Player's (Father's) Occupation will have an Effect on the Princess The player can choose from 6 jobs: retired knight, bankrupt aristocrat, merchant, wanderer, traveling monk, or traveling entertainer.
Princess Maker Go!Go! Princess (CFK, Mon 23rd December, $14.99) The elements of the Princess Maker series remain intact! The ability status is up through various events, training, and part-time jobs in the field! Rival, study, part-time job and love. . . . The tumultuous eight years will begin on the board! Only the dice knows the destiny! Uzu and Cube The navigator to help your daughter. Throw a dice and go on an adventure with the friend who will decide your daughter's fate! The desperate competition to take a step closer to the prince! There are more than 100 various events waiting on the road. There will also be a confrontation that can't be backed down for a happy future! Support to play with up to 4 players, Princess Maker Go! Go! Princess Who will become a princess?
Regions of Ruin (JanduSoft, Mon 23rd December, $9.99) Regions of Ruin is a 2D side-scrolling RPG with town-building where you are introduced to an open world that progressively challenges your hero and settlement the further you delve into the vast continent. You will discover a foreboding land ravaged by hundreds of years of hardship. Where, kingdoms have risen and fallen, settlements have been laid to waste and overrun by warring groups, and great mysteries lay hidden and waiting to be unearthed - assuming you can defeat their jealous guardians.
Rush Rally 3 (Brownmonster, Mon 23rd December, $14.99) 60 FPS racing at night or day in the rain or snow! Over 72 new and unique stages each with different surface types including snow, gravel, tarmac and dirt! Race with one of the best car dynamics models to date, including real time vehicle deformation and damage, built from over 15 years of experience. WORLD RALLY RACING!
Sacred Stones (CFK, Mon 23rd December, $14.99) One day, the sky island begins to fall. The sacred stones that keep the heavens floating are scattered for unknown reasons. To prevent falling the sky island, the main character goes out looking for the whereabouts of the sacred stone. Giant animal and unknown creatures start to show up unexpectedly on the island. Indeed, is it possible to protect the falling sky island during facing the giant monster?
Straimium Immortaly (Wed 25th December, $11.99) A rogue-lite shmup dungeon-crawler from another world. Bosses and beasties abound in this bizarre and vibrant rogue-lite/ shump/ dungeon crawler hybrid. Armed with a jetpack and a smorgasbord of weapons and power-ups, Straimium Immortaly pits your lone warrior against the forces of the Queeni Emperess. Agility, precision, and loads of loot are your only means of surviving the Cubicus.
Tamashii (Digerati, Wed 25th December, $11.99) Inspired by obscure Japanese games from the 90s and late 80s, Tamashii is a unique puzzle-platformer set in a distorted world of striking horror and unsettling imagery. An eldritch entity lurks inside the temple, a disturbing domain of death and danger. A mysterious stranger is summoned to this twisted hell to discover the source of evil that emanates from within. Can you survive the devilish traps, tricky puzzles, and monstrous beings looming in Tamashii's dark corridors?
The Adventures of Elena Temple: Definitive Edition (GrimTalin, Tue 24th December, $4.99) Experience The Adventures of Elena Temple in a Definitive Edition, including more content, more features, more fun and more. . . black and white pixel art!
Warhammer Quest 2: The End Times (Chilled Mouse, Mon 23rd December, $29.99) Success in battle is rewarded with new weapons, armours, skills and treasure. Explore the war-torn fantasy Warhammer world! Be on your guard as you travel through a world in turmoil. The road holds danger for the heedless traveller, but rich rewards for the wary hero. Explore three regions, each with their own enemy sets, objectives and multi-part campaign quests. Visit towns to barter in markets, discover new quests, and level up your warriors to gain new skills and gameplay possibilities. Paths between dungeons are littered with events and opportunities to improve your chance of victory in the next turn based battle!
XenoRaptor (Digerati, Wed 25th December, $14.99) XenoRaptor is a frantic and frenzied twin-stick shooter, pitting ridiculously armed space dragons against an interstellar armada. Strip your defeated foes of their parts to assemble the ultimate weapon. From evasive teleporting and defensive mines, to railguns, tractor beams, and mind control, XenoRaptor is bullet-hell action with countless tactical possibilities.
Nintendo Switch DLC
Switch eShop Demos
AeternoBlade II (PQube) Welcome back to the world of AeternoBlade. Harness the AeternoBlade, and defy the abyss in this sequel to the fast-paced action/puzzle platformer. In AeternoBlade II, use the power of time itself to outwit your enemies and explore mysterious new dimensions. Jump between frenetic combat encounters and intriguing puzzle segments that require ingenious use of time. Let's adventure with Freyja, Bernard, Felix to the Chronosian for finding the 3 AeternoBlades and using its power to stop Dark Abyss. All stories will be unveiled in AeternoBlade II. Can you help Freyja protect her future? Read our AeternoBlade II review.
Nintendo Switch Online NES and SNES Games
Super Nintendo Entertainment System – Nintendo Switch Online
Nintendo Entertainment System – Nintendo Switch Online
Nintendo eShop Sales
Check out the full list of deals available this week here and our picks for the best cheap games on Switch eShop here.
So that's your lot for this week's North American Nintendo Download. Go on, be a sport and drop a vote in the poll above, and comment below with your hot picks!