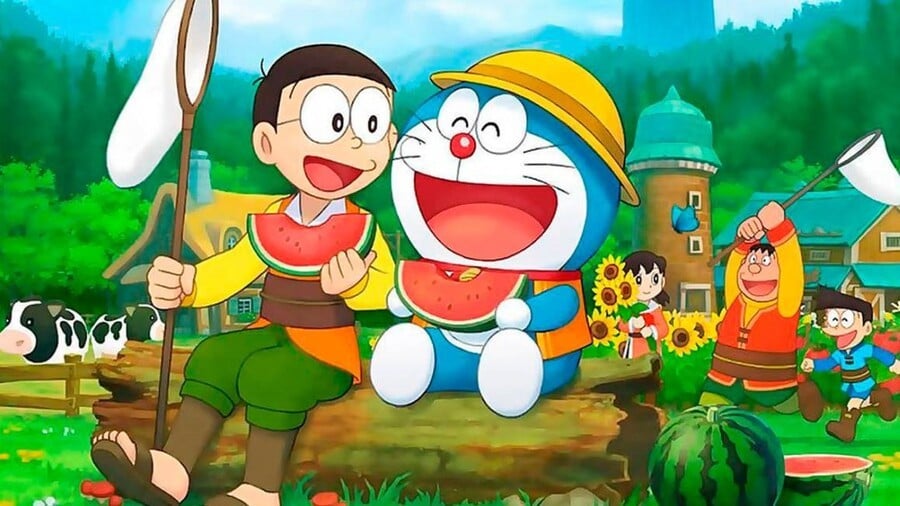 The lovely looking Doraemon: Story of Seasons launched this week in Japan (jumping right to the top of the charts, no less), and Shinichi Kameoka, boss at developer Brownies, has been reminiscing about video game eras past and how releases have changed over the years.
Writing on the company's blog (as translated by Siliconera), Kameoka compared the physical launch of his latest game to when he once worked at Squaresoft. As a character designer on classic SNES RPG Secret of Mana, he recalled the long hours spent at the office in the lead up to a release:
"Thinking back to my own debut game, that would be Secret of Mana, released 26 years ago under old Squaresoft."
"It was an age where we weren't connected to the internet, so every time we created a new ROM we'd need to take the Shinkansen train to Nintendo's place in Kyoto in person… Although back then we were at the forefront of the computer games business, looking back now it was an analogue experience that wouldn't even be believable today."
He went on to discuss working conditions that were the norm back then, especially in an era when a post-release patch simply wasn't an option:
"There were no weekend breaks, and for 2-3 months we'd basically be living at the company offices doing debugging work."
"However, after mastering up the game, Squaresoft would give us 2-3 months of break, so we were still working in a pretty good environment."
Once the game had gone gold, there was obviously no 'aftercare' in those days. Devs were 'set free' and given time to recuperate after the gruelling period of crunch. Therefore, it was rare to have a cathartic team celebration when the game finally launched:
"Most of the time, game releases would fall under this break period, so having the staff would gather together to go to the store and share the emotions of releasing a game aren't something I remember happening often. Therefore, with Secret of Mana, I walked down to the toy store by myself, and dawdled around the store for a long time seeing what sort of people'd buy my game."
"Compared to that age, although this isn't limited to game development, with the coming of the internet age and how convenient things have become, we've really entered a nice age."
It's fun to hear from veterans how the video game industry has changed from a developmental perspective, and certainly nice to hear things are generally moving in a positive direction despite the horror stories we still hear all too often.
Doraemon Story of Seasons is getting a release in the west this autumn and, as a game in the series that used to be known as Harvest Moon, we can't wait to find out if it plays as beautifully as it looks. Secret of Mana recently saw a Switch rerelease as part of the excellent Collection of Mana, which we awarded a sparkling 9/10, and it's also included on the SNES Mini, so there's no shortage of ways to play that classic RPG. Be sure to check out our interview with Masura Oyamada, producer of Collection of Mana, and Shinichi Tatsuke, producer of the upcoming Trials of Mana remake.
Ah, those pre-internet days! Anybody remember those?... Hello?...
[source siliconera.com]