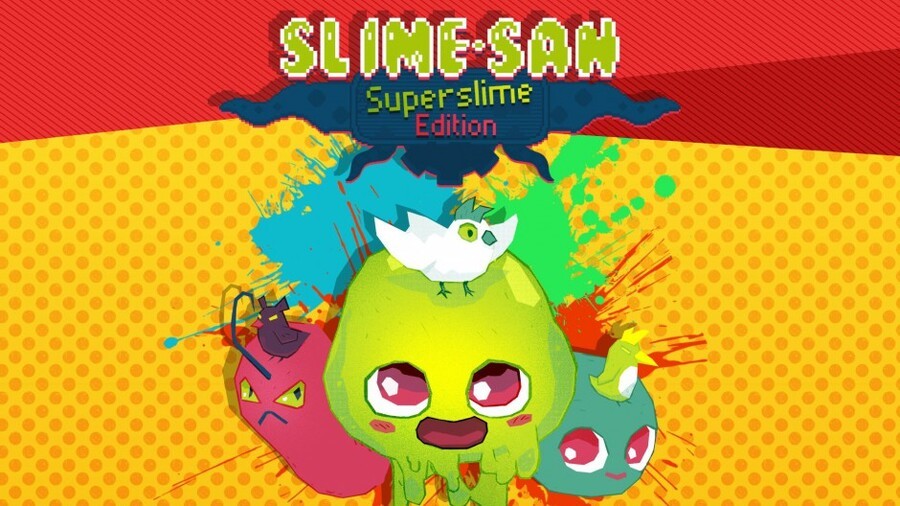 One of the best platformers currently available on the Switch eShop is Slime-San, the weird 2D sidescroller that takes place inside a giant carnivorous worm. The striking color palette, square screen design, and twitch platformer controls make it a nice alternative to contemporaries like Super Meat Boy and Celeste, and the sizable amount of content on offer is a huge bonus. A few months ago, the game received a big expansion that added another campaign and various other extras, and now a second expansion has gone live with even more to offer.
The new update—which is free, we might add—upgrades Slime-San to its "Superslime Edition" while also adding a third campaign called Sheeple's Sequel. There's a staggering amount being added for free, so be sure to check it out. Here's the full patch notes:
New Content: Sheeple's Sequel
– 20 normal and NG+ levels designed by Sheeple!
– 2 new play styles that totally change up the game!
– 70 [BUGS] to collect and spent in an art gallery!
– 2 new mini-games, a rythm & flying simulator!
– A brand new boss fight that pushes your skills to the limit!
– A brand new hub world, Sheeple HQ!
– Loads of new cutscenes and story elements to experience and enjoy!
– New secret characters and set-pieces to discover across your journey!
– New music by Meganeko!
– More neat secrets!
New Content: Superslime Edition!
– 10 new and very unique levels!
– A new playstyle… Where you can't jump at all?
New Features
– Dynamic color mode where handpicked palettes are used for each world!
– Saturation slider, now you can adjust saturation as well!
– New custom camera slider, adjust how much it zooms in!
Adjustments
– Various minor fixes
And for those of you that are on the fence, the game is currently half off on the eShop; there's never been a better time to jump in.
What do you think? How does Slime-San compare to other platformers? Will you be giving the new content a try? Share your thoughts in the comments below.