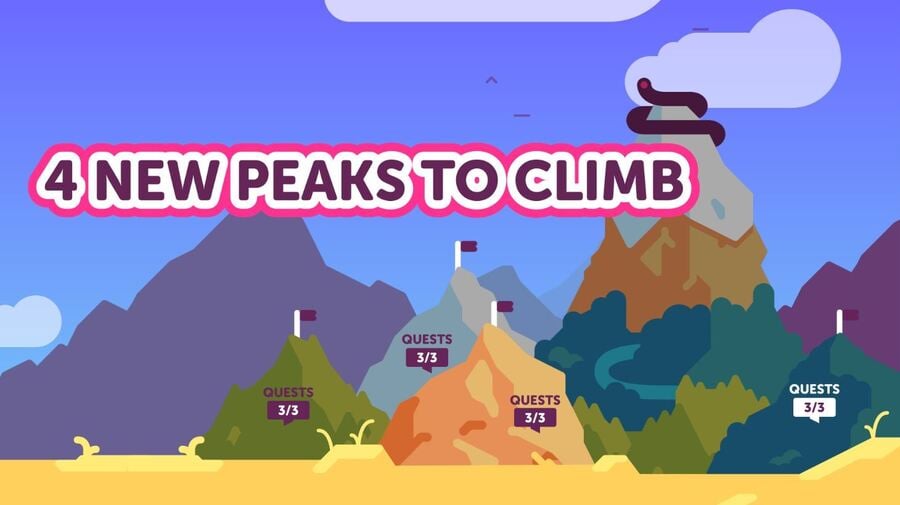 TumbleSeed is, in the opinion of this scribe, one of the most unique and intriguing titles to currently grace the Switch eShop. It can also be divisive because of its punishing difficulty, though, and while we gave it a big recommendation with an 8 in our review, the steep challenge meant it wasn't warmly received by all.
More's the pity, but developer aeiowu has been reflecting on the game's reception and how it can give the game a second wind, and has now released the free '4 Peaks' update. It's game changing and could, potentially, persuade more players to give it a go.
Prior to the update you could only embark upon the procedurally generated Adventure, which required you to navigate four increasingly tough zones, or take a one shot attempt at the Daily Challenge. After the update there's a lot more content, including fixed stages that help you improve and gain new abilities; on top of that the Switch gets an exclusive two player Battle Mode. Below is the official description.
TumbleSeed is new again with 6 new games modes, revised difficulty, new powers and a whole lot more! And it's all free in the latest update. There's something new for everyone, from new to experienced players.
Feeling lost in a hole with TumbleSeed? Climb out by conquering 4 all new mountains. Plus, unlock brand new persistent abilities by progressing through each of the new hand-made levels. You can even equip these unlocked powers in the basecamp and tailor your run to fit your style.

Itching to challenge a friend? Go head to head in the new exclusive 2 Player Battle mode. Bump and roll your way to victory in this rough and tumble King of the Hill style face-off.

Want to master one mountain? Try the new Weekly Challenge! Play the same mountain as many times as you like and compete over the course of a week with your friends on the global leaderboards. Perfect for those craving something less randomly generated.

Also! It's on sale! $9.99 / €9.37 / £8.03 until 17th August.
The developer has noted that the discount hasn't yet gone live for all in North America (at the time of publication), but is working to resolve that issue.
We've given the first new 'fixed' mountain a whirl, and it's a terrific start. By completing quests when clearing it you unlock the aforementioned auras / powers, each helping improve technique and subsequent runs. When you consider the system-exclusive Battle Mode and the quality of the core game (which also makes lovely use of HD Rumble) it's certainly worth considering.
For those interested in learning more about some of the lessons learned and challenges in releasing the game, this extensive blog post is worth a read. Greg Wohlwend covers topics such as the cost of development, critical reception from press and players, and the game's commercial performance.
Are you tempted to give TumbleSeed a try following the update, or do you already own the game and plan to revisit it now the update is live? Let us know in the comments.
[source aeiowu.com]