After plenty of rumours and assumptions based on common sense, Nintendo unveiled The Super NES Classic Edition (NA) / The Nintendo Classic Mini: Super Nintendo Entertainment System (PAL / Europe / Australia / New Zealand), though it was an announcement with some surprises.
There's been a lot of excitement around the news, but also a bit of confusion, so this guide is here to bring together the key information; we'll add to it as more details emerge.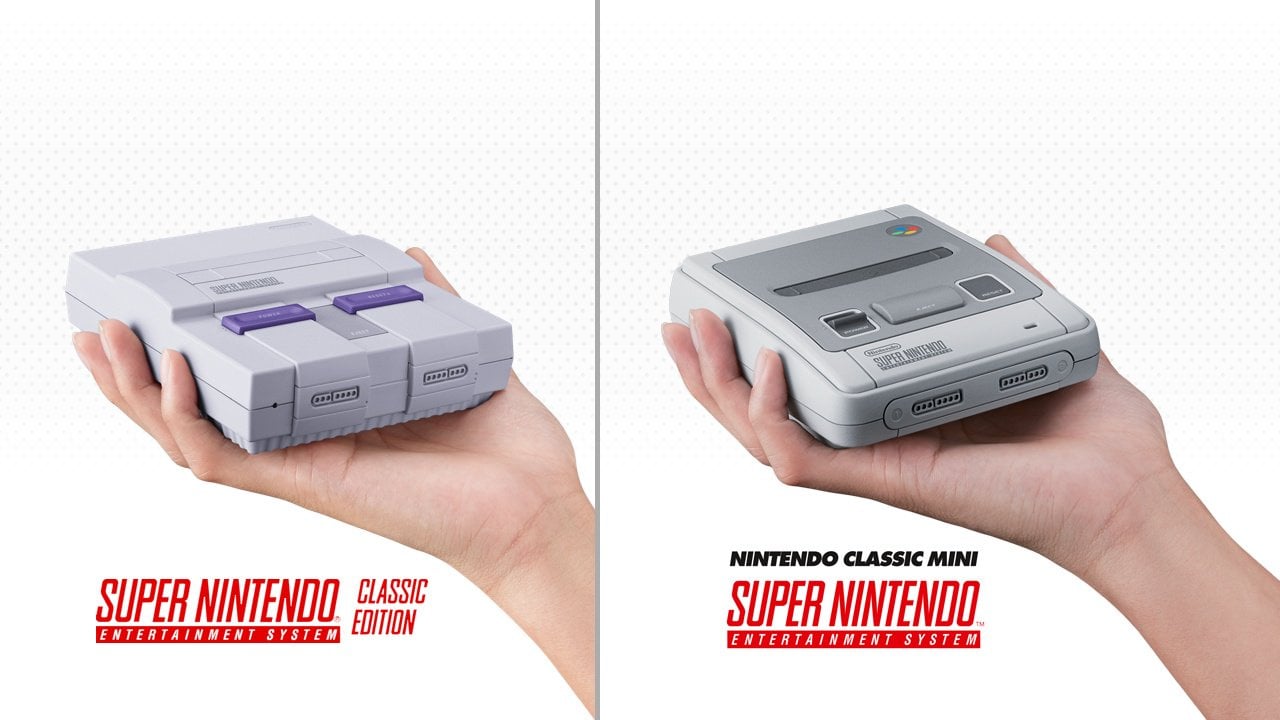 What is the Super NES Classic Edition?
Like the NES equivalent of 2016, this is a tiny recreation of the original Super NES, but it doesn't run any cartridges. Instead it comes pre-loaded with a number of games; you simply connect to your TV with a HDMI cable and away you go.
It is not a replica or official clone, in other words, but a standalone piece of hardware that runs a selection of SNES games. You can't use original SNES controllers, either, but have to use those included with the hardware or alternatively any supported Wii Classic Controllers or third-party controllers that use the relevant port. This port is the same as those used for connecting a Nunchuk or classic controller to a Wii Remote.
When is the Super NES Classic Edition going to be released?
It's going on sale in North America and PAL territories on 29th September (30th September in Australia / New Zealand), and on 5th October in Japan.
It's not called the Super NES Classic Edition in my region, why?
Because Nintendo! As with the NES version PAL territories are matching up with the Japanese branding, while Nintendo of America uses a different name. You can see the differences below (with a translation of the Japanese name).
The Super NES Classic Edition (North America)
The Nintendo Classic Mini: Super Nintendo Entertainment System (PAL)
The Nintendo Classic Mini: Super Famicom (Japan)
A common shorthand that'll be used is 'SNES Mini'.
What do I get in the box with a 'SNES Mini'?
Let's break it down:
The system, pre-loaded with 21 games
Two wired controllers (with a 5 foot cable, rather than the 3 foot cable of the NES Mini controller)
A HDMI cable
A USB cable for connecting to the AC adapter
An AC adapter (North America only)
You read that right. While the North American version comes with an AC power adapter, in Japan and PAL territories you only get the USB cable. Most people have multiple USB input AC adapters for charging phones, tablets etc, but it's still a strange omission (it was the same deal with the NES Mini, unfortunately). In Japan Nintendo is even marketing a separate branded AC adapter as an accessory.
What games are included on a SNES Mini?
The North American and PAL listings are the same, for a very good reason. The PAL units will be running the US 60Hz versions, which basically means the full speed / optimal versions of the games. Back in the '90s PAL consoles, due to TV specifications among other things, ran at 50Hz which meant many games actually ran slower than in North America and Japan. You can see a good example of this here, but the key point is that PAL gamers will get to play the games the right way on this system. We're unsure at this stage, however, of how this will affect language support in Europe, for example.
The big news, undoubtedly, is the inclusion of Star Fox 2 on the system - it was never released and has only existed in unofficial ROMs up to now. The game's most recognised development figurehead from the '90s, Dylan Cuthbert, is as surprised as anyone about its inclusion. Cuthbert has made a good point that it'll surely be a 'mastered' version, as ROMs on the internet have all been (according to him) unfinished builds that lack the polish and testing normally associated with Nintendo games. Interestingly, players will need to beat the first level of Star Fox on the system to unlock the sequel.
So, here's the full North American / European list of 21 games.
Interestingly the Japanese list is a bit different, below.
The key changes to note in Japan are as follows - incoming for the Super Famicom Mini are Fire Emblem: Mystery of the Emblem, Panel de Pon, Super Street Fighter II: The New Challengers, Super Formation Soccer and The Legend of the Mystical Ninja. Those missing in Japan that are included in the West are EarthBound, Kirby's Dream Course, Street Fighter II Turbo: Hyper Fighting, Super Castlevania IV and Super Punch-Out!!.
Great! Now where can I buy a SNES Mini?
Here's the potential problem. Nintendo never got close to meeting demand for the NES Mini in 2016. The company has stated that it will manufacture more of the SNES units in an effort to meet demand, but won't commit to doing so beyond the end of 2017.
The pre-order situation is problematic already. Some UK retailers opened pre-orders but Amazon (for example) stopped taking orders less than an hour after going live, with other retailers also rapidly selling through their initial allocations. In North America, meanwhile, we only have holding pages where buyers can register interest at present; we've compiled links to major retailers in this pre-order guide.
At the moment it's extremely tough to secure a unit, then, but hopefully the situation will be manageable by the time the console launches.
---
So there you have it, the details of what we know so far about this system. Let us know of any queries or areas we've missed in the comments, and we'll be updating this guide as more information emerges.