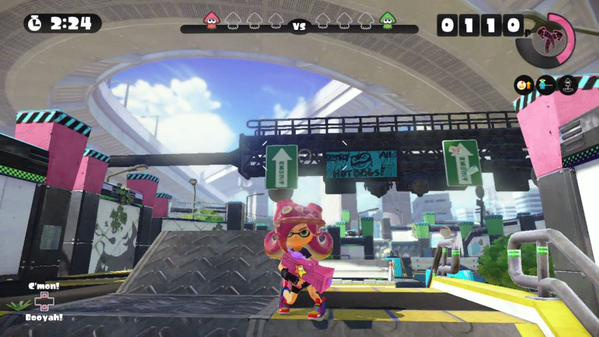 For quite a while eager Splatoon fans have followed the exploits of data miners and a more mischievous modder causing save data problems - the subject? Playable Octolings. For some they're an inevitability and we're just waiting for their arrival.
Are more clues afoot? Our very own Alex Olney - who's not shy of showing off his Splatoon skills on our YouTube channel - and a number of others believe that there are some interesting hints that Octolings may be getting ever closer. Of course a bucket full of salt is required, but there's definitely enough out there to make speculation reasonable, if not guaranteed to be correct.
First of all, this weekend's Splatfest in Japan is all about the choice between squid and octopus as food.
Then there's a follow-up tweet, with rough translations pointing to the 'conflict' between the squid and octopus species.
When you visit SplatNet, now localised for the West, the usual squid dancing around in the background has been replaced by octopi moving up the screen, which seems to reflect the invasion mentioned in the tweet above. It all seems more about the classic conflict in the game than the food choice of the Splatfest vote in Japan.
This is some harmless weekend speculation to kick off the weekend, but our man Alex and his fellow enthusiastic Splatoon chums don't recall seeing this animation on SplatNet before, while the Japanese Splatfest theme and all those previous rumours of Octoling code waiting to be updated has got minds whirring. Is a major Splatoon update with playable Octolings on the way soon as a pleasant surprise?
Perhaps, only time will tell. Do you think this adds up as a pointer towards the much-expected playable Octoling update, or is this just wishful thinking? Let us know!