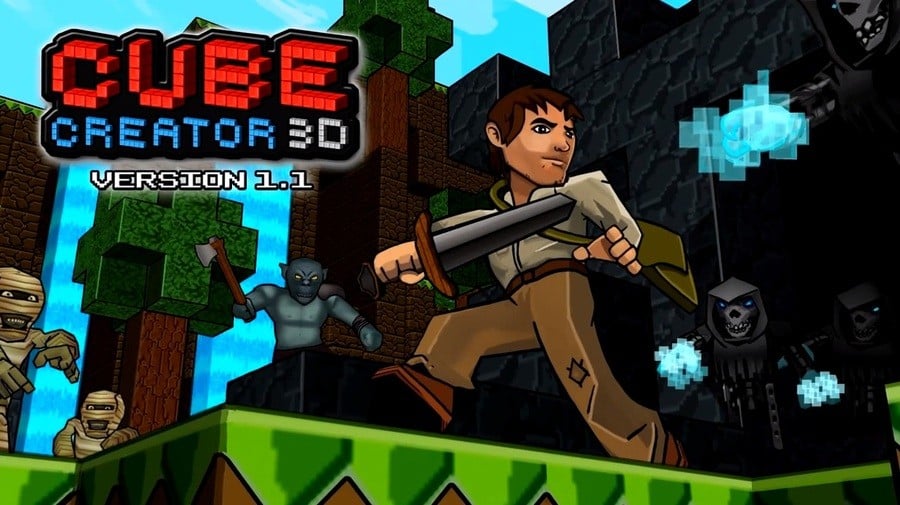 Cube Creator 3D from Big John Games is arguably one of the better Minecraft clones available on the 3DS eShop right now. If you're located in North America you may have already experienced it. If not, perhaps now is a good time to consider downloading the title with the latest update arriving this week.
Big John Games has added a lot of new content including two new environments with new enemies & blocks:
Fantasia features massive multi-colored trees sprouting from a rolling landscape, and Inferno boasts a lava-filled atmosphere surrounded by a rocky, mountainous terrain with floating basalt islands above.

The two new environs also feature new enemies; they will certainly make your survival quest more challenging. With regard to blocks, we've added three new block types: marble, basalt (volcanic rock), and purple leaves. In Survival Mode, you'll be able to collect these other block types: light and dark tree wood (wood planks crafted from tree wood), and coal and diamond ore (coal and diamond crafted from ore).
In addition to this are eight new texture packs, new music, ladders and several bug fixes along with improved performance:
This update also incorporates the use of ladders. Players can now ascend walls with the use of ladders, instead of having to build steps/stairs. Grass will now spread to other nearby grass in the update. Liquid cube editing is also enhanced: water and lava can be targeted/stacked/removed directly.

The performance of the game is improved with the update. Players can fly faster and add/subtract cubes faster in Creative Mode. Players can now customize their Survival Mode campaign; they can select which four worlds they'd like to explore at the start, including saved Creative environments. Players will also be able to transfer worlds between Creative and Survival Mode. Loading and modifying worlds is also enhanced. Finally, several bug fixes will enrich gameplay via the free v1.1 update.
Cube Creator 3D arrives in Europe later this month on the 20th.
If you already own Cube Creator 3D, let us know in the comments if you are excited for the arrival of Version 1.1. If you're still on the fence, tell us if you would consider downloading it after the latest update.
[source facebook.com, via bigjohngames.com]