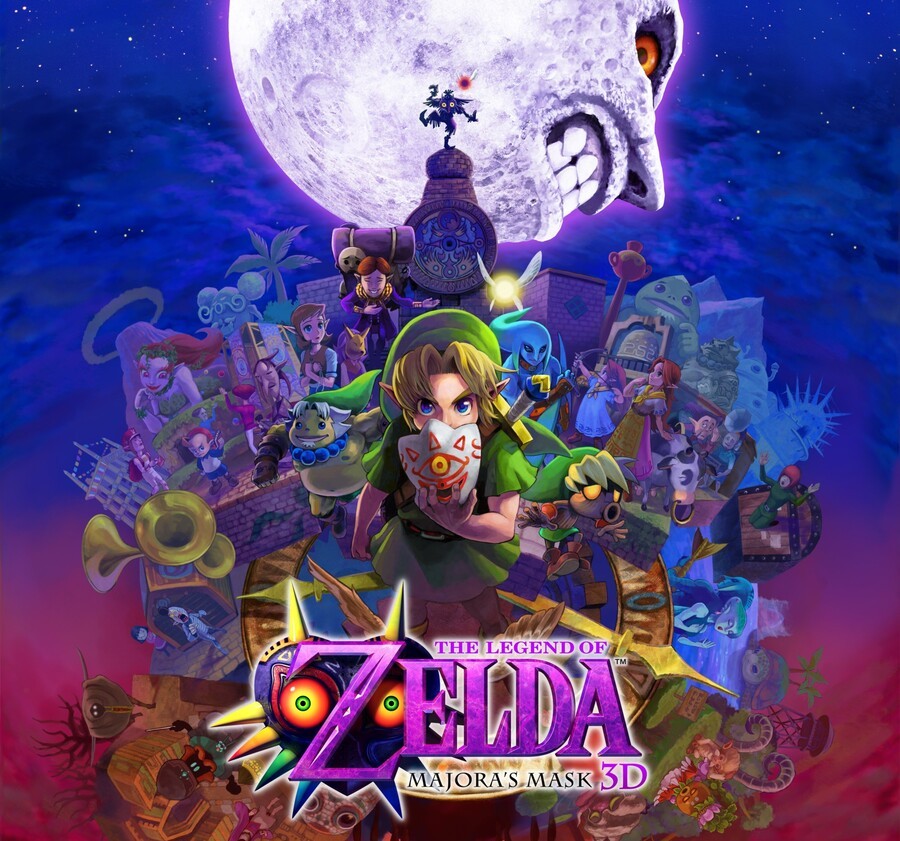 This week Nintendo produced a rather traditional Direct broadcast — there was no animation, relatively little flashy presentation beyond trailers, and a diverse range of announcements. It was back to type and rather like those that we'd seen throughout 2013; that's not a criticism, as Nintendo has diversified its presentations to utilise different approaches and focus on major releases throughout this year. The old ways can sometimes be the best, however, as these 30 minute bonanzas can deliver a fairly generous list of updates.
This week's broadcast opened with a bang, of course, and this writer was so surprised by what was unfolding that, even with all of the music and visual cues, it took about 30 seconds to accept that it wasn't an elaborate and cruel diversion — Majora's Mask 3D was confirmed. It had been rumoured for close to two years, perhaps as long as Ocarina of Time 3D had been on the radar, as the logic was simple: Grezzo could quite easily use the engine and porting tools for that remaster on the alternative, darker N64 classic. Nintendo teased it endlessly, whether through interview snippets or references in A Link Between Worlds, while we were ever hopeful that Zelda Williams was teasing an E3 reveal; that appearance was merely hours before a much hyped 3DS announcement, so it had to be time, right?
Wrong. No matter how much logic there was for an announcement at any given time it eluded us, and we'd begun to conclude that — inevitable as it seemed — the absence of an E3 reveal pointed to a summer to late 2015 arrival, if it was happening at all. Yet all those hints and clues — this Grezzo job listing was another — clearly weren't for naught, though Nintendo held off a long time before lifting the lid. With a Spring 2015 release window we're looking at an arrival within the next six months or so, which isn't long at all.
This does continue Nintendo's trend of the past year — with some titles — of keeping an announcement and release relatively close together. Captain Toad: Treasure Tracker was only announced in June and is out in a matter of weeks, while the turnaround for Hyrule Warriors from its December 2013 reveal was 8-9 months. It's arguably announcements like these that get the blood pumping the most — bigger releases like Super Smash Bros. are announced while they're still a distance away, likewise home console Legend of Zelda entries, but when a title is announced and due within a year, we can anticipate its arrival and begin to plan a purchase the moment we hear about it. Fears about barren release schedules can be alleviated within 30 minutes of a Nintendo Direct broadcast; that's the great power of the format.
While this week's presentation didn't have an enormous list of definitive details, there was a decent range overall. Majora's Mask 3D helped answer the question of what the heck was coming to 3DS in the first half of 2015 aside from Monster Hunter 4 Ultimate, and confirmation that Intelligent Systems' intriguing new IP Code Name: S.T.E.A.M would also be a Spring arrival was surprising; nothing had been seen of the game since its initial E3 reveal back in June. A couple of other stand-outs were the announcement of an imminent arrival for Mario Kart 8 DLC, some amiibo details and the quirky news of the original Duck Hunt coming to the Virtual Console. The Wii U's early 2015 library will also get a boost in North America with Kirby and the Rainbow Curse due in February, though Europe will apparently have to wait until later in the year — Splatoon's single player mode also made a brief appearance.
When rating that most recent broadcast against its many predecessors, it probably comes up in mid-table. It sagged a little in the middle, teased us with Xenoblade Chronicles X footage without narrowing down a release window, and generally struggled to nail its overall tempo; perhaps it started too well. It was also lacking a few announcements that we felt could be important — there was no tasty Wii U bundle announcement, no Super Smash Bros. for Wii U demo, while Mario Maker was absent despite being due in the first half of 2015.
That's all nit-picking, to a degree, as Nintendo can't meet every expectation within around 30 minutes, and certainly likes to leave reveals for later broadcasts; we'd certainly complain if there was no 'indie' section, for example, while time taken to remind us of imminent arrivals is unavoidable. Whether we'll get another presentation in December, like last year's impressive and confident effort, will be interesting to see.
The most recent presentation, ultimately, played its biggest card to the right audience; Nintendo Direct remains an event for the most enthusiastic fans, and Majora's Mask 3D pushed the right buttons. Vitally, however, each region's presentation helped to flesh out the early 2015 arrivals, and with some release dates that are closer than expected. It didn't quite have the spark and humour of the very best, but it reminded us that the company's always busy, as it's easy to interpret its secrecy as inactivity. When you add the New Nintendo 3DS into 2015 — we're still betting it'll arrive in all territories before yearly financials on 31st March — we're suddenly looking at an interesting slate. Naturally more treats are hidden deep within Nintendo HQ.
This November broadcast reminded us that it's not just E3 that can bring exciting new releases, and that Nintendo's aware of the need to keep a steady flow of content into 2015. Rather like the winged member of the Duck Hunt Duo, Nintendo sometimes gives the impression of being completely calm and relaxed on the surface — underneath the surface of the water, however, its legs continue to frantically paddle to keep us gaming.