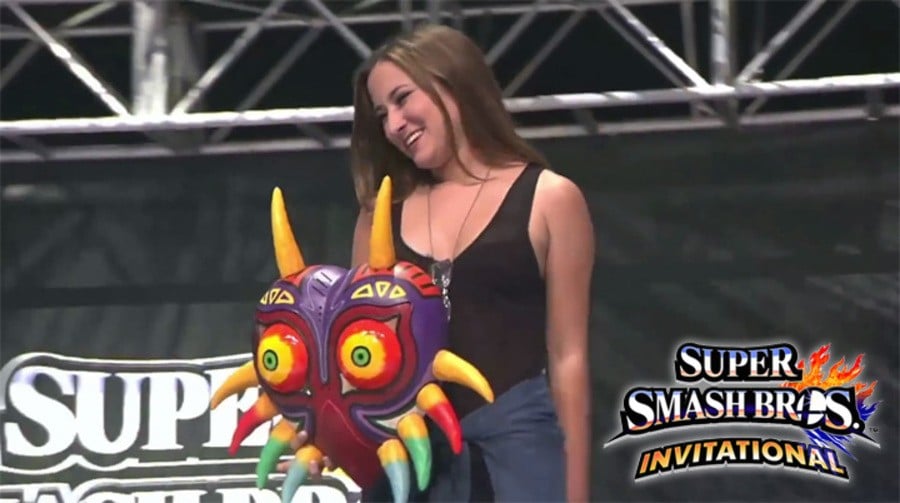 We know that Nintendo likes to be in control. We imagine that those participating in its live streams and the Super Smash Bros. Invitational have had to jump through so many hoops that they'll feel like circus performers, as the company relentlessly keeps major events 'on message'; when that message is full of great content, like E3 day one arguably was, then that can be a good thing.
Yet, while wearily watching the final moments of the Super Smash Bros. Invitational — it was around 2am for us in HQ — we were pretty surprised to see Zelda Williams clutching a sizeable Majora Mask when wandering out onto stage for the Celebrity match. She was clearly pretty pleased with it, placed it in a good spot so it'd be visible throughout, then happily showed it off as she left after narrowly missing out on the win as Greninja. This is Zelda Williams, who prior to this event has mostly been seen — in a Nintendo context — promoting games or musical events for the iconic franchise.
We were surprised that Nintendo gave it the OK, as naturally it leads to whimsical speculation like this. In addition the looping demo stage shown by the Treehouse team for Hyrule Warriors did feature a special move scene of that iconic Moon being dragged down from the sky.
So, is The Legend of Zelda: Majora's Mask finally going to get that 3DS re-release? Well, the 3DS is short one big game for 2014 — as we've discussed — and Nintendo is due to unveil and discuss a new title for the portable today, with a media presentation due at 17:30 Pacific / 20:30 Eastern / 01:30 UK / 02:30 CET; we'll be there to see what it is. It's possible, too, that the Treehouse broadcast — which we'll live blog all day — could announce it first, with the detail then following in the planned media Q & A? It may not necessarily be the toughest project, either, as Grezzo — which brought us The Legend of Zelda: Ocarina of Time 3D — could surely utilise techniques and assets from that terrific re-master.
We certainly hope, for the sake of the 3DS line-up, that the new reveal is one to drive buzz and excitement. Majora's Mask 3D would do just that.