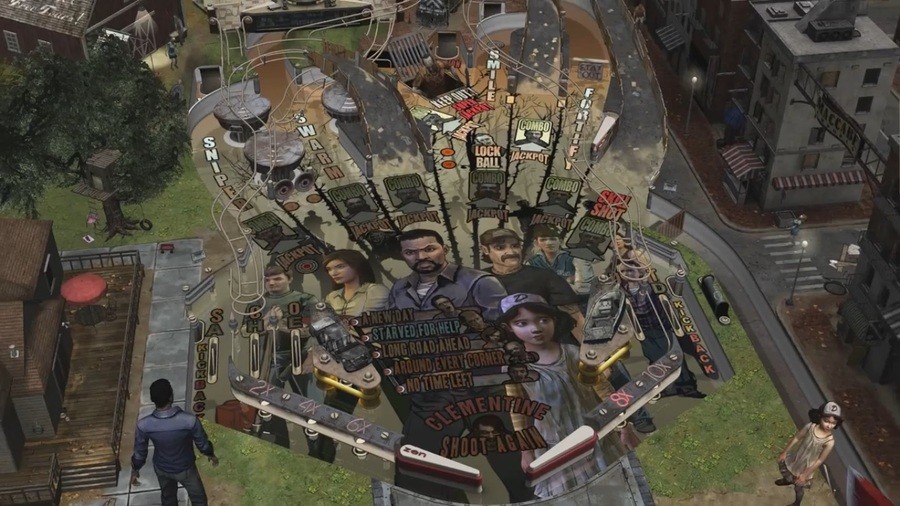 Fans of The Walking Dead are in for a treat with pinball masters Zen Studios announcing it has partnered with the series creator and writer Robert Kirkman, Skybound, and Telltale Games, to release an all-new digital table for Zen Pinball 2 based on the popular episodic game series of the same name.
In a true collaborative effort between Zen and Telltale, the themed table based on The Walking Dead: Season One, fuses together unique ideas and "passion" to deliver an experience that is authentic to – and reflective of – the choice-driven climatic journey featured within the original game.
The table will retrace Clementine's very beginnings outside of her tree house – right through to the streets of Savannah and the series finale. To truly recreate the original five-part experience, story dialogue from the original game will be included, along with scenarios where the player has to solve problems, maintain group morale, and choose who stays and goes.
The Walking Dead pinball table will be playable at this year's E3 (in some form), and available later this summer on, "pinball platforms across console, PC and mobile" according to Zen Studios.
One final point worth noting – and of great relevance to Nintendo fans – is the lack of Wii U logo at the end of the announcement trailer. In saying that, PC and mobile platforms aren't mentioned either – though as referenced above, are listed in the official press release.
With this in mind, do you think the Wii U iteration is currently being grouped under "console," or could this be something more sinister at work? We're all too familiar with those silent cases after all. For now though, we'll give Zen Studios the benefit of the doubt, as in the past it's brought a lot of its pinball content across to the Wii U eShop – it's just always taken a little longer than other systems.
Presuming this Walking Dead table is – at some point – on the way to the Wii U eShop, let us know if it would be of interest to you. While you're at it, take a look at the announcement trailer below: