It's like Nintendo read our minds, or at least deduced what a number of enthusiasts may be thinking. Aside from a slightly awkward appearance at the VGX awards to reveal Cranky Kong for Donkey Kong Country: Tropical Freeze, we've had festive season advertising but relatively slim pickings to take us through the Festive weeks beyond major releases that, we suspect, many have already been playing. That's not a complaint — 'Tis the season for winding down — but there's always time for another Nintendo Direct.
And so the company delivered, giving us one of the most revealing broadcasts in a while, including new footage and a fair few all-new games arriving imminently or into 2014. There were some pretty big surprises, it must be said, and it certainly generated some buzz here at Nintendo Life.
If you want to see what went down all in one place, we've provided a handy Nintendo Direct summary, but below two of your humble editors give their personal perspectives on what happened.
Damien McFerran
After the rather underwhelming spectacle of the VGX awards, Nintendo really needed to pull something out of the bag for this Nintendo Direct, and it certainly did that. First things first, Hyrule Warriors could end up being a masterstroke by the company. Tecmo Koei's large-scale brawling series has sold almost 20 million copies worldwide, and this collaboration is clearly intended to leverage some of that popularity, at least in Japan.
NES Remix was another unexpected surprise, and having played the title I can safely say it will be one of the most-played titles in the McFerran household over the festive period. It's clearly a stop-gap release; a title which no doubt had a short development time and is intended to fill out the Wii U's rather barren library, but it illustrates the breadth and depth of Nintendo's back catalogue. Hopefully we'll see SNES Remix before long, too.
Elsewhere, new footage of Mario Kart 8 and Donkey Kong Country Returns: Tropical Freeze has made me no less excited about both of those games, and having already played the Japanese version of Chibi Robo! Photo Finder, I can confirm that will be a title that pleases and delights a lot of 3DS owners when it eventually launches.
All in all, it was a very successful end to 2013's Nintendo Direct broadcasts. Hyrule Warriors will clearly divide fans right up to — and no doubt beyond — its release date, and the lack of Bayonetta 2 footage was disappointing (and perhaps a little worrying, considering it's supposed to be out early next year) but on the whole, I came away feeling pretty pleased with what I saw.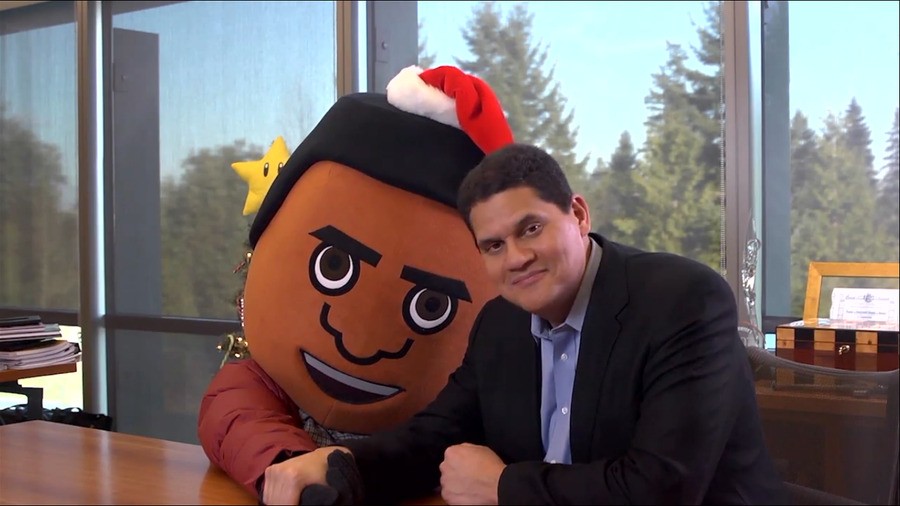 Tom Whitehead
I was focused on the European broadcast, which was packed with information but had less of Reggie Fils-Aime arm-wrestling his own Mii. I've seen that since and, well, it'll go down as an iconic Nintendo Direct moment, I'm sure.
The main thing, which blew the doors off right at the start, was Hyrule Warriors. My opinion is mixed, so I'll start with the positive — it's an intelligent commercial move by Nintendo, as the series has loyal fans in the West and is likely to do particularly well in Japan, as Damien says; the Zelda branding certainly won't hurt, either. I'm going to keep my expectations under control, however, as the Dynasty Warriors series can be a mediocre button-mashing affair, though I heard the most recent entry was a bit of an improvement. We'll see, but Satoru Iwata made clear we shouldn't treat it like a new Zelda, quite simply — I imagine — because it's unlikely to stack up to the main series.
The NES Remix and Dr. Luigi reveals were fantastic news, however. I've been banging on all year about Nintendo needing to do more to support the Wii U eShop, and these games do just that over the vital Holiday period. I've heard NES Remix is great fun and I'll pick it up soon — once I actually have time — and I'm sure Dr. Luigi will be popular. The key is that they'll both help to drive traffic to the store, which will align with a few new releases like Knytt Underground and a whole load of discounts.
The European show also delivered a release date for Super Mario Bros. 3 on 3DS and Wii U — we'd like the 60hz U.S. version, please — Professor Layton Vs. Phoenix Wright and a neat promotion to get a free copy of Super Mario Bros. Deluxe; that was great stuff, and hopefully NoA will do something similar. What stood out for me, overall, was that it was an upbeat 33 minutes. I think it shows that we can sometimes forget that Nintendo is a Japanese company; by that I mean that business culture seems to be different in the region. In the West corporations can be brutal affairs where you're only as good as your last quarterly results, while there seems to be more shareholder patience and board level resilience in Japanese companies; there's pressure, of course, but more willingness to back a policy or strategy to completion. Q1 2014 may bring tough questions for Iwata-san and his colleagues — we'll see in time — but at least this Nintendo Direct maintained a light, confident approach. That Rosalina / Luma Smash reveal was a case in point — clever stuff.
I'll finish with a mini-rant that may get me burned, but that's fine. I'm very weary of cynicism around Donkey Kong Country: Tropical Freeze; it's a Retro Studios game that isn't Metroid Prime, I get it, I was disappointed too. Yet Donkey Kong Country Returns was a top-notch platformer on Wii, so perhaps we can allow ourselves to look forward to a potentially excellent follow-up. That'd be swell!
---
Did you enjoy the Nintendo Direct broadcasts this week? Do you agree or disagree on anything in particular that was said above? Let us know, as always, in the comments below.