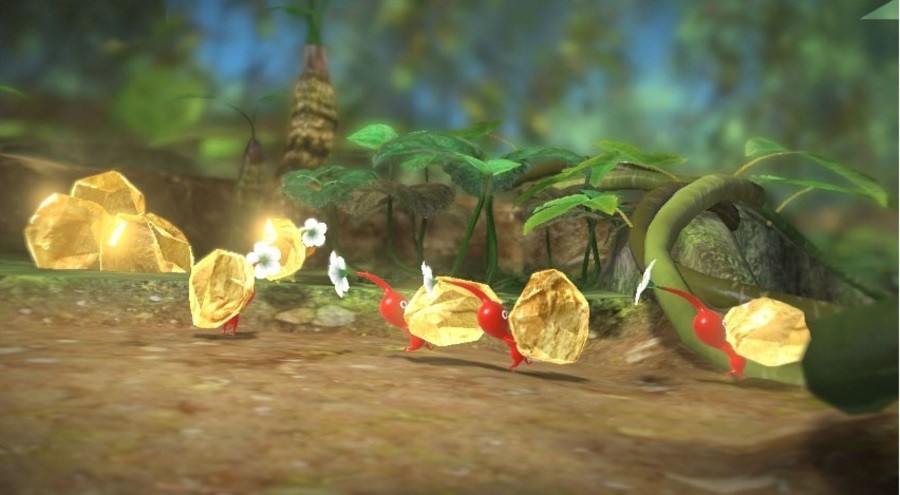 Pikmin 3 arrived in Europe last week, and while it earned critical acclaim from a number of outlets there was plenty of interest over just how the title would sell at retail. The results for its launch weekend in the UK have arrived and, pleasingly, it's performed rather well.
Nintendo's latest Wii U exclusive has made its debut at number two in the UK all-format software charts, an impressive showing that was only denied top-spot by a significant surge in sales for Minecraft: Xbox 360 Edition. It's all-the-more notable considering the Wii U's modest userbase to date, while the original Pikmin only managed number 32 back in 2004, though that was nearer its system's launch. The retail standalone disc version of New Super Luigi U, meanwhile, has come in at number 13; considering its previous release as DLC, a chart appearance in the top 20 seems reasonable.
The happy news continues on 3DS, with Animal Crossing: New Leaf in fourth position, while Mario & Luigi: Dream Team is also showing surprisingly good legs in fifth place. Three more 3DS exclusives are still hanging around in the top 40, too, with Luigi's Mansion 2 in 22nd, Mario Kart 7 in 27th and LEGO City Undercover: The Chase Begins occupying 32nd place.
This week is all about Pikmin 3, however, and the rare sight of a Wii U exclusive placing near the top of the charts, possibly representing the strongest software debut for the system to date. It'll be interesting to see how the title's momentum holds up, but at the very least this excellent start is positive news and will have hopefully contributed to a bump in hardware sales, too.
[source ukie.info]