Updated with sections to make it easier to navigate. Also included games that don't support cloud saves, updated the NES games list, and included a list of games that support the Nintendo Switch Online mobile app.
Also included a list of the games that require Nintendo Switch Online for online play.

---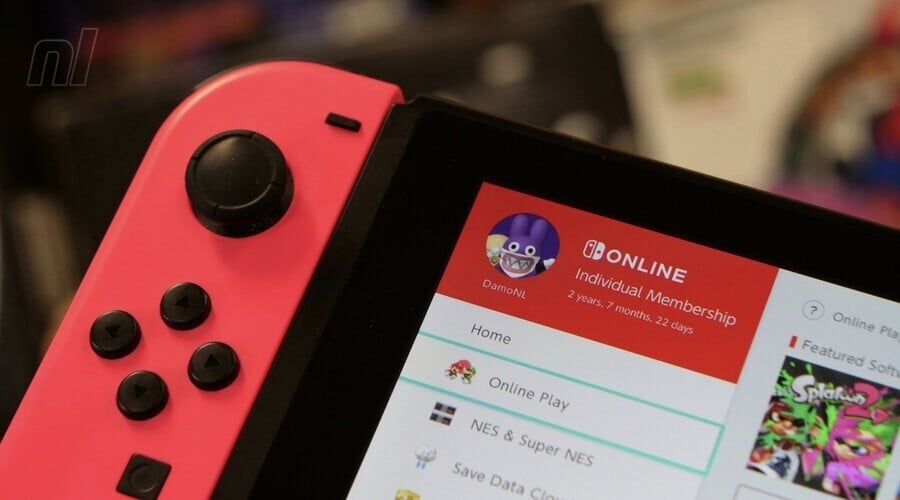 Nintendo has finally revealed details about the highly anticipated Nintendo Switch Online. This is a premium service that provides online play, free games, a dedicated mobile app, exclusive offers, and, most importantly, cloud saves for the Nintendo Switch. To put it another way, this is the Switch equivalent of PS+ or Xbox Live Gold.
We imagine, just like us, that you have an absolute ton of questions. Fear not though, for we've scoured the internet to bring you this FAQ that details everything that there is to know so far. We'll update this as soon as we know more, so keep checking back.
Nintendo Switch Online - FAQ
What is it?
Nintendo Switch Online is the Switch's premium online service that provides access to online multiplayer, free NES games that support on and offline multiplayer, a dedicated mobile app, exclusive offers, and the ability to upload all of your save data to the cloud.
When Does It Launch?
The Nintendo Switch Online service launched September 19, 2018. If you're still on the fence, a seven day free trial will be available for all Nintendo Account holders to check it ou
How much does it cost?
The price varies depending on how you choose to pay:
| 12 Months | 3 Months | 1 Month | Annual Family Membership |
| --- | --- | --- | --- |
| £17.99 / $19.99 | £6.99 / $7.99 | £3.49 / $3.99 | £31.49 / $34.99 |
There's also a family membership option that provides Nintendo Switch Online to up to eight Switches for £31.49 / $34.99 per year. That's less than £5 / $5 per user if eight people are signed up.
What isn't clear, is what the restrictions are. We don't know whether you all have to live under the same address, have the same surname, or anything like that. It would be pretty sweet if you and seven friends could team up and get the family account super cheap.
Can I Buy It With My Nintendo Gold Points?
Nintendo has recently confirmed that you can use your My Nintendo Gold Points to purchase a Nintendo Switch Online membership in the Nintendo eShop. You can't use them for auto-renewal though, so it looks like you'll have to let it manually run out then purchase a second subscription with your points.
To get a year's worth of Nintendo Switch Online using only Gold Points, you'll need a whopping 2,000 of them. You can, of course, use as many Points as you have to get money off your membership instead.
Which Games Require It For Online Play?
Every game that has an upfront cost and contains online multiplayer will require Nintendo Switch Online to play the online multiplayer component. Here's the full list:
NBA 2K19 20th Anniversary Edition
Splatoon 2 Octo Expansion
NBA 2K18 Legend Edition
NBA 2K18 Legend Edition Gold
WWE 2K18 Digital Deluxe Edition
Attack On Titan 2 Deluxe Edition
PixelJunk Monsters 2 Deluxe Edition
BlazBlue Cross Tag Battle Deluxe Edition
Armello - Complete Edition
Pokkén Tournament DX + Battle Pack
Do I Need It To Play Free To Play Games Online?
No, Nintendo has clarified that free to play games will not require a Nintendo Switch Online subscription for online play.
Will It Affect The eShop And Any Other Switch Services?
Well, let's break it down. Currently, everything is free, but when Nintendo Switch Online goes live, certain features will be locked behind a paywall. These include:
Online multiplayer in any paid games that support it. This does not include free to play games.
The Nintendo Switch Online mobile app.
However, the following online services will remain completely free of charge:
Nintendo eShop.
Adding and managing your friends.
Sharing screenshots to social media.
Nintendo Switch Parental Controls (this includes the app).
System and software updates.
News feed.
Playing free to play online games.
Nintendo Switch Online - Mobile App
What Does It Do?
The mobile app is primarily used for voice chat with other players, but you can also use it to organise multiplayer sessions. There are also special features for certain games. For example, right now you can check the stages, purchase gear, and glance at your statistics in Splatoon 2.
Which Games Are Supported?
Originally the app was limited to Splatoon 2, but now that the Nintendo Switch Online service has officially launched, support for the following games has been included:
Nintendo Entertainment System
Nintendo Switch Online - Nintendo Entertainment System
Which NES Games Are Included?
The launch lineup includes the following games:
Any that originally supported multiplayer will still do so, and even allow for online multiplayer. That's pretty cool.
More titles have been announced to launch at a later date:
October:
November:
December:
And more titles will launch in 2019 that Nintendo will announce at a later date.
Do I Have To Download Each Of Them Individually?
No, the NES games are all included in a free app that you can download as soon as you purchase a subscription.
What Happens To The NES Games If I Cancel My Subscription?

As far as we understand it, you can only play these NES games as long as you have an active subscription. The moment your subscription ends, you'll lose access to them.
Even active subscribers will have to "check in" with their console online once per week or they'll lose the ability to play them. This allows Nintendo to verify that you have an active subscription.
Can I Use An NES Controller To Play Them?
Nintendo plans to release a pack of two wireless NES controllers to allow you to play your Nintendo Switch Online NES library just like in the good old days.
There's a catch though – you have to be a Nintendo Switch Online member to be eligible to purchase these controllers. Hopefully that won't prove too problematic for those with Family Memberships, where, presumably, only the 'master account' is eligible to purchase the controllers. If you can buy multiple pairs at once, fine. If not...
There's even worse news than that though. Those of you hoping to play the likes of Shovel Knight with an actual NES controller will be hugely disappointed, as these bad boys are only capable of playing NES games. In other words, they won't work on any other game. That's absolute madness, but that's Nintendo for you.
You charge them by sliding them into the sides of your console, just like Joy-Cons. They don't work like Joy-Cons though, so don't even ask.
Will SNES, N64, GameCube, And Other Nintendo Systems Feature?
Nintendo hasn't announced whether or not games from other systems will feature in Nintendo Switch Online. However, Nintendo did state that more games will be added regularly, so you can take from that what you will.
Does It Replace The Virtual Console?
Sadly, it doesn't look like we'll see the Virtual Console on Nintendo Switch anytime soon. Nintendo confirmed as much to Kotaku. Here's the direct quote from our article:

There are currently no plans to bring classic games together under the Virtual Console banner as has been done on other Nintendo systems.
Remember that Nintendo chooses its words carefully, so while this states that the Virtual Console will not come to Switch, it doesn't actually state that classic games won't. All it says is that they won't come under the same banner as they did before.
So we're going to take a hopeful punt and pray that these games come to Nintendo Switch Online instead. Would be nice not to have to pay for them all over again, wouldn't it?
Nintendo Switch Online - Cloud Saves
How Do Cloud Saves Work?
When the Nintendo Switch Online service goes live, you'll be able to upload all of your saves directly to the cloud automatically. Praise be to Nintendo!
We received information from an anonymous source that developers will have to, effectively, tick a box to enable cloud saving on their game.
To be perfectly clear here, Nintendo is stating that cloud saving will be available with every single game, though it's up to the developers to enable it.
Our current understanding is that your save will automatically upload to the cloud when you finish playing, and that when you start playing again the game will simply download the cloud save. If your internet goes a bit wobbly during this progress, your Switch will default to the newer save, preventing you from losing progress. There also doesn't seem to be any limits in terms of save data size or number of save files.
Do All Games Support Cloud Saves?
Nintendo has announced that not all games will support cloud saving. The reason for this, according to Nintendo, is to avoid cheating. Games that we currently know that won't support cloud saving include:
Nintendo's justification for this is that it wants to prevent players, effectively, rolling back negative changes in persistent games, or to regain items that they traded to other players, or to revert to a higher online multiplayer ranking.
Nintendo Switch Online - Special Offers
How Do Special Offers Work?
As of this moment, Nintendo hasn't revealed anything about the special offers. Presumably, these will be exclusive discounts or perhaps even bigger discounts, much like how PS+ currently operates. We'll update this as soon as Nintendo reveals more.
However, there are a couple of special offers already available.
NES Controllers
Nintendo Switch Online members will soon be able to order a pair of wireless NES Controllers (you already can if you live in North America and Europe)
Splatoon 2 Exclusive Gear
Right now, the primary reason to buy Nintendo Switch Online is to carry on playing Splatoon 2 with your friends. It's a good thing then that Nintendo is giving away exclusive gear for those of you that sign up for a 12 month subscription. This includes a branded Jersey and Squidkid V Shoes.
To get them, you'll receive an email shortly after purchasing your yearly subscription. Open it and redeem the code inside to unlock the gear when you open up Splatoon 2.
If you're a member of a Family Membership, don't panic. The 'master account' holder will receive eight codes, so as long as they're nice you should get your gear.
Are you looking forward to Nintendo Switch Online? Is it lacking any features you really wanted? Let us know with a comment. We'll also happily answer any further questions you may have.