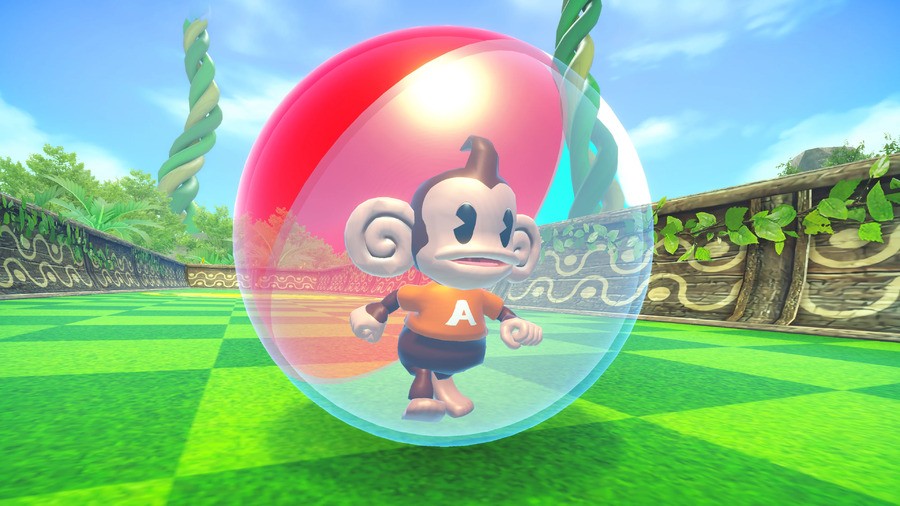 The latest Nintendo Download update for North America has arrived, and it's bringing new games galore to the eShop in your region. As always, be sure to drop a vote in our poll and comment down below with your potential picks for the week. Enjoy!
Switch eShop - Highlights
Super Monkey Ball Banana Mania (SEGA, 5th Oct, $39.99) - Go bananas with your favorite monkey gang in the ultimate Super Monkey Ball adventure! Roll through wondrous worlds with AiAi and friends as you race to stop monkey mad scientist Dr. Bad-Boon from blowing up Jungle Island! Join the all-star monkey team of AiAi, MeeMee, GonGon, Baby, YanYan and Doctor as you bounce, tilt and roll your way across hundreds of delightfully crafted levels and mazes. It's monkey business for the gang as you take down Dr. Bad-Boon and steal back your beloved bananas! Super Monkey Ball Banana Mania will be available on Oct. 5. - Read our Super Monkey Ball Banana Mania review
Astria Ascending (Dear Villagers, 30th Sep, $39.99) - Experience an epic story with rewarding, turn-based combat and expansive customization rendered in glorious hand-drawn visuals. Explore the vast and beautiful world of Orcanon, visit five different cities populated by unique creatures and solve more than 20 dangerous dungeons. Immerse yourself in a fascinating narrative rife with betrayal, sacrifice and terrors. Fight more than 200 different monsters, collect and summon legendary beasts into the fight, and build up your power to wield legendary Cosmo Breaks.
HOT WHEELS UNLEASHED (Milestone, 30th Sep, $49.99) - Collect the best vehicles in the Hot Wheels universe, build spectacular tracks and dive into breathtaking races. The most iconic and sought-after Hot Wheels vehicles are waiting for you. Get ready to make them race at full speed! Stand out in the crowd by setting off your personality with the exclusive livery editor. Prove your skills by competing in awesome races and get ready for pure fun! Drift, charge the booster and launch yourself into spectacular loops. But be careful: If you're too slow gravity will do its job. Race side by side with your friends in split screen mode for two players, or face up to 12 opponents in online challenges. Create your own track by taking advantage of what surrounds you, and create amazing layouts inside and outside the race course. - Read our HOT WHEELS UNLEASHED review
UNSIGHTED (Humble Games, 30th Sep, $19.99) - Traverse Arcadia your way. Save your friends. Time is ticking. Alma is an Automaton that awakens to a world in ruin after the war with the humans. Anima, the resource that gives Automatons sentience, is running out and turning Alma's friends into mindless killing machines, the UNSIGHTED. Alma must traverse the vast city of Arcadia before the life force of her friends and herself withers away. Who will you save, and who will you leave to turn UNSIGHTED?
FIFA 22 Nintendo Switch Legacy Edition (Electronic Arts, 1st Oct, $39.99) - Powered by Football, EA SPORTS FIFA 22 Legacy Edition on Nintendo Switch features the latest kits, clubs and squads from some of top leagues around the world. It will also feature some of the world's most famous stadiums, including some new to FIFA 22. Gameplay features and modes will have parity with FIFA 21. FIFA 22 Nintendo Switch Legacy Edition will be available on Oct. 1.
Nickelodeon All-Star Brawl (GameMill Entertainment, 5th Oct, $49.99) - Brawl it out as your favorite Nickelodeon characters in bombastic platform battles! With a power-packed cast of heroes from the Nickelodeon universe, face off with all-stars from SpongeBob SquarePants, Teenage Mutant Ninja Turtles, The Loud House, Danny Phantom, Aaahh!!! Real Monsters, The Wild Thornberrys, Hey Arnold!, Rugrats and more to determine ultimate animation dominance. With unique move sets and attacks inspired by their personalities, each character has an individual style of play enabling endless action for Nickelodeon's legion of fans. Select your favorite and then let the intense brawls begin with online and local multiplayer action. Nickelodeon All-Star Brawl will be available on Oct. 5.
Death's Gambit: Afterlife (30th Sep, $19.99) - A contract binds you to Death who seeks to eradicate immortality. Will you do his bidding and restore the natural order, or succumb to its power in this hardcore 2D action RPG? The promise of immortality lies at the heart of Siradon. As Death's right hand, challenge the undying guardians of the realm and endure the eternal struggle to purge their souls. Death's Gambit: Afterlife is the new and expanded edition of the original hardcore 2D RPG action-platformer. Master the precise combat, using a wide variety of weapons and abilities to confront the horrors that lurk within Siradon. Explore a mysterious and unforgiving world and uncover the true price of immortality.
Switch eShop - New Releases
2weistein – The Curse of the Red Dragon 2 (1st Oct, $20.00) - A new episode, following "2weistein in Asban". The Story All was peace and quiet in Asban and the whole land of Trillion – until that day on which the gates remained closed, as if by ghostly hand, and other strange things happened. The mean magician Godron has stolen the book "Mathematica" from the creator of Trillion, and has cast an evil spell over the city: a ban on mathematics. Godron wants to gain power over the whole land and transform the world according to his will. But there are the brave heroes Bernard and Celestine with their friend 2weistein who want to put a stop to Godron to keep Trillion peaceful and beautiful, and no one is ever to be afraid again! About the 2weistein games The unique and fantastic idea behind the series of 2weistein games is to train math in a real 3D action adventure. Embedded in the tantalizing story the player has to solve math quests or puzzles to get ahead in the game.
Actraiser Renaissance (Square Enix, 23rd Sep, $29.99) - Actraiser Renaissance combines 2D platforming action (Realm Acts) with a City-building simulation (Realm Management) in the ultimate battle between good and evil! Featuring the soundtrack that sent shockwaves through the gaming world when it was first released, composed by the legendary Yuzo Koshiro - now remastered! Help humanity flourish by playing as the Lord of Light and their loyal angel in a world beset by evil. - Read our Actraiser Renaissance review
Aeon Drive (Critical Reflex, 30th Sep, $14.99) - Set in the neon-colored landscape of Neo Barcelona, Aeon Drive is an action platformer with a speedrunning twist! You'll play as Jackelyne, a young space ranger from another dimension. Desperately trying to get home, she crash-lands her spaceship into the middle of a bustling metropolis, Neo Barcelona. With the power sword, teleportation dagger and unique skill to control time, Jackelyne has to find all the Drive Cores to fix her ship - and save the city from impending doom. Run through time itself! Aeon Drive features a unique time-warping system that saves players the frustration of repetition and keeps the challenge fresh.
Agatha Christie – Hercule Poirot: The First Cases (Microids, 5th Oct, $29.99) - Discover an untold crime story from the mysterious youth of the famous detective Hercule Poirot. In his early years as a detective, Hercule Poirot is invited to a reception by the influential Van den Bosch family, for the announcement of their daughter's engagement. But tensions amongst the guests run high as a snowstorm descends on the town, trapping everyone inside the manor. The happy event is soon marred by the murder of one of the guests…
Arcade Archives PAC-MAN (HAMSTER, 23rd Sep, $7.99) - "PAC-MAN" is an action game released by NAMCO in 1980. Players clear stages by eating all PAC-DOTS in each round without getting caught by any of the four ghosts, each with its own personality. Eating POWER PELLETS will let you attack the ghosts, so time them carefully! The "Arcade Archives" series has faithfully reproduced many classic Arcade masterpieces. Players can change various game settings such as game difficulty, and also reproduce the atmosphere of arcade display settings at that time. Players can also compete against each other from all over the world with their high scores. Please enjoy the masterpiece that built a generation for video games. This game uses the Japanese ROM for the main part of the game. The options menu and manual are available in Japanese, English, French, German, Italian, and Spanish.
Arcade Archives XEVIOUS (HAMSTER, 23rd Sep, $7.99) - "XEVIOUS" is a shooter released by NAMCO in 1982. Players pilot the Solvalou and face off with the Xevious forces. Defeat airborne enemies with the zapper, and terrestrial enemies with the blaster. This game also features 26 character types with their own codenames. The "Arcade Archives" series has faithfully reproduced many classic Arcade masterpieces. Players can change various game settings such as game difficulty, and also reproduce the atmosphere of arcade display settings at that time. Players can also compete against each other from all over the world with their high scores. Please enjoy the masterpiece that built a generation for video games. This game uses the Japanese ROM for the main part of the game. The options menu and manual are available in Japanese, English, French, German, Italian, and Spanish.
Asdivine Saga (30th Sep, $14.99) - In a world facing a sudden war, a mercenary by the name of Vyse finds himself seeking to uncover the evil machinations operating behind the scenes. Joined by a pair of royal princesses and shinobi, does success lie in the cards for this unlikely band of adventurers when danger seems to lurk at every turn. . . ? ! Master the art of throwing and level monsters to the dust! Get powerful support from spirits that can be equipped to enhance magic, and upgrade weapons and synthesize rings to power up in battle. You can even get special endings by building up trust with other characters, and take on the strongest at the battle arena to enjoy this fantasy RPG in its entirety.
BARRICADEZ ReVisited (30th Sep, $14.99) - This is the Crafting × Tower Defense game you have been looking for. Gather materials and items to upgrade your base and protect a cradle after the collapse of civilization. Mine and explore in caves In The Caves, you can mine randomly generated resources that are used to craft traps and blocks. Venture deeper and deeper to find a number of rare materials and secrets. Craft the perfect defense In your base, you can craft dozens of facilities and traps to repel approaching enemies. Mix and match the attributes of each trap to counter each attacker's behavior and survive one more day. Immersive story Dive deeper and survive longer to uncover pieces of the truth. Find out what happened to cause the destruction of the world and the origin of our little robot!
Beach Volleyball Challenge (Simplicity Tomasz Dyrak, 24th Sep, $4.49) - Feel the heat of sunshine, suit up in a light outfit, and start the emotional battle in Beach Volleyball Challenge. It's the best simulator of beach volleyball available on the market! Get a virtual trip to places like Copacabana or Manhattan Beach – the capitals of that summer sport! This sport game will serve you emotions comparable to that given on tournaments like Manhattan Beach Open, New York Open, or Huntington Beach Open! This volleyball game contains either simple gameplay with huge playability! The full of sunshine locations are waiting for you! Play with opponents in the local games or play with your friends in VS GAME mode!
Blaze and the Monster Machines: Axle City Racers (1st Oct, $39.99) - On your marks, get ready to race with Blaze and his monster machine friends! From Axle City's colorful streets to the awesome Monster Dome stunt track, the world of Blaze is yours to explore! So buckle your seatbelts and take control of Blaze, Pickle, Darington, Zeg, Starla, Stripes… and even cheating Crusher! It's time to race at blazing speed and go for the championship or compete with up to 4 players in couch split-screen mode! The fun keeps on rolling. You can boost, drift, jump and pull off stunts around amazing tracks like Race to Eagle Rock, Stuntmania, and more! Power-up with the Wrench to activate your character's unique skill and outsmart the competition.
Bonfire Peaks (Draknek & Friends, 30th Sep, $19.99) - Set your belongings on fire on a beautiful voxel art puzzle island. Move onwards, move upwards, and leave nothing behind: in Bonfire Peaks, players must climb to the top of a mysterious island ruin, burning everything they own along the way. Featuring hours of masterfully designed puzzle content, a breathtakingly lovely voxel overworld, and not a single second of filler content. Bonfire Peaks is the inaugural publishing project by Draknek & Friends, the publisher and developer of A Monster's Expedition and Cosmic Express. Enjoy hours of deep puzzles as you explore the interactive hub world and discover surprising new mechanics.
Castlevania Advance Collection (Konami, 23rd Sep, $19.99) - Count Dracula is once more back from the dead... Join the fight against Evil in the Castlevania Advance Collection, a compilation of timeless action-exploration masterpieces! In addition to the three legendary Castlevania games that were first released on Game Boy™ Advance, this collection also includes Castlevania: Dracula X and some never-before-seen sketches and artwork from the games! All four games are enhanced with newly added modern features such as Rewind, Save/Load and Replay, making this the best way possible to experience these classics or discover them for the first time! This collection also boasts a handy Encyclopedia, a Music Player with all soundtracks and you can even change the ROM Region to play all games in different versions. - Read our Castlevania Advance Collection review
Colsword (1st Oct, $4.00) - Logic puzzle game in which you have to paint the cubes in the desired sequence using your colored magic swords. Features: - 42 levels with increasing complexity - Extremely easy to learn and complex to master - Simple touch controls make playing easy
COTTOn 2 – Saturn Tribute (30th Sep, $17.99) - Set in the Pumpkin Kingdom which has lost its national treasure—the "Bluewater Willow," this brain-stimulating action-shooter follows Cotton, a witch with the biggest appetite in the universe, and Appli, the most tomboyish girl in the royal family. This is the fourth installment in the fantasy shooting game series featuring Cotton, one of SUCCESS's most popular characters. This masterpiece of the past is given new life using the specially-developed "Zebra Engine. " The new features included such as game rewind, slow mode, and quick save greatly improve ease of play. Online rankings have also been added!
COTTOn Boomerang - Saturn Tribute (30th Sep, $17.99) - There are team battles this time! Take full advantage of all the amplified action and push forward! Set in the Pumpkin Kingdom which has lost its national treasure—the "Bluewater Willow," this brain-stimulating action-shooter follows Cotton, a witch with the biggest appetite in the universe, and Appli, the most tomboyish girl in the royal family. This is the fifth installment in the fantasy shooting game series featuring Cotton, one of SUCCESS's most popular characters. This masterpiece of the past is given new life using the specially-developed "Zebra Engine. " The new features included such as game rewind, slow mode, and quick save greatly improve ease of play. Online rankings have also been added!
Dandy Ace (28th Sep, $19.99) - Dandy Ace is an over the top action game that follows this fabulous magician seeking to combine and use his magical cards, fighting and looting his way to defeat the Green-Eyed Illusionist and free himself from a cursed mirror. What is Dandy Ace? Dandy Ace is an over the top fast-paced roguelike experience that follows a fabulous magician seeking to combine and use his magical cards while fighting and looting his way to defeat the Green-Eyed Illusionist, Lele, who has imprisoned him in a cursed mirror. While battling your way through Lele's ever changing palace, combine different cards with more than a thousand possibilities, each with their own playstyles and powers. Every run provides new challenges and combinations for players to explore as they progress closer to Lele.
DELTARUNE Chapter 1&2 ($0.00) - The award-winning indie RPG, UNDERTALE, expands the series with a brand new game...in a different world! Create your own avatar, meet strange friends, and jump into the darkness. The first two chapters are free, so what are you waiting for? And more (paid) chapters will come out as soon as we finish them, so keep an eye out! For years!
Doom & Destiny Worlds (1st Oct, $19.99) - Stranded and naked on a shore of an unknown planet, four friends wake up afflicted by the most common video game disease: amnesia. Who summoned them? Why are they here? How will they return home? What's for dinner?
Earth Marines (1st Oct, $4.99) - Earth Marines is a new game by HugePixel and Diedemor Studio. It's an action-packed run-and-gun shooter full of zombies and brutal gunfights. Special task force from Earth has to eradicate the zombie threat — that's why they come heavily packed, but in a few numbers. Your main objective is to kill zombie hordes, wipe out infected areas and destroy the sources of deadly virus capable of reanimating dead people.
ExZeus: The Complete Collection (Ziggurat, 30th Sep, $12.99) - Hostile alien forces have set their sights on Earth and will stop at nothing to wipe our civilization from existence. The invaders seek to use their advanced technology to annihilate humanity, but they weren't expecting the people of Earth to counter with sophisticated technology of our own. Enter Project ExZeus, humanity's last and best defense to repel the otherworldly menace and restore peace to our little blue planet using ultra high tech fighting robots! Take control of four different robots and blast those aliens back to where they came from in these action-focused high flying 3D arcade style rail shooters!
Fighting Fantasy Legends (Nomad Games, 23rd Sep, $9.99) - Are you ready to rediscover the legendary Fighting Fantasy gamebooks in a whole new way? Based on the iconic game books from Steve Jackson and Ian Livingstone, create your own adventures in a dangerous land full of monsters as you experience The Warlock of Firetop Mountain, City of Thieves and Citadel of Chaos on your Nintendo Switch™. Fighting Fantasy Legends is an epic role-playing card game set in the classic world of Fighting Fantasy. Can you survive the dangerous streets of Port Blacksand, the murky depths of Firetop Mountain or the looming shadows of The Citadel?
Gearshifters (Numskull Games, 30th Sep, $29.99) - Gearshifters is a dream combination for shoot-em-up and driving fans. Developed by Richard Ogden, of Colin McRae Rally 2.0 and TOCA Championship Racing fame, Gearshifters is both a narrative and action-driven shmup, based on a dystopian future reality. Dodge bullets, perform handbrake turns, and shoot your way to victory across nine fully developed zones and plenty of boss battles.
Guardian Force – Saturn Tribute (30th Sep, $17.99) - The Guardians, a secret society wielding the power of the Force, have readied their tanks and intend on crushing the aspirations of the Hammerbolt Empire! This is an auto-scrolling, multidirectional shooting game released by SUCCESS in 1998. This masterpiece of the past is given new life using the specially-developed "Zebra Engine. " The new features included such as game rewind, slow mode, and quick save greatly improve ease of play. Online rankings have also been added!
Kyle is Famous: Complete Edition (1st Oct, $14.99) - Take Control of Kyle in this Text-Based Adventure. . . ----------------- Make decisions for Kyle that will affect every part of his day. Take Kyle's hand through 117 unique endings, each determined by what Kyle has done and who he has interacted with. He needs you. Be kind. Kyle just woke up. . . ----------------- . . .and Kyle needs to prepare to conduct an interview with a very, very important guest on his show. Collect items, make choices, and solve mysteries. Kyle can swallow the fridge. . . ----------------- . . .and Kyle can travel time and steal from the locals and dump lard on his neighbor and many, many other things that KYLE SHOULD NOT DO. Take Kyle's hand. Direct him. Tell him what he ABSOLUTELY SHOULD NOT DO. Confidently help Kyle. He needs you. Kyle has 117 endings. . . ----------------- . . .but only one of them is the good, well-prepared ending that you are going to guide Kyle to. Who knows what would happen if you weren't there for him? Would he destroy the city?
Ludo XXL (30th Sep, $19.99) - This classic game par excellence has brought young and old together for generations. The much-loved original, with its child-friendly rules and thrilling luck of the dice is now finally available for Nintendo Switch™. It's great fun for the whole family – full of both laughter and frustration!
Mandalas (Kistler Benjamin, 23rd Sep, $3.99) - Unleash your creativity in Mandalas and color beautiful mandalas in a simple and relaxing way. Choose from different Mandalas and color them just by touching the desired segment and choose from different color palets. Relax, color and create beautiful artwork with Mandalas. Share it with your friends and have a good time in Manadals!
Mary Skelter Finale (30th Sep, $49.99) - The last installment of the dungeon-crawling RPG trilogy reaches its stunning conclusion! Will the Blood Maidens finally get their happily ever after?
Math Classroom Challenge (29th Sep, $9.99) - Math is boring, so they say. Well, no more. Math Classroom Challenge is an educational game in first person view, with the mission of solving the different random mathematical exercises proposed. To do this, you have at your disposal a water hose, with which you must water the numbers and the appropriate solutions. All this in a safe environment to learn mathematics in a fun and enjoyable way. It's also the kids version of Math Combat Challenge. Math Classroom Challenge is designed for children over the age of four. In the game the player can do several activities: learn the numbers that fly, learn how to throw the water, solve the static panels looking for the corresponding numbers, and solve the dynamic panels that appear suddenly with three solutions. Always throwing the water from the hose to the correct solution. In Math Classroom Challenge there are two types of mathematical panels with hundreds of math combinations: static and dynamic.
MELTY BLOOD: TYPE LUMINA (30th Sep, $49.99) - "* A deluxe edition that contains both the MELTY BLOOD: TYPE LUMINA game and the MELTY BLOOD ARCHIVES content is also available. For those who purchase the deluxe edition, it is not necessary to separately purchase the standard edition. Early Purchase Bonuses: - Additional Content: Arcueid Round Announcements These bonuses will be available to download for free until October 27. Customers who purchase the game after October 27 will be able to get the bonus content as paid DLC. Melty Blood is reborn. This is the latest addition to the series of 2D fighting games based on TYPE-MOON's visual romance novel, Tsukihime. The curtain rises once more on dramatic battles played out with familiar characters from Tsukihime -A piece of blue glass moon-.
MELTY BLOOD: TYPE LUMINA - Deluxe Edition (30th Sep, $69.99) - "* This is a limited edition product. There is also a regular edition. Please be careful not to purchase multiple copies of the same item. * This product includes contents that may also be purchased individually. Please be careful not to purchase multiple copies of the same item. Deluxe Edition Set Details ① MELTY BLOOD: TYPE LUMINA ② MELTY BLOOD ARCHIVES  Enjoy both the MELTY BLOOD Guide Book packed with amazing artwork and details about the setting and history of the game, and the MELTY BLOOD SOUND COLLECTION with background music from the franchise all together in digital format.
Meteoroids 3D (29th Sep, $9.99) - Asteroids: when the simplest is the most addictive. Eighties of the twentieth century. The golden age of 8-bit video games. We were leaving school, and we were going to spend our precious coins in the arcade machines. One of the machines that personally caught my attention was Atari's Asteroids. How could something so simple be so addictive? How could they simulate the physics of that little white triangle on a black background in such a way? Asteroids was as simple as it gets. A simple black background, a white triangle, and figures representing asteroids, which were destroyed as we shot white dots from our triangle, which was our ship. Imagination did the rest. And the inertia effects were really amazing for the time. A tribute to Asteroids: Meteoroids 3D. Meteoroids 3D doesn't pretend anything except two things: to be a tribute to Asteroids, and to allow the player to go back to destroying space rocks in an absurd and crazy way.
Mini Car Racing 2 (30th Sep, $7.99) - Race around in tiny vehicles in a giant household and experience amazing races with your friends up to four players or race alone and hunt the next best race time in 16 different race tracks! Complete championships to unlock new different tracks or race the arcade mode. Play with up to four friends in splitscreen and have a fun race ecperience! Race On!
Prepare the First RPG Village ~The Adventures of Nyanzou&Kumakichi: Escape Game Series~ (30th Sep, $4.90) - An Easy & Cute Escape Game. We find ourselves in some RPG World. The Devil suddenly shows up. People fall into great misery. But, that's when one young man makes a stand. He comes to be known as the Hero. He leaves the First Castle, heading for the First Village nearby.
Rainbow Billy: The Curse of the Leviathan – (Skybound Games, 5th Oct, $29.99) - Rainbow Billy: The Curse of the Leviathan is a wholesome, creature capture, 2.5D Adventure-Puzzle-Platformer with RPG elements. It is a family-friendly and openly accessible adventure in which you must save whimsical creatures by bringing back color to the world you once knew!
RiMS Racing (Nacon, 5th Oct, $49.99) - A race is not won purely on the track, so you need to become more than a rider by understanding motorcycle behaviour like a real engineer. Traction, angle, braking, torque, trajectory, speed… every factor must be considered before heading to the workshop to change certain components and configuring the optimal set-up. A DREAM GARAGE Your adventure starts by choosing your dream bike. In RiMS Racing, you can ride the world's 8 most powerful European and Japanese motorcycles: Ducati Panigale V4 R, MV Agusta F4 RC, Aprilia RSV4, BMW M 1000 RR, Suzuki GSX-R1000R, Honda CBR1000RR, Kawasaki Ninja ZX-10RR, Yamaha YZF-R1. Recreated with an unmatched level of detail thanks to close collaboration with each manufacturer, these bikes also provide a highly accurate and realistic riding experience. They are true rough diamonds that only need a few cuts to shine their brightest! - Read our RiMS Racing review
Road Racing: Highway Car Chase (30th Sep, $9.99) - Jump behind the wheel and race through the endless busy roads and highways! Make near traffic misses discovering unique locations! Be careful! Roads and highways are full of speeding motorcycles and cars – they can bother you! Be also prepared to escape from the cops, who might even use a helicopter to catch you. Brace yourself for an action-packed run, filled with skin-of-the-teeth near misses. Nobody said that it's easy to win!
Ronister Adventure (30th Sep, $1.00) - Ronister Adventure is a true tribute to classic platform games, come help Ronister to save the Amazon rainforest
Sealed Bite - No official game page currently available.
SGC – Short Games Collection #1 (1st Oct, $19.99) - Time is running short but you still want to play meaningful games that leave you with a sense of accomplishment. Well, look no further! The SGC - Short Games Collection has gathered five amazing gaming experiences that you can play through from start to finish and still have time to enjoy other fine things in life. Encased in a beautiful 3D menu environment created originally for the SGC you will find: The Good Time Garden; Swallow the Sea; A Game Literally About Doing Your Taxes; Ghostein; and Uranus. These acclaimed gems are available on Nintendo Switch™ for the very first time. Experience the most psychedelic and thought provoking games anytime and anywhere.
Shadows of Kurgansk (GaijinDistribution, 23rd Sep, $17.99) - "Shadows of Kurgansk" is an adventure game, where you need to survive in an area full of danger and mystery. Your goal is to stay alive and find the way out, fighting monsters and completing story driven missions. To stay alive you will need to hunt, gather supplies, build storage and asylums. You will be able to create tools, clothes and equipment. In due time your life will become quite comfortable, but the Zone is not exactly the best place to spend the rest of your time. You will need to find the way out. Even if you fail, remember – death is only the beginning. The beginning of a new journey!
Space Revenge (30th Sep, $10.99) - Space Revenge is an action-exploration game. Get ready to assault the enemy's base and get your desired revenge! With a top down perspective, twin stick controls and a sci-fi mood to explore the enemy base full of dangers. The BSO will make you feel the tension of the game.
Splatter (23rd Sep, $4.98) - In the dark, where emptiness surrounds you, the only way to see something and find a way out is to spray as much paint as possible everywhere, but you should not rely on paint alone. Visual memory, abstract thinking, the ability to make decisions at lightning speed and, of course, strong nerves - these are the qualities that are needed to complete the game.
Sports & Adventure Pinball (1st Oct, $14.99) - This pack includes the games: World Soccer Pinball, Touchdown Pinball, Basketball Pinball, Dragon Pinball, Pirates Pinball and Titan Pinball.
Survival Z (1st Oct, $14.99) - After the event, humanity lies on the brink while zombies dominate the landscape! You are a survivor. Armed with your wits and bravado, you are determined to save all who remain. Your goal is clear: find survivors and seek out a way to exterminate the undead menace. Choose your way along randomly generated routes to build and battle your way through environments crawling with zombies.
Takorita Meets Fries (1st Oct, $4.99) - In the Tako Kingdom deep under the sea, soup is the only mundane meal everybody eats. But Princess Takorita is deeply dissatisfied with this, and she demands a tasty new dish to spice up her life. She decides to venture up to the land, where the culture is different and surprising. Once there, she has her fated encounter with the french fries! Princess Takorita continues her adventure to make the fries more and more tasty!
THE Card Battle: Eternal Destiny (30th Sep, $18.99) - THE Card Battle: Eternal Destiny is an epic card game inspired by myths and legends, featuring 600+ cards with delightful animation! Build your own deck with various cards, and beat enemies with high-level strategy combining evolutions, abilities, and attributes. Story: Earth: the Millennium of humans has approached its end. History has come to a halt. Demons, angelic Kells, and human Cybers are in a three way conflict with no end in sight. Weary of fighting, people have placed their hopes on the Infinita Sacrament, said to have the power to change the world. An independent organization, "The Agency", was created to search for it. Who will obtain the Infinita Sacrament and take command of the next Millennium? The future is shrouded in dark mystery. You are the new Agent.
The Forgotten City – Cloud Version (Dear Villagers, 23rd Sep, $29.99) - The Forgotten City - Cloud Version is a mystery adventure game of exploration and deduction, and a re-imagining of the critically acclaimed mod that won a national Writers' Guild award and racked up over 3 million downloads. Combat is an option, but violence will only get you so far. Only by questioning an intertwined community of colourful characters, cleverly exploiting the time loop, and making difficult moral choices can you hope to solve this epic mystery. Here, your decisions matter. The fate of the city is in your hands.
The Mean Greens – Plastic Warfare (Virtual Basement, 22nd Sep, $9.99) - The Mean Greens is a 3rd-person shooter played from the perspective of toy army soldiers. Match up with others online for some friendly multiplayer competition. Enjoy a huge battle of up to 10 players in each environmentally unique map.
Top Boat: Racing Simulator 3D (22nd Sep, $5.99) - Top Boat combines extreme mind-blowing visuals and sound with breathtaking gameplay. Experience top-notch graphics with realistic world settings and amazingly detailed ocean-going rides on powerboats and motorboats. Pick and tune to perfection one of the 25+ powerboats from 6 unique boat classes: hovercraft, classic, offshore, catamaran, jetski, and hydroplane. Customize your boat by tuning its appearance and slap on some decals if you want to! Are you fed up with standard boat racing games? Then you should definitely take a look at this one! Top Boat is setting a new standard in the boat racing genre. Jump on a jetski and experience the most amazing water action out there!
Toree 2 (4th Oct, $0.99) - Toree 2, the sequel to the surprise hit Toree 3D is a bite-sized 3D Platformer with more focus on the things people enjoyed in the first game like fast gameplay, flow focused levels and cute costumes (two this time). - More late 90s low poly aesthetic - Fast gameplay, flow focused levels - Weird elements make a comeback. - 9 levels with unique elements - Some secret characters to unlock - The epic conclusion of the ice cream arc
Voice of Cards: The Isle Dragon Roars (Square Enix, 28th Oct, $29.99) - Purchase the game by 10/27/2021 to receive the following bonuses: Voice of Cards: The Isle Dragon Roars Golden Dragon Pattern Voice of Cards: The Isle Dragon Roars Traditional Avatar Voice of Cards: The Isle Dragon Roars is an RPG set in a world of swords and sorcery, told entirely through the medium of cards. The story follows a self proclaimed hero as they set off to slay a recently awakened dragon, presented in the manner of a tabletop RPG and playing out through narration from the gamesmaster. Enjoy an all new, yet appealingly nostalgic gaming experience from YOKO TARO (Creative Director), Keiichi Okabe (Music), Kimihiko Fujisaka (Character Design. ) *This product is also included in other bundles sold separately. Please take care not to re-purchase the same content. * Please be aware that parts of the game which require an internet connection may cease to be supported at any point.
雨音スイッチ -AmaneSwitch- (5th Oct, $13.99) - Amane Switch is a visual novel game remake updated for international audiences. New voiceovers have been implemented for the remake, including the main protagonist, who is now voiced by VTuber Kyoko Kuramochi of the Stellar Cycle Campus VTuber group! Synopsis Shinji Mizushima leads a normal life with average athletic and academic performance before becoming acquainted with a mysterious girl named Amane Satonaka. Shortly after Amane transfers to Shuei Academy, Shinji finds himself drawn to her when he sees her standing outside in the rain without an umbrella, humming a melancholic melody to herself. The sight of her figure drenched in the downpour of rain is so beautiful it seems otherworldly to him. In that moment, her existence becomes transcendent. Transfixed, Shinji can only watch in amazement until he realizes the beautiful girl before him is on the verge of collapsing. He rushes to her, catching her in his arms.
So that's your lot for this week's North American Nintendo Download. Go on, be a sport and drop a vote in the poll above, and comment below with your hot picks!