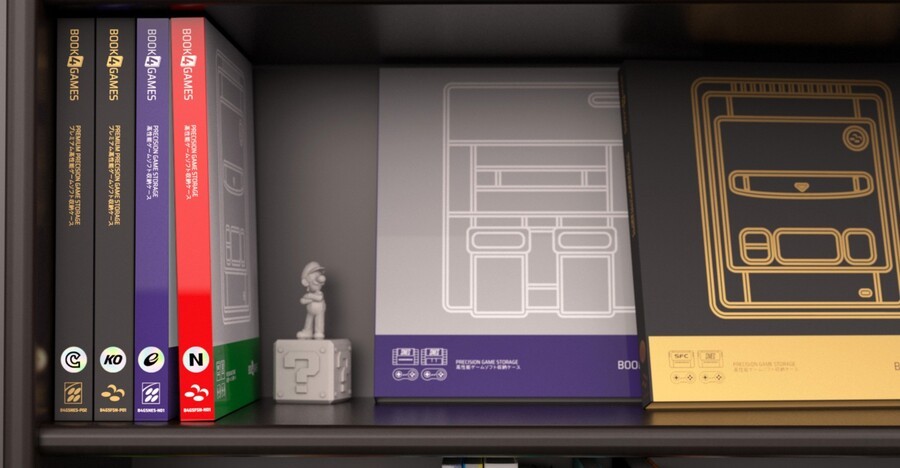 Ah, the SNES. What a machine, eh? Home to some of the greatest video games of all time, this legendary 16-bit console still gets plenty of action in the Nintendo Life office – but, after more than 30 years, we have to admit that many of the games we load up are loose carts, largely because SNES software packaging is made of cardboard and isn't as resilient as we'd like.
As a result, we've got more than a few loose games knocking around, which we currently store in a rather unglamorous shoebox. That's where Book4Games comes in – this new concept is designed to liberate your beloved carts from their lacklustre storage prison and allow them to be filed away in a more upmarket fashion.
Available in four different designs and made from laminated cardboard with high-density foam inserts and a magnetic flap to keep things secure, Book4Games' "Precision Game Storage" will be a dream come true for collectors who possess a bunch of box-less games. The range covers SNES (NA), SNES (EU) and Super Famicom (Japan) so far, but it would appear that there are plans afoot to release similar products for the Game Boy.
Here's some PR:
Enhance the look of your collection and safely preserve your valuable game cartridges. Book4Games Precision Game Storage is a "Grab & Play" solution specially designed to protect your games from dust, light, and humidity while being maintained in snug, high-density foam cutouts.

Enhance the look of your collection and safely preserve your valuable game cartridges. Sized as a slightly thicker LP vinyl record cover, each box comes with extra holographic stickers allowing you to identify the stored content on your bookshelves and sort your games as you please, by title, genre, or publisher.
They're available for pre-order now, costing $24 each for the standard edition and $29 for the 'premium' edition, which comes in rather fetching "Pantone Black and Premium Metallic Gold". Will you be investing in some, or do you prefer your battered (but cheaper) shoebox solution?