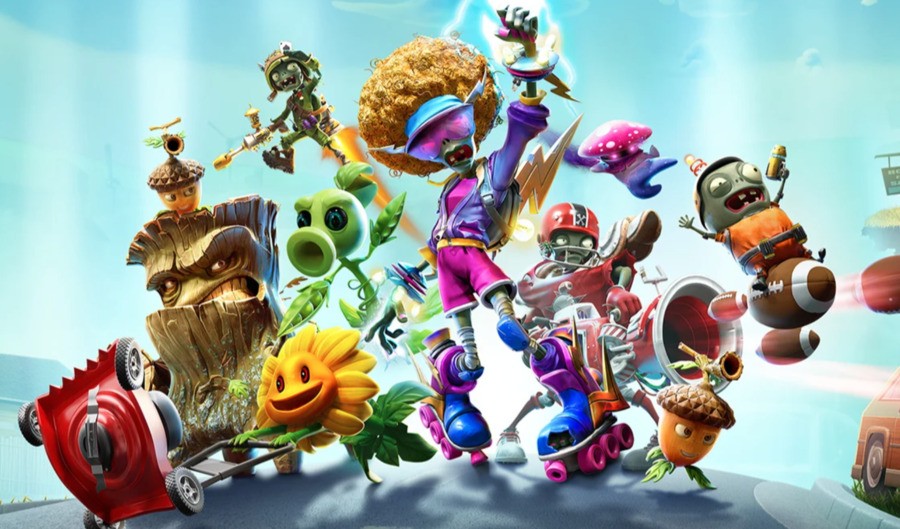 The latest Nintendo Download update for North America has arrived, and it's bringing new games galore to the eShop in your region. As always, be sure to drop a vote in our poll and comment down below with your potential picks for the week. Enjoy!
Switch eShop - Highlights
Plants vs. Zombies: Battle for Neighborville Complete Edition (Electronic Arts, 19th Mar, $39.99) - Ready the Juice Cannons and prepare for the wackiest battle! Tackle hilarious missions and defeat epic bosses in the Weirding Woods, Mount Steep and Neighborville Town Center to collect medals and unlock outrageous outfits. Party with up to three friends and goof around in Giddy Park, or dive into some eight vs. eight multiplayer in Turf Takeover. Vanquish opponents, blast gnome bombs, bounce on pink ooze – it's the most fun you'll have since sliced bread.
Overcooked! All You Can Eat (Team17, 23rd Mar, $39.99) - Overcooked!, Overcooked! 2 and all of the games' additional content get blended together and remastered in this delicious definitive edition. For the first time ever, online multiplayer has been fully integrated into Overcooked! Revisit your favorite kitchens from the first game in the ONLINE! mode. Both games have been taken to the next level with stunning, enhanced visuals. Enjoy exclusive new levels, new chefs and new mayhem.
Tales from the Borderlands (Take-Two Interactive, 23rd Mar, $24.99) - The beloved, choice-driven narrative adventure through the Borderlands universe is now on Nintendo Switch! Set between the events of Borderlands 2and Borderlands 3, Tales from the Borderlands follows two unreliable narrators on a quest born of greed, but destined for greatness. Your choices shape this tale to be uniquely yours, with plenty of unforeseen consequences ranging from hilarious to heart-wrenching. How will you choose to guide their actions on this wild ride to Pandoran glory?
STORY OF SEASONS: Pioneers of Olive Town (Marvelous (XSEED), 23rd Mar, $49.99) - Welcome to Olive Town, a peaceful community established by your trailblazing grandfather and his friends. Now that you've taken over his farm, it's your job to carry on his legacy. Plant crops, raise animals, build relationships and get to know the residents of your new home in this new entry in the STORY OF SEASONS series. Tame the wilderness and build your farm from the ground up, find Earth Sprites to travel to unknown, mysterious lands and participate in local festivals as you watch the town come to life!
Switch eShop - New Releases
Arcade Archives THUNDER DRAGON (11th Mar, $7.99) - "THUNDER DRAGON" is a shooting game released by NMK in 1991. You must pilot a manned combat helicopter "Thunder Dragon" in order to stop a group of mad scientists that have taken over an automated weapon of destruction. Utilize 4 different types of shots, each with their own unique characteristics, as well as powerful bombs to save humanity from imminent destruction.
Arkham Horror: Mother's Embrace (23rd Mar, $19.99) - Inspired by the award-winning board game franchise, Arkham Horror: Mother's Embrace is an investigation game served with turn-based combat, set in the haunted worlds of H.P. Lovecraft's Cthulhu mythos. Plunge into an original story written by Fantasy Flight Interactive's official writers and explore the American Roaring Twenties.
Can't Drive This (Pixel Maniacs, 19th Mar, $19.99) - Race your monster truck WHILE your friend builds the road. Go too slow, and you'll EXPLODE! And yes, it's as chaotic as it sounds – especially in four player split-screen. Can't Drive This is a competitive co-op (it's a thing) multiplayer party racing game. Drive your monster truck WHILE your friend builds the road in front of you! Oh, and don't go too slow, OR YOU'LL EXPLODE! - Read our Can't Drive This review
Cargo Crew Driver (19th Mar, $11.99) - It wouldn't be possible if it weren't for its highly trained, efficient crew. Do you have what it takes to become a part of it?
Dark Water: Slime Invader (18th Mar, $14.99) - Dark Water is a story about a granddaughter and grandmother's adventure to save their village from cursed slime attacks. Use various bow skills to defeat slimes, overcome the traps and save the village from the crisis.
DARQ Complete Edition (18th Mar, $19.99) - DARQ will take you on a journey through Lloyd's dreams that quickly turn into a loop of nightmares. The boy's main priority is to wake up, but unfortunately, each attempt sinks him deeper into his lucid subconscious-driven dreams. Lloyd has to adapt to the new world, re-learn gravity, strain all of his senses and mind in order to solve puzzles and sneak past the creatures guarding the corners of DARQ.
Explosionade DX (18th Mar, $5.99) - All your friends are storming the Horronym Fortress but Colonel Bouche left you to guard the supply depot. Disregarding orders you open the depot to find a gigantic, prototype mech. Time to Suit Up!
Faircroft's Antiques: The Heir of Glen Kinnoch Collector's Edition (18th Mar, $9.99) - Mia Faircroft returns in this thrilling new hidden object adventure! When the untimely demise of one William MacDougal leaves his castle without an heir, Mia is called on to the humble little town of Glen Kinnoch to retrace his past and find his relatives. Uncover long-lost secrets through beautifully rendered hidden object scenes, piece together art and history in engaging minigames, and help the townsfolk find a new future in Faircroft's Antiques: The Heir of Glen Kinnoch!
Fantasy Tavern Sextet -Vol.3 Postlude Days- (18th Mar, $7.99) - The final chapter of the 3-part series! Set in a tavern in a fantasy world, you'll laugh and cry in this slightly naughty love-harem romantic comedy adventure game. Much time has passed since our hero, the chef at an Akihabara maid cafe, got transported to another world.
Fatum Betula (12th Mar, $5.49) - Take the journey with you. Welcome to a world without a past. Fatum Betula is an atmospheric exploration game with light puzzle elements. A magical birch is the only thing dictating the future, and it is your job to find something appropriate to feed it with. There is a total of 10 unique endings and a plethora of secrets to uncover.
Gun Skaters (18th Mar, $4.99) - Featuring easy controls and addictive skating mechanic, this game is designed to be enjoyed by 1-4 player(s) online or locally. You can play versus each other, work together to kill zombies, or even play a football game.
Infectra (Marcin Skierski, 13th Mar, $3.99) - Infectra is a strategy game set in 2124 on the distant planet Emevera III, ruled by the Maxploit Corporation, where an epidemic of a yet unknown virus broke out. The corporation was during advanced level of colonizing a new planet, the perfect source of strategic materials. The group of engineers, miners, technicians and their families meant to be the seed of a new civilization.
Later Alligator (16th Mar, $17.99) - Hey! You! The hard-boiled reptile I can definitely see holding this game. You're the perfect person to help Pat the Alligator uncover the secret behind the mysterious "event" his family's planning for him in the heart of Alligator New York City.
Lost Lands 2: The Four Horsemen (15th Mar, $6.99) - An exciting adventure of a brave girl who found herself in a fantasy world. She is forced to fight against the Black Horsemen sent by evil forces to annihilate every living thing. Lost Lands: the Four Horsemen is an adventurous hidden object game-quest with puzzles and mini-games that tells a fairy-tale story about the world with never-before-seen races and folk types.
Magic Twins (18th Mar, $12.99) - Magic Twins is a 1-2 co-operative arcade puzzle game in which Abra and Cadabra (the titular Magic Twins), must constantly swap their chromagic powers to defeat hordes of color elementals and stop the Colormageddon (which they unintentionally unleashed). Red beats red, blue beats blue... you get the drill.
Offroad Driving Simulator 4x4: Trucks & SUV Trophy (11th Mar, $9.99) - Go for extreme offroad drive, desert, forests, mud road and snowy wastes are waiting for a good offroad SUV driver! Try our new 4x4 offroad driving simulator - a cool offroad driver game with hill climb driving, lots of cool 4x4 and 6x6 trucks and tons of offroad game fun!
Olympic Boxing (20th Mar, $7.99) - Fight with a variety of devastating punches. Feel every hook , jab and uppercut with intuitive and responsive controls. Olympic Boxing brings you all the sensations of real boxing competitions. Put your boxing skills to test and challenge competitors from all over the world.
Osyaberi! Puzzle Chigatan ~Spot the Differences with Everyone~ (18th Mar, $6.59) - Up to 4 players can play! Crank the fun up to eleven with this spot the difference extravaganza! Enjoy non-stop dialogue every time you play! Many characters from the "Osyaberi" games make their appearance! The "Chigatan" game that anyone and everyone will enjoy playing, whether alone or with family! Time to test your brain by spotting the differences!
Raiders Of The Lost Island (18th Mar, $12.99) - Collect the most riches to win this race! Don't hold back and don't be shy to push one or two pretenders into the ocean! What if they can't swim? It's all for a good cause, right? Your cause! However, the island is cursed to sink under the rising waters and soon everyone will die if none of you greedy bastards take the time to build the escape boat before the final wave.
Root Film (PQube, 19th Mar, $39.99) - Root Film is a thrilling adventure game with visual novel elements. Follow Rintaro Yagumo as he is selected to be the director for the rebooted "Shimane Mystery Drama Project", a TV series which was cancelled for an unknown reason 10 years ago. His excitement for this amazing opportunity is quickly curbed when a horrible murder interrupts their location scouting process.
Signs of the Sojourner (18th Mar, $19.99) - Signs of the Sojourner is a narrative card game about connecting with people. Your deck is your character, reflecting your experiences and shaping your relationships. You take over your mother's store after her death, traveling to diverse locations to acquire goods for the shop.
Sumatra: Fate of Yandi (19th Mar, $6.99) - Lost and alone in the jungle after a terrible landslide, Yandi must find his way home to his beloved partner Adiratna. Many dangers and secrets will be revealed as he makes his way through vast expanses of unexplored forest and desolate wasteland.
Synergia (18th Mar, $14.99) - A neon-lit dystopian cityscape becomes the stage for thrilling adventure and deep yuri romance in this cyberpunk-themed visual novel. The complex personalities and experiences of more than 20 characters are interwoven across multiple paths and possible endings. Your choices matter, not only to you, but to all those with whom you struggle to connect.
Tank Battle Heroes (23rd Mar, $7.99) - Hey Tank Commander, the real MULTIPLAYER TANK BATTLE GAME is finally AVAILABLE! Get ready for the tank warfare and jump into the war action in modern PvP tank shooter! Choose your tank, upgrade your deadly weapon, and get ready for a real World War in an exciting arena where there's danger around every corner!
Uchu Shinshuchu (18th Mar, $8.00) - Charm the aliens with the power of kiss. A platformer with 51 stages. In the year of 20XX. The humanity is on the verge of despair due to an invasion from aliens.
Vaporum: Lockdown (22nd Mar, $21.99) - Vaporum: Lockdown, a prequel to Vaporum, is a grid-based dungeon crawler RPG in an original steampunk setting, inspired by old-school classics of the genre. Follow the story of Ellie Teller, a scientist struggling to survive disastrous events that happened in the tower of Arx Vaporum.
DLC
Anniversary Crossing – It's been one year since we all boarded Dodo Airlines and made that exciting voyage to our new island homes in Animal Crossing: New Horizons on Nintendo Switch. Just in time for the game's anniversary, a free update drops for the game today which adds a variety of features. With an expansion of 50 additional custom design slots to both the Normal and Pro Custom Design modes, you can let your imagination run wild! And for some April Fool's Day fun, whoopee cushions can be ordered between March 26 and April 1 from the in-game Nook Shopping service. If you're in the mood for something more elegant, you can prep for prom season with themed fashion items at the Able Sisters shop from April 1 to April 30. Be sure to check your in-game mailbox after today's update for a 1st Anniversary gift, too. Here's wishing you many more blissful days of relaxing island fun!
So that's your lot for this week's North American Nintendo Download. Go on, be a sport and drop a vote in the poll above, and comment below with your hot picks!